Press Releases
The Harm in Asking by Sara Barron
My Clumsy Encounters with the Human Race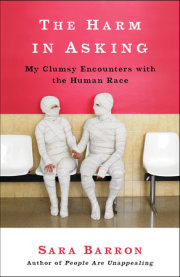 Sara Barron
Imprint: Three Rivers Press
On sale: March 25, 2014
Price: $14.99
Pages: 320
ISBN: 9780307720702
Contact:
Rebecca Marsh
212-572-2544
rmarsh@randomhouse.com
A side-splitting collection of personal essays by author and comedian SARA BARRON.
PRAISE FOR SARA BARRON
"Sara Barron has a knack for colliding into life's odd characters and sharp corners with hilarious and heartrending results. Here she navigates this journey with the biting humor and telling observation of a born storyteller."
—Piper Kerman, author of Orange Is the New Black: My Year Inside a Women's Prison
"Sara Barron is the reigning queen of New York's live storytelling scene. In The Harm in Asking she proves she's even better written down."
—Jon Ronson, author of The Psychopath Test
"Sara Barron's essays…are, dare we say it, as funny as David Sedaris…When you aren't squirming, you're laughing out loud."
—Los Angeles Times
"Darkly humorous…smart…acerbic… (Barron's) stories are as hideously embarrassing as they are endearingly charming."
—Bust Magazine
Welcome to the perverse and hilarious mind of Sara Barron. Here you will find mobster roommates and invisible friends, a crippling passion for beef jerky and an embarrassing love for Lilith Fair music—in short, all things awkward, absurd, and laugh-out-loud funny. In her brand new collection of personal essays, THE HARM IN ASKING: My Clumsy Encounters with the Human Race (Three Rivers Press; Trade Paperback Original; $14.99; On Sale March 25, 2014), the comedian and author of People Are Unappealing is back and baring it all. (Sometimes literally: just ask the Polish housekeeper who caught her wearing a toilet paper bra.)
THE HARM IN ASKING is proof that Sara Barron has Suffered. She has Endured. Broken ankles, battered hearts, and busted pride—she's been through it all on her way to becoming a Winningly Complex Adult. Now with a sharp wit and charming candor, she boldly addresses the bizarre indignities of everyday life, from attending Barron Family Pedal-Boating Day to accidentally talking about Taco Bell during sex. The perfect blend of humor and humiliation, Barron's stories are delightfully weird, ridiculous, and impossible to resist.
Author Sloane Crosley called Sara Barron's last book, "A wickedly funny and dirty treasure trove of modern day oddballs…a warped love letter to life's most unusual citizens." In THE HARM IN ASKING, Barron shares more hilarious misadventures from her quirky childhood and haphazard adulthood. Through it all, she's unafraid to laugh at herself…and it's impossible not to laugh with her. Especially, for example, when she:
tries to develop a solo show called Mole Woman
procures and cares for an imaginary bulldog
agrees to wash her landlord's back
gets thrown out of a hot wings festival
is propositioned by a male escort
Barron says it best herself: "In my bones, I am uncool." But she can offer advice on female flatulence, terrible roommates, and what to do when a man wearing Daisy Dukes tells you to "tone it down." And in THE HARM IN ASKING, she proves herself a natural storyteller and a fresh comic talent.
THE HARM IN ASKING explores the absurdities of the human condition, with occasionally raunchy, often mortifying, and always entertaining results. Life's indignities, embarrassments, and missteps have never been funnier.
About the Author
SARA BARRON is a writer and comedian whose work has appeared in Vanity Fair, on Showtime's This American Life, NPR's Weekend Edition, and Today, and at the HBO Comedy Festival. She is a frequent host of The Moth: True Stories Told Live events.
Related Posts: