Press Releases
THE FOUR TENDENCIES by Gretchen Rubin
The Indispensable Personality Profiles That Reveal How to Make Your Life Better (and Other People's Lives Better, Too)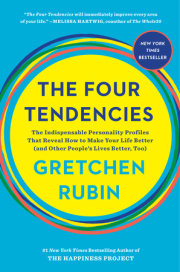 Gretchen Rubin
Imprint: Harmony Books
On sale: September 12, 2017
Price: $24.00
Pages: 272
ISBN: 9781524760915
Contact:
Sarah Breivogel
212-572-2722
sbreivogel@penguinrandomhouse.com
From the bestselling author of The Happiness Project and Better Than Before comes a groundbreaking book that reveals one simple question that will transform what you do at home, at work, and in life.
#1 New York Times bestselling author
Named Inc.'s Top 50 Leadership and Management Experts
Named one of Fast Company's Most Creative People in Business
Gretchen Rubin is one of the most influential and thought-provoking writers on human nature. Her pioneering work on happiness, which is at the heart of her bestsellers The Happiness Project and Happier at Home (more than two million copies sold worldwide), has sparked powerful conversations about the human search for happiness and has earned her a spot on Oprah's SuperSoul 100, "a collection of 100 awakened leaders who are using their voices and talent to elevate humanity." Rubin's blockbuster bestseller Better Than Before explored how we can improve our habits and create lasting change. Her work has been widely covered in the national media and has earned her a highly engaged community of supporters who follow her in staggering numbers on her blog, Twitter, Facebook, and LinkedIn (where she is a top Influencer). She also hosts the award-winning weekly podcast Happier with Gretchen Rubin, which has had more than 26 million downloads since it launched in February 2015 and is consistently on the iTunes Top 50.
Now in her revolutionary new book, THE FOUR TENDENCIES: The Indispensable Personality Profiles That Reveal How to Make Your Life Better (and Other People's Lives Better, Too) (Harmony, on sale September 12, 2017), Rubin unlocks the personality framework that allows us to make better decisions, meet deadlines, suffer less stress and burn-out, and engage more effectively. And it all starts with a single question: "How do I respond to expectations?"
During her multibook investigation to understand human nature, Gretchen Rubin realized that by asking this seemingly dry question we gain explosive self-knowledge. Based on their answers, people fit into one of Four Tendencies: Upholders, Questioners, Obligers, and Rebels. Rubin quickly realized that this framework's power goes far beyond habits—our Tendency is a fundamental characteristic of our personality that shapes every aspect of our behavior. It can explain everything from why you can't keep a New Year's resolution, to why your employee can't meet a deadline, to why your sophomore wants to drop out of college, to why can't you make time for yourself.
THE FOUR TENDENCIES holds practical answers if you've ever thought:
– People can rely on me, but I can't rely on myself.
– How can I help someone follow good advice?
– How do I work with someone who refuses to do what I ask? Or who keeps telling me what to do?
– People say I ask too many questions
– How do I stop my teenager from dropping out of high school?
– How can I make my team more effective, with less wasted time and procrastination?
Since introducing this framework, Rubin has been overwhelmed by questions and testimonials from people who are using the framework in their own lives. More than 800,000 people have taken her online quiz. Managers, teachers, parents, spouses, coaches, doctors, and healthcare providers already apply her framework to help others make significant, lasting change. When we consider the Four Tendencies, we are better able to work and live with other people, and we gain a richer understanding of the world around us.
With sharp insight, compelling research, and hilarious examples, THE FOUR TENDENCIES is the authoritative guide that will allow you to understand yourself better—and also those around you.
ABOUT THE AUTHOR:
GRETCHEN RUBIN is one of the most influential writers on the linked subjects of habits, happiness, and human nature. She's the author of many books, including the blockbuster New York Times bestsellers Better Than Before and The Happiness Project. A member of Oprah's SuperSoul 100, Rubin has an enormous following, in print and online; her books have sold almost three million copies worldwide, in more than thirty-five languages, and her popular daily blog, gretchenrubin.com, reports on her adventures in pursuit of habits and happiness. She also has a highly ranked, award-winning podcast, Happier with Gretchen Rubin. Rubin started her career in law and was clerking for Justice Sandra Day O'Connor when she realized she wanted to be a writer. She's been interviewed by Oprah, eaten dinner with Daniel Kahneman, been written up in the New Yorker, walked arm in arm with the Dalai Lama, and appeared on the cover of two (small) magazines. Her book The Happiness Project was even an answer on the game show Jeopardy! She lives in New York City with her husband and two daughters.
Related Posts:
You Might Also Like