Press Releases
The Food Network's Alex Guarnaschelli shares her secrets for delicious home cooking in her debut cookbook
Old-School Comfort Food: The Way I Learned to Cook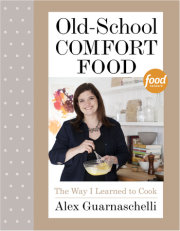 Alex Guarnaschelli
Imprint: Clarkson Potter
On sale: April 9, 2013
Price: $30.00
Pages: 304
ISBN: 9780307956552
Contact:
Erica Gelbard
212-572-6182
egelbard@randomhouse.com
Alex Guarnaschelli grew up in a home filled with a love of cooking, where soufflés and cheeseburgers were equally revered. The daughter of a respected cookbook editor and a Chinese-cooking enthusiast, Alex grew up devouring cookbooks and recipes the way other young girls read Nancy Drew novels. Old-School Comfort Food (Clarkson Potter/Publishers; on-sale April 9, 2013; $30.00), Alex's debut cookbook, presents 110 recipes for how she learned to cook—and the way she still loves to eat. Readers will delight in Alex's journey from waist-high taste-tester to classically trained chef and Food Network star who now adores spending time in the kitchen with her own daughter.
In Old-School Comfort Food Alex shares her secrets for great home cooking, where humble ingredients and familiar preparations combine with excellent technique and care to create memorable meals. Alex brings her recipes to life with memories of everything from stealing tomatoes from her aunt's garden and her first bite of her mother's pâté to being one of the few women in the kitchen of a renowned Parisian restaurant and serving celebrity clientele in her own successful New York City establishments.
Recipes include:
SNACKS ALWAYS BRING A FAMILY TOGETHER: Broccoli and Onion Dip, Pickled Grapes with Prosciutto, Spicy Cauliflower Fritters, Roasted Squash Soup with Popcorn
SALADS FOR ALL SEASONS: Leeks Vinaigrette, Greenmarket Caesar Salad with Quickie Poached Egg Dressing, Pea Salad with Tarragon and Pea Shoots, Shrimp and Cucumber Salad
MEAT: MY FAVORITE ALL-AMERICAN RECIPES: Beef Meatballs and Sauce with Rigatoni, Mom's Meatloaf, Braised Short Rib French Onion Soup, Bacon Wrapped Pork Chops
POULTRY: A LOVE AFFAIR: Breaded Chicken with Mustard and Dry Sherry, Flattened Chicken Breast with Pickled Red Onions, Roasted Turkey Wings with Honey and Garlic, Thanksgiving Turkey with Miles Standish Stuffing
FISH IS EASIER TO MAKE THAN YOU THINK: Scallop Gratin with Scallions, Fresh Clam Chowder, Angel Hair Pasta with Caviar and Lemon
VEGETABLES LIKE I REMEMBER THEM: Beer Braised Carrots, Mashed Potatoes "Chantilly," My Favorite Rice Pilaf, Smoky Shallots
DESSERT: IT'S NEVER ABOUT HUNGER: Yellow Cake with Chocolate Frosting and Caramel Top, Orange and Dark Chocolate Tart, Sugar-Cranberry Pie, Banana Betty
 SUNDAY BRUNCH DISHES FROM MY MOM'S PANTRY TO YOURS: Chilled Cantaloupe Soup, Deluxe Coffee Cake, Evil Cheese Biscuits, Cinnamon Sourdough Pancakes
MAKE IT FROM SCRATCH FOR THE FRIDGE DOOR: Homemade Ricotta, Infused Vinegars, My Mom's Barbecue Sauce, Homemade Hot Sauce
Old-School Comfort Food is infused with Alex's fierce passion and knowledge, all conveyed in deeply personal and engaging writing. It is the delicious result of a lifelong love affair with food.
# # #
ABOUT THE AUTHOR:
ALEX GUARNASCHELLI is the executive chef of the New York City restaurants Butter and The Darby. A graduate of Barnard College and La Varenne cooking school, she trained with acclaimed chefs Guy Savoy in Paris and Daniel Boulud in New York. An Iron Chef on Iron Chef America and a judge on Chopped, she has hosted and appeared on numerous Food Network shows, including Alex's Day Off and The Cooking Loft, and writes a blog on foodnetwork.com. She makes her home in New York City with her daughter. Visit Alex at www.alexguarnaschelli.com.
# # #
Related Posts:
You Might Also Like