Press Releases
The Fit Bottomed Girls Anti-Diet by Jennipher Walters & Erin Whitehead
10-Minute Fixes to Get the Body You Want and a Life You'll Love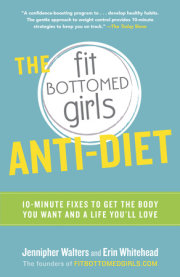 Jennipher Walters & Erin Whitehead
Imprint: Harmony Books
On sale: May 6, 2014
Price: $17.00
Pages: 320
ISBN: 9780804136976
Contact:
Rebecca Marsh
212-572-2544
rmarsh@randomhouse.com
THE SASSY, SPIRITED GALS BEHIND THE POPULAR FIT BOTTOMED GIRLS SITE REVEAL HOW TO DROP THE DIET DRAMA—AND THE POUNDS!—FOR GOOD.
The founders of the popular site FitBottomedGirls.com know a little secret: ten minutes can change your life. So forget all the drama. Lose the deprivation diets and the torturous workouts. Why overhaul your life when small changes to your everyday routine will let you look and feel better for good? In their new book, THE FIT BOTTOMED GIRLS ANTI-DIET: 10-Minute Fixes to Get the Body You Want and a Life You'll Love (Harmony Books; On Sale May 6, 2014; Trade Paperback Original), Jennipher Walters and Erin Whitehead offer an easy-to-follow, confidence-boosting program designed to put the fun back into being fit. The FBGs gives readers the tools they need to take control of their bodies and create healthy—and lasting!—change.
Named one of the top Twitter feeds of 2013 by TIME magazine, the Fit Bottomed Girls are beloved by the hundreds of thousands of readers who visit their site monthly for workout ideas, recipes, product reviews, and a dose of upbeat inspiration. Now, the FBGs are combining their best advice with tons of brand new tools to create a simple and friendly approach to managing weight. Using 10-minute fixes—from discovering a better way to enjoy chocolate to developing a workout around a favorite guilty-pleasure song—readers can create healthier routines without drastically altering their daily lives. The changes are based on the ten principles of being a Fit Bottomed Girl, which include listening to your hunger, achieving balance, and getting out of your comfort zone.
This 'anti-diet' won't crush your spirit or upend your life; it's about using simple weight-loss tools and feel-good exercises that will help readers boost their energy levels, have fun getting healthy, and most importantly love how they feel in their own skin. For women looking to lose 10+ pounds, fit folk who need a healthier relationship with their bodies, or anyone in search of a fun weight-loss program, THE FIT BOTTOMED GIRLS ANTI-DIET is a straightforward, sustainable way to get healthier in two weeks or less.
ABOUT THE AUTHORS
Jennipher Walters is the CEO and cofounder of the healthy-living websites FitBottomedGirls.com, FitBottomedMamas.com, and FitBottomedEats.com. A certified personal trainer, health coach, and group exercise instructor, she also holds a master's in health journalism from the University of Minnesota. Erin Whitehead brings a normal-gal approach to the popular healthy-living websites FitBottomedGirls.com, FitBottomedMamas.com, and FitBottomedEats.com, which she cofounded with Jennipher. Erin has a journalism degree from the University of Kansas.
PRAISE FOR THE FIT BOTTOMED GIRLS ANTI-DIET
"A confidence-boosting program to help the user develop healthy habits. No major rules or big changes, the gentle approach to weight control provides 10-minute strategies to keep you on track."
—TODAY
"The founders of the popular site FitBottomedGirls.com have created a friendly approach to getting healthy. The Fit Bottomed Girls Anti-Diet uses 10-minute changes to ditch the diet drama once and for all!"
—Fitness magazine
"Fit Bottomed Girls put the fit in your bottom and the fun in your healthy lifestyle! The FBGs Anti-Diet is the only weight-loss book you will ever need. The FBGs truly make eating healthy, exercising, dropping pounds – and losing your mental baggage about your body and the scale –  hilarious and fun so that you will stick with good habits for the long-term. I'm a huge advocate of 10-minute fixes that fit into people's lives – and their 10-minute fixes really deliver: They fit into your busy life, they're proven to work, and you'll actually enjoy doing them! If you're tired of the weight-loss roller coaster, going 'on' and 'off' diets, don't give up – just read this book!"
—Nicole Nichols, SparkPeople.com
"The Fit Bottomed Girls Anti-Diet celebrates the number one rule of success…honor thyself! Unraveling the diet mentality and reliance upon outside advice by tuning into the only true expert on you – yourself – will transform everything and take your physical, mental and spiritual health to an entirely unprecedented level. Jennipher and Erin generously offer support, inspiration and practical tips to rock your anti-diet. Energizing, jubilant and entertaining, this book will transform your life!"
—Julieanna Hever, MS, RD, CPT, author of The Complete Idiot's Guide to Plant-Based Nutrition and host of What Would Julieanna Do?
"The Fit-Bottomed Girls Anti-Diet book is charming, creative and accessible. The tone is casual but knowledgeable and pleasantly mimics a conversation with a smart, funny girlfriend. It includes terrific practical guides to making healthy food and fitness choices, as well as non-cheesy inspirational advice and life strategies. It's truly as juicy, engaging and insightful as having a good cup of coffee with a dear friend; I couldn't put it down."
—Amanda Russell
Related Posts:
You Might Also Like