Press Releases
The first cookbook from Food Network favorite Sunny Anderson presents 125 easy, affordable, and delicious recipes
Sunny's Kitchen: Easy Food for Real Life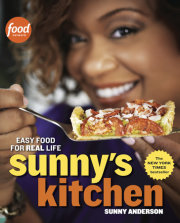 Sunny Anderson
Imprint: Clarkson Potter
On sale: 9/17/13
Price: $22.50
Pages: 304
ISBN: 9780770436780
Contact:
Anna Mintz
212-572-6186
amintz@randomhouse.com
Sunny's Kitchen: Easy Food for Real Life (Clarkson Potter, September 17, 2013; $22.50; Trade Paperback) is the debut cookbook from Sunny Anderson, Food Network's host of Cooking for Real and Home Made in America with Sunny Anderson. Capturing her effervescent girl-next-door personality, Sunny's Kitchen presents 125 simple recipes for American classics made Sunny's way—with bold, beautiful flavors.
Drawing from her military-brat upbringing, her years as a reporter in the Air Force, and of course the New York City DJ position that eventually led her to Emeril Lagasse and the Food Network, the recipes and vibrant stories featured in Sunny's Kitchen paint a picture of true comfort food through her life of travel and exploring new flavors.
Food Network favorite Sunny cooks real food for real life, often drawing on store-bought shortcuts and always relying on affordable, easy-to-find ingredients. Sample recipes featured in Sunny's Kitchen include:
Fried Oysters and Catfish Nuggets with Cheesy Grits
Curry Pork Burgers with Spicy Ketchup
Cucumber and Orange Salad with Creamy Pineapple Dressing
Brewed Awakening Coffee Rib Roast
Cumin Baked Chicken with Sweet Honey-Lime Sauce
Chorizo, Quinoa, and Zucchini Hash
Yuca and Plantains in Garlic Sauce with Caramelized Onions
Double Chocolate Bread Pudding with Bourbon Whipped Cream
For Sunny, comfort food is more than flavors—it's the feeling that goes along with them, the memories, friends, and celebrations. With family photos, personal stories, and the standout recipes that Sunny is known for on Food Network, Sunny's Kitchen is a beautiful cookbook that will inspire any reader to experience more life through food.
# # #
ABOUT THE AUTHOR:
SUNNY ANDERSON is the host of Food Network's Cooking For Real and Home Made in America with Sunny Anderson. After years of cooking for her music industry friends, she started catering while a DJ at New York City's HOT 97, and became the food and lifestyle editor at Hip Hop Weekly. Sunny appears regularly on the Rachael Ray show and the Today show, is a new contributor to O, The Oprah Magazine's food section, and is often in Food Network Magazine, Essence, and People. Sunny lives in Brooklyn, New York.
Related Posts:
You Might Also Like