Press Releases
Slave. Soldier. Liberator. Hero. Tom Reiss's The Black Count unveils the epic untold story of one of history's most remarkable figures.
The internationally bestselling author of The Orientalist explores the life of a French hero who rose from bondage to become a commander of vast armies and a rival of Napoleon's, and who achieved mythic feats that would inspire classic works of fiction like The Count of Monte Cristo and The Three Musketeers.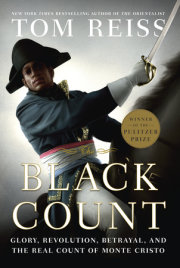 Tom Reiss
Imprint: Crown Publishers
On sale: September 18, 2012
Price: $27.00
Pages: 432
ISBN: 9780307382467
Contact:
Dyana Messina
212-572-2098
dmessina@randomhouse.com
 "It's hard to imagine a more colorful or engaging subject than the man who inspired The Count of Monte Cristo and The Three Musketeers. In the wonderful hands of Tom Reiss, Alex Dumas comes to vivid life, illuminating far-flung corners of history and culture. This is a terrific book."
—Jon Meacham, Pulitzer Prize–winning author of American Lion and Franklin and Winston
"From pike-wielding mobs to prisoners locked in a fortress tower, The Black Count is as action-packed as The Count of Monte Cristo. Unlike Dumas's famous adventure novel, however, Reiss's incredible tale is true."
—Candice Millard, New York Times bestselling author of The River of Doubt and Destiny of the Republic
With his critically acclaimed international bestseller The Orientalist, author Tom Reiss proved himself to be not only a supremely talented writer, but also a historical sleuth of the first order. The New York Times praised Reiss's herculean efforts in peeling away the layers of fact and fiction surrounding the elusive life of his subject, Lev Nussimbaum, calling it "a wondrous tale, beautifully told, that took the author five years and patient detective work in ten countries to reconstruct," while the Wall Street Journal credited Reiss with rescuing an incredible figure from obscurity: "[Mr. Reiss's] book fills the reader with admiration . . . the world had given up on [Lev Nussimbaum]. It had, as Mr. Reiss says, 'left him without an audience.' He has one now."
Now, in THE BLACK COUNT: Glory, Revolution, Betrayal, and the Real Count of Monte Cristo (Crown; September 18, 2012), Reiss has surpassed himself, delivering a thrilling, sweeping narrative that introduces readers to one of history's greatest forgotten heroes: Alex Dumas. Drawing on more than six years of personal research—which included inspecting dungeon cells and even cracking open a safe to recover every piece of the puzzle—Reiss masterfully recounts the epic story of an outsized figure whose daring, courage, and sheer intellectual and athletic prowess formed the very model for the modern-day action hero.
Born in Haiti to a French nobleman and a black slave, Dumas achieved fame in his own time as a dashing swordsman, accomplished military commander, and hero of the French Revolution—only to have his life virtually erased from history by his dangerous and powerful rival, Napoleon Bonaparte. Until now, Alex Dumas's extraordinary life and character survived only in the literary works of his celebrated son, the novelist Alexandre Dumas, whose classic tales of adventure, intrigue, and heroism The Three Musketeers and The Count of Monte Cristo have captivated hundreds of millions of readers worldwide. As Reiss's account reveals, the younger Dumas's novels were not simply the product of a fertile imagination but also the lifelong efforts of a son to resurrect through fiction the story of his own larger-than-life father. 
In rediscovering the life of General Alexandre ("Alex") Dumas, Tom Reiss also sheds startling new light on a forgotten age of emancipation: a single decade when the French Revolution ended slavery, created integrated schools and government, and allowed a black man to lead more than 50,000 white officers and soldiers into battle. Alex Dumas's career as a black leader in a white society remained unequaled until our own time, when leaders like Colin Powell and Barack Obama have finally followed in his footsteps.
Everywhere Dumas went, he was celebrated for his feats of bravery, audacity, strength, and skill. As a lowly corporal, Alex Dumas single-handedly captured thirteen enemy soldiers and marched them back to his camp. Not long afterward, he led four horsemen in an attack on an enemy post manned by over fifty men—Dumas alone killed six and took sixteen prisoner. In the early years of the Revolution, he led a corps of black and mixed-race volunteers called the Légion Noire—the Black Legion—who patrolled France's borders to defend them from German invasion. As general-in-chief of the Army of the Alps, roughly the equivalent of a four-star general today, Alex Dumas led his men up seemingly impregnable ice cliffs at night to surprise an Austrian battery that seemed unassailable. He captured the enemy's matériel and turned their own guns against them, forcing immediate surrender and taking 1,700 prisoners. And at the height of his career, he commanded Napoleon's cavalry in France's massive invasion of Egypt—but it was here that he became a threat to Napoleon himself.
On his journey home from Egypt, General Dumas was captured and cast into a dungeon—a harrowing ordeal that inspired one of the world's classic works of fiction. When he was finally freed, he returned home to a changed country. Napoleon had turned the clock back to a world of slavery, ending France's audacious experiment with racial justice. Napoleon went to particular lengths to bury the memory and legacy of General Dumas. As a result, in France today, General Alex Dumas remains forgotten, despite the staggering success his son had in writing his life into legend. (The only physical monument honoring the great general was a statue erected in the early 1900s by a small group of admirers; when the Nazis occupied Paris in 1940, they destroyed it.)
Tom Reiss has spent years investigating the life of General Dumas, retracing his steps across the globe to ensure that this incredible life resides not just in the realm of fiction but in history. Equal parts swashbuckling adventure, impeccably researched history, and action-packed narrative, THE BLACK COUNT is an astonishing work, echoing the enduring bonds of love that kept an embattled family together and providing a magnificent tribute to one of history's greatest unsung heroes.  
About the Author
TOM REISS is the author of the celebrated international bestseller The Orientalist. He has written for The New Yorker, the Wall Street Journal, and the New York Times Book Review, among other publications. He lives with his wife and daughters in New York City.
Related Posts:
You Might Also Like