Press Releases
Designer furniture for a fraction of the retail cost? Yes, you can build that.
The creator of ana-white.com, one of the country's most popular furniture design and home improvement blogs, offers homemakers 34 simple, stylish, and budget-friendly woodworking projects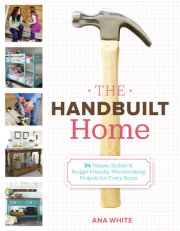 Ana White
Imprint: Potter Craft
On sale: October 23, 2012
Price: $22.99
Pages: 192
ISBN: 9780307587329
Contact:
Kim Small
212-572-6067
ksmall@randomhouse.com
Forget IKEA. Toss those Pottery Barn and Crate & Barrel catalogs. Young homemaker and popular blogger Ana White, an Alaskan mom on a tight budget, shows how anyone can make their own stylish, custom furniture, for about one-tenth of the cost of buying it from high-end stores.
In her first book, THE HANDBUILT HOME: 34 Simple, Stylish & Budget-Friendly Woodworking Projects for Every Room (Potter Craft; on sale October 23, 2012; $22.99), Ana goes room by room and shows readers how to easily—and inexpensively—make high-style furniture from scratch using only basic tools and off-the-shelf lumber that can be purchased at the local hardware store. From small things like organizers, mirrors, or photo ledges—to larger pieces—like beds, benches, a child's play set, or even a kitchen island—this book has projects to furnish your entire home with looks you love. And you won't break the bank doing it.
Don't worry if you've never even held a drill or used a table saw. You don't need to be tough and burly to work with power tools, and it's okay if you don't know that a 2×4 doesn't actually measure 2″ x 4″. This book is for non-woodworkers and readers at every skill level. Easy-to-follow instructions, costs, time estimates, and plenty of helpful tips guide even the most amateur of carpenters through every project. For Ana, building furniture is about building a real home, and with her at your side all you need is some determination to make a better home for yourself or your family.
Ana was like most women when she started building—she didn't have any woodworking experience. Pregnant and on a tight budget, she was living with her husband in their garage in rural Alaska, saving to build a home. But with a baby on the way, there was no time to wait. So they drew up a house plan, and together, board by board, paycheck by paycheck, built their first home by hand. And the process wasn't over when they moved in. For a year, Ana and her husband slept on a mattress on the floor because they refused to buy low-quality particleboard furniture but couldn't afford the kind of high-quality contemporary pieces they wanted.
Enter the power tools and Ana's signature passion. With some leftover boards from the house and just $80 in new supplies, Ana built her first piece of furniture—the Farmhouse Bed (check out page 136)—chic, sturdy, and custom-built for her taste. Ana's love of furniture building was born.
Just a few years later, Ana has inspired millions of homemakers with her stylish furniture plans and DIY spirit. Her blog, ana-white.com, gets 1 million unique visitors a month and more than 3 million page views a month, and DIYers from around the world count on her easy-to-follow instructions and you-can-do-it attitude, making Ana the most-trusted resource for women hand-making furniture. As Ana likes to say, "If I can build it, so can you!" And now, with THE HANDBUILT HOME, it's easier than ever.
About the Author:
ANA WHITE, a mother and homemaker from Alaska, is the blogger behind the popular website ana-white.com, which receives more than 1 million unique visitors a month, gets 3 million page views a month, and has over 66,000 Facebook fans. An avid do-it-yourselfer, Ana is a self-taught furnituremaker who learned her skills while building her own home and the furniture inside it. She has designed thousands of furniture projects, inspiring people to create attractive, budget-friendly pieces. The Handbuilt Home is her first book.
Related Posts: