Press Releases
The crazy-clever creators of Fifty Shades of Chicken are back!
The Snacking Dead: A Parody in a Cookbook by D.B. Walker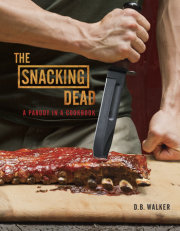 D.B. Walker
Imprint: Clarkson Potter
On sale: October 22nd, 2013
Price: $19.99
Pages: 160
ISBN: 9780770435448
Contact:
Erica Gelbard
212-572-6182
egelbard@randomhouse.com
In a world where the dead eat the living, the living are forced to eat on the run. But if you are hungry in the real world, The Snacking Dead (Clarkson Potter/Publishers, $19.99, on sale October 22) will fortify you with snacks for every type of hunger pang and tips for cooking under duress, all while telling a story set in a land where you either snack or get snacked on.
For those who can't get enough of AMC's The Walking Dead, The Snacking Dead serves up 50 delicious survival recipes (that use both supermarket ingredients and what's on hand) for finger foods—each is accompanied by food photography that will at once make you drool and creep out. Throughout, D. B. Walker tells the love/survival tale of everymom Pam and backwoods hunk, Daryl, and their quest to stay well-fed in the face of apocalyptic danger.
Grab a bite with recipes such as:
APPETIZERS FOR AN APOCALYPSE: Nachos of the Living Dead, Napalm Spicy Chicken Wings, Guac and Load Guacamole, Gratuitous Violence Jell-O Mold
EATING ON THE RUN: Squirrel Poppers, Last Stand Skillet Cornbread with Honey Butter, Postapocalyptic Po' Boy, Saving Grace Grilled Pimento Cheese
MESSY BITES FOR THE NEWLY DEAD: Nail-Biter Chicken Fingers, Chupacabra Shepherd's Pie, Sweet-ish Fleshballs with Red Berries, Dripping Ribs with Bourbon
LAST CALL: Bloody Walker, Corpse Reviver No. 2, Lil' Ass-Kicker Punch
Walker also shares ingenious survival tips, including:
Knowing what herbs, greens, and other vegetables grow wild in your area can mean the difference between snacking like a king and dying like a rat.
A vegetable-based diet looks better and better once you think about why the living dead find you so irresistible.
Bring hostile survivor groups together with baskets of cookies and other treats. Baked goods are the foundation upon which future civilizations will be rebuilt.
Canned tuna is at peak condition for 3 to 5 years. If the outbreak continues longer than that, tuna salad won't be much help.
With the aid of The Snacking Dead's 50 recipes and frightening insights, surviving the zombie apocalypse has never been such a picnic.
ABOUT THE AUTHOR
D. B. Walker is a pseudonym, but is the same author who wrote and created the recipes for the New York Times bestseller Fifty Shades of Chicken.
Related Posts:
You Might Also Like