Press Releases
The Complete Guide to Nature Photography By Sean Arbabi
Professional Techniques for Capturing Digital Images of Nature and Wildlife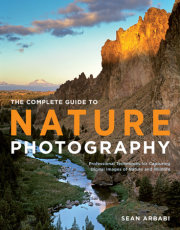 Sean Arbabi
Imprint: Amphoto Books
On sale: December 6, 2011
Price: $29.99
Pages: 240
ISBN: 9780817400101
Contact:
Anna Mintz
212-572-6186
amintz@randomhouse.com
Nature is wild, unpredictable, and undeniably powerful.  In The Complete Guide to Nature Photography: Professional Techniques for Capturing Digital Images of Nature and Wildlife (Amphoto Books; $29.99; December 6, 2011), professional photographer Sean Arbabi offers in-depth instruction on technical matters as well as useful advice that will help photographers of any level capture the most popular subjects for amateur photographers: nature and wildlife.
Advances in digital photography in recent years have steered the art of nature photography in a new direction, providing state-of-the-art features and cutting-edge ways to capture the natural world.  In The Complete Guide to Nature Photography, Sean Arbabi guides readers through every stage of the nature photograph and focuses on shooting landscapes, close-ups, and animal portraits.  His comprehensive lessons featured in the book range from packing your gear bag to selecting sites, deciding on a composition, getting a perfect exposure, taking macro images, and processing your digital images afterward. 
Using his own exceptional work as examples, Arbabi discusses each type of nature subject and how best to approach it. An assignment at the end of each chapter gives photographers of every level a step-by-step opportunity to practice one of the chapter's key concepts and reinforces the new techniques learned.  Sample chapters and topics include:
Understanding Nature: Safety in Nature, Packing and Planning, Photographing in State and National Parks, Learning How to Capture Something Unique
Nature in the Digital Age: How Digital Benefits Outdoor Photography, Traveling with Digital Media, Referring to your LCD Screen in the Field, Understanding your Histogram
Metering the Outdoors: Learning Exposure, Settings and Functions that Affect Scenes, Exposure and Your Meter, Determining the Best Exposure
Capturing Wildlife: Hunting with a Camera, Learning Behavior, Exposing Animals
Creative Techniques: Nighttime Photography, High Dynamic Range Imagery, Aerial Photography, Panoramic Landscapes
Post-Capture with Digital Nature Files: Calibrating Your Monitor, Digitally Altering Nature, Organizing and Cataloging Your Digital Files
Packed with 200 of the author's beautiful images of nature and wildlife, The Complete Guide to Nature Photography is the only book photographers will need as they aim to capture the beauty of nature around them.
#             #             #
About the Author
SEAN ARBABI is a commercial photographer specializing in nature, adventure, lifestyle, and travel imagery. His work has been featured in more than 250 publications, including National Geographic, Outside, Sunset, Backpacker, and The New York Times. Sean's first book The BetterPhoto Guide to Exposure, was listed on Bookscan's bestselling photography list for several months. He has appeared in numerous television segments, radio and newspaper interviews, websites, and podcasts, and has taught workshops in over 30 countries and throughout the United States.

Related Posts:
You Might Also Like