Press Releases
The Chew co-host and Iron Chef Michael Symon shares killer recipes for steaks, chops, wings, and lesser-known cuts in his latest cookbook
Michael Symon's Carnivore: 120 Recipes for Meat Lovers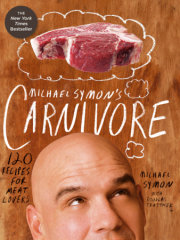 Michael Symon
Imprint: Clarkson Potter
On sale: October 16, 2012
Price: $35.00
Pages: 256
ISBN: 9780307951786
Contact:
Erica Gelbard
212-572-6182
egelbard@randomhouse.com
Michael Symon loves meat. Nothing gets him fired up like searing a porterhouse steak to a perfect medium rare or slowly braising a pork shoulder until it falls apart at the touch of a fork. In MICHAEL SYMON'S CARNIVORE (Clarkson Potter/Publishers; $35.00; on sale October 16, 2012), his second cookbook, the Iron Chef and cohost of ABC's The Chew shares his expert tips on selecting breeds, cuts, and techniques to help home cooks, both at the meat counter and in the kitchen.
At the heart of MICHAEL SYMON'S CARNIVORE are 120 recipes covering every kind of meat—beef, pork, poultry, lamb, goat, game, and offal—in preparations like roasting, grilling, smoking, broiling, braising, and stewing. Hearty big flavors abound in recipes such as Double-Trouble Meatloaf and Coriander & Orange Roasted Chicken, both perfect for weeknights with family; or Smoked Pork Butt with Habanero Glaze and a garlicky, irresistible Porchetta, which could feed a crowd. For game night, try Ribs with Cleveland BBQ sauce, Venison Sloppy Joes, or Pheasant Chili Austin-Style. Pull out all the stops for special occasions with recipes for Grilled Lamb Chops with Lavender Salt or a classic prime rib. Fantastic seasonal sides—including Peach and Blue Cheese Salad, Horseradish Beets, Sicilian Cauliflower, and Spicy Fried Potatoes—round out any meal.
With 75 color photographs, "cook it right" tip boxes for each cut of meat, and an author whose passion and unabashed fondness for his favorite ingredients show on every page, MICHAEL SYMON'S CARNIVORE is a love letter to fellow meat eaters everywhere.
# # #
ABOUT THE AUTHOR:
MICHAEL SYMON is a cohost of ABC's The Chew, an Iron Chef on Food Network's Iron Chef America, and the host of Cooking Channel's Symon's Suppers and Cook Like an Iron Chef. He is the chef and co-owner of the acclaimed restaurants Lola and Lolita in Cleveland, Ohio; three B Spot burger restaurants outside Cleveland; and Roast in Detroit, Michigan. Visit Michael at www.SymonSays.typepad.com and follow him on Twitter (@chefsymon).
Related Posts: