Press Releases
The Charles Schwab Guide to Finances After Fifty from Carrie Schwab-Pomerantz and Joanne Cuthbertson
Answers to your most important money questions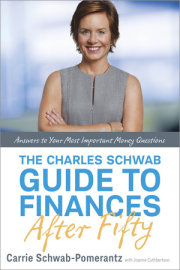 Carrie Schwab-Pomerantz with Joanne Cuthbertson
Imprint: Crown Business
On sale: April 1, 2014
Price: $25.00
Pages: 432
ISBN: 9780804137362
Contact:
Jocelyn Cordova
(212) 572-2872
jcordova@randomhouse.com
Finance expert Carrie Schwab-Pomerantz offers clear, compelling advice for navigating the biggest money issues in a new and uncharted era of personal accountability.
When it comes to personal finance and planning for the future, times have changed. In stark contrast to previous generations, people are now facing a perfect storm:  longer lives, increasing expenses, fewer pensions, and the need to be more aggressive about planning for income in retirement. The unfortunate truth is that many people who are approaching or over fifty may not have adequately saved or planned for what could be multiple decades of living without a regular paycheck. For others, the complexities of the financial landscape have contributed to myths and misconceptions about important financial decisions, which can undermine the best-laid plans. But personal finance expert and financial literacy advocate Carrie Schwab-Pomerantz envisions a better future for the millions of Americans who are prepared to take control of their finances.
Through her nationally syndicated "Ask Carrie" column, her leadership of  Charles Schwab Foundation, and her work through two White House administrations with the President's Advisory Council on Financial Capability, Carrie has become one of America's most trusted sources for financial advice. Now, in her new book, The Charles Schwab Guide to Finances After Fifty: Answers to Your Most Important Money Questions, Carrie aims to debunk many of the myths and misconceptions about important financial choices and help you make the next years your best years.
If you're like most people moving into the phase of life where protecting—as well as continuing to grow—assets is paramount, you're faced with a number of financial challenges.  Maybe you're struggling to get your kids through college without drawing down your life's savings. Perhaps you'd like to be saving more money but are uncertain about which type of retirement account to choose. Possibly, medical expenses have become a bigger line item in your budget than you expected and you need help assessing your options.  Or you may soon be eligible for Social Security and want to optimize when and how to take it.
In this easy-to-use guide, Carrie cuts through the financial clutter with clear advice on how to make optimal decisions about planning, saving, investing, insurance, Social Security, Medicare, and caring for loved ones.  The reality is that we're facing a new world of taking care of ourselves.  The good news is that Carrie's book shows readers how to do just that, tackling questions such as:
How can you get your kids through college without drawing down your life's savings?
How should you change your investing strategy as you get closer to retirement, and in retirement?
When should you plan to start taking Social Security benefits, and how might your spouse impact that decision?
What type of insurance will you need to supplement Medicare?
Can you lower your tax bill now that you're retired?
How can you get your spouse involved in the finances when he/she shows no interest?
What's a smart way to rid yourself of messy folders and keep your finances organized?
Carrie says, "I want everyone to be able to accomplish whatever it is that makes them feel whole or complete. I want every person to be able to reach into their own bank of talents and use them to the best of their ability. Of course, this often takes money—and hopefully that's where this book can help."
In The Charles Schwab Guide to Finances After Fifty, Carrie not only answers many of the questions that keep you up at night, she'll provide answers to many questions you haven't considered but should.
Related Posts:
You Might Also Like