Press Releases
The Calligraphy Bible by Maryanne Grebenstein
A Complete Guide to More Than 100 Essential Projects and Techniques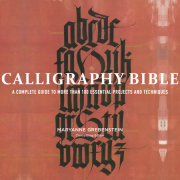 Maryanne Grebenstein
Imprint: Watson-Guptill
On sale: April 3, 2012
Price: $24.99
Pages: 256
ISBN: 9780823099344
Contact:
Mary Coyne
212-572-2247
mcoyne@randomhouse.com
The CALLIGRAPHY BIBLE: A Complete Guide to More Than 100 Essential Projects and Techniques (Watson-Guptill; April 3, 2012; $24.99; Trade Paperback) presents an all-encompassing collection of gorgeous hand-lettering, accompanied by step-by-step instructions for recreating the art form at home. A follow-up to Maryanne Grebenstein's first book, Calligraphy: A Course in Hand Lettering, CALLIGRAPHY BIBLE has something to offer a variety of readers—it appeals to beginners who are learning the fundamentals, as well as calligraphers seeking inspiration and expertise.
Calligraphy is a romantic and popular art form that can be applied to any sort of project or craft, from elegant, handmade wedding invitations to graphic design and scrapbooking. CALLIGRAPHY BIBLE makes hand-lettering accessible to aspiring artists, and the abundance of projects contained in its pages will surely leave Grebenstein's students with timeless, spectacular results.
Brimming with over 100 projects, CALLIGRAPHY BIBLE is based on stunning contemporary designs and historical examples. Grebenstein leads readers through the history and techniques of calligraphy one step at a time.
Between the pages of CALLIGRAPHY BIBLE, you'll find:
*  A detailed guide to materials, tools, and setting up your own workspace, as well as a troubleshooting section
*  An Alphabet Workbook for practicing all the book's letterforms, from Foundationals to Copperplate, alongside beautiful examples
*  Clear demonstrations map out every type of line, stroke, and flourish you may encounter
*  Easy to follow instructions for gilding, illuminating letters, mixing colors, flourishing, and creating ornate borders to frame your work
*  A wealth of projects to put this ancient art to practical, modern day use, including wedding invitations, posters, letterhead, and more
*  A comprehensive list of suppliers and calligraphers' societies all over the country
ABOUT THE EDITOR
Consulting Editor Maryanne Grebenstein is a professional calligrapher who runs the Abbey Studio, in Hingham, Massachusetts (www.theabbeystudio.com), a center offering calligraphy courses as well as handmade products. She is the author of Calligraphy: A Course in Hand Lettering, published by Watson-Guptill, and has authored several magazine articles on the subject of medieval and renaissance manuscript collections. She also organizes trips, both domestic and abroad, to view manuscript collections. She has taught calligraphy at the Massachusetts College of Art and the North Bennet Street School in Boston, and at The Corcoran College of Art & Design in Washington, D.C.
Related Posts:
You Might Also Like