Press Releases
The Body in Balance
Qigong Healing at Any Age with Energy, Breath, Movement, and 50 Nourishing Recipes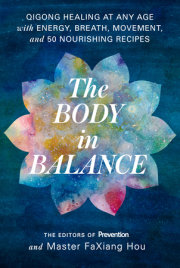 The Editors of Prevention and Master FaXiang Hou
Imprint: Rodale Books
On sale: September 25, 2018
Price: $19.99
Pages: 304
ISBN: 9781635651737
Contact:
Molly Breitbart
212/782/9164
mbreitbart@prh.com
Unlock your connection with your body and harness the power of self-healing.
Qigong is the traditional Chinese practice of low-impact body movement based on the ancient theory that the beneficial flow of energy– or "qi"– restores vitality and regulates the functions of the mind, body, and breath. Master FaXiang Hou, a fifth generation practioner of medical qigong, teaches women at any stage of their lives how to manage their internal energy, awaken their own powers of self-healing, and gain insight into the deep connections within their bodies. He is a firm believer in the power of food as medicine.
Drawing on centuries-old knowledge, THE BODY IN BALANCE (On sale September 25, 2018 $19.99, paperback, Rodale Books) explains how the practice of qigong through diet and exercise has the power to protect against disease and other complications that arise when meridians through which energy flows are blocked. Qigong healing has had spectacular results, often eliminating the need for medication and surgery that western doctors may recommend for concerns that are simply part of the natural stages of a woman's life.
Women seeking natural solutions to help them sleep soundly, strengthen their immune system, thrive during childbearing years, take menopause in stride, and achieve overall wellness will find answers here. This guide contains qigong exercises with photographic instructions, as well as mindful breathing techniques, a seasonal fasting plan, acupressure points, traditional herbal remedies, and 50 delicious healing recipes for any stage of life, including Ma Po Tofu, breakfast congee, and Lotus Root and Asian Pear Stir-Fry.
###
About Master Hou
FaXiang Hou is a healer who uses acpressure, acupuncture, traditional Chinese medicine, and qigong in his pratice. He is the founder and director of the QiGong Research Society based in Mount Laurel, New Jersey, an organization dedicated to preserving the ancient, natural tradition of qigong through eductaion and training.
Related Posts: