Press Releases
The bestselling phenomenon, Gone Girl by Gillian Flynn, finally in paperback
Soon to be a major motion picture from 20th Century Fox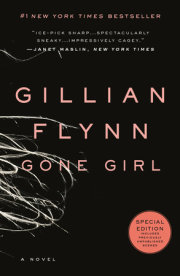 Gillian Flynn
Imprint: Broadway Books
On sale: April 22, 2014
Price: $15.00
Pages: 432
ISBN: 9780307588371
Contact:
Annsley Rosner
212-782-9740
arosner@randomhouse.com
OVER 6 MILLION COPIES SOLD WORLDWIDE
78 WEEKS ON THE NEW YORK TIMES BESTSELLER LIST
Entertainment Weekly's Entertainer of the Year 2012
People Magazine's Best Books of the Year 2012
O Magazine's Ten Favorite Books of the year 2012
USA Today's "Books We Loved Reading in 2012"
One of Stephen King's "Best Books I Read in 2012"
Janet Maslin's 10 Favorite Books of 2012
The Wall Street Journal's Best Mysteries of 2012
Barnes & Noble's Best Books of 2012
Amazon.com's Best Books of 2012
"Ice-pick-sharp… Spectacularly sneaky… Impressively cagey…Gone Girl is Ms. Flynn's dazzling breakthrough. It is wily, mercurial, subtly layered and populated by characters so well imagined that they're hard to part with—even if, as in Amy's case, they are already departed. And if you have any doubts about whether Ms. Flynn measures up to Patricia Highsmith's level of discreet malice, go back and look at the small details. Whatever you raced past on a first reading will look completely different the second time around."
—Janet Maslin, New York Times

"An ingenious and viperish thriller…It's going to make Gillian Flynn a star…The first half of Gone Girl is a nimble, caustic riff on our Nancy Grace culture and the way in which 'The butler did it' has morphed into 'The husband did it.' The second half is the real stunner, though. . . . Even as Gone Girl grows truly twisted and wild, it says smart things about how tenuous power relations are between men and women, and how often couples are at the mercy of forces beyond their control. As if that weren't enough, Flynn has created a genuinely creepy villain you don't see coming. People love to talk about the banality of evil. You're about to meet a maniac you could fall in love with."
—Jeff Giles, Entertainment Weekly

"An irresistible summer thriller with a twisting plot worthy of Alfred Hitchcock. Burrowing deep into the murkiest corners of the human psyche, this delectable summer read will give you the creeps and keep you on edge until the last page."
—People (four stars)

"[A] thoroughbred thriller about the nature of identity and the terrible secrets that can survive and thrive in even the most intimate relationships. Gone Girl begins as a whodunit, but by the end it will have you wondering whether there's any such thing as a who at all."
—Lev Grossman, Time

"How did things get so bad? That's the reason to read this book. Gillian Flynn—whose award-winning Dark Places and Sharp Objects also shone a dark light on weird and creepy, not to mention uber dysfunctional characters — delves this time into what happens when two people marry and one spouse has no idea who their beloved really is."
—USA Today, Carol Memmott
When GONE GIRL (Broadway Books; On Sale: April 22, 2014) was first published in 2012, it instantly became a phenomenon that turned its author, GILLIAN FLYNN, into a household name. GONE GIRL became a New York Times bestseller and was hailed by all major publications as a masterpiece to read and immediately discuss with everyone you know. It was nominated for the Women's Prize for Fiction, an Impac Award, Edgar Award, Macavity Award,  Shirley Jackson Award, and an Anthony Award, among others, and won the International Author of the Year Award (National Book Awards, UK) as well as the Grand Prix de Lectrices de Elle (France).
On October 3, 2014, the story will debut on the big screen as a major motion picture produced by 20th Century Fox, directed by David Fincher (The Social Network, The Girl with the Dragon Tattoo, Fight Club), starring Ben Affleck, Rosamund Pike, Neil Patrick Harris, Tyler Perry, Emily Ratajkowski, and Sela Ward. GILLIAN FLYNN herself wrote the screenplay. But before they see the movie, readers will now be able to experience the novel in paperback.
GONE GIRL opens on the morning of Nick and Amy Dunne's fifth wedding anniversary. Amy has disappeared from their rented McMansion on the Mississippi. Nick is weak, Nick is a liar, and maybe he's not the very best of husbands— but is he a killer? Amy's diary reveals turmoil in their marriage—but is she telling the whole story? As the evidence slowly mounts and the investigation deepens, Nick begins to crumble under pressure from the police and from Amy's fiercely doting parents. He maintains that he didn't murder his beautiful wife and goes on the offensive to clear his name only to find that the truth is more twisted and disturbing than the murder of which he has been accused.
FLYNN burst onto the literary scene in 2006 with the publication of her debut novel, Sharp Objects, which received rave reviews, won multiple awards, was a Barnes & Noble Discover and a BookSense Pick, was sold in twenty-two countries, and was optioned by Alliance Films (The Woman In Black) to develop with producer Jason Blum (The Reader, Paranormal Activity). Her second novel, Dark Places, was an even bigger success story, landing on the New York Times bestseller list following glorious reviews (including The New Yorker, Chicago Tribune, and Publishers Weekly Best of the Year lists), movie and foreign rights deals, a Black Quill Award, and an Ian Fleming Steel Dagger Award nomination. Dark Places is also being made into a movie starring Charlize Theron, Chloë Grace Moretz, and Nicholas Hoult,
The terrifying masterpiece of a marriage gone wrong, GILLIAN FLYNN's fast-paced, dark, and ingeniously plotted GONE GIRL confirms that she is at the peak of her powers.
ABOUT THE AUTHOR
GILLIAN FLYNN is the author of the runaway hit Gone Girl, an international sensation that has spent more than seventy-five weeks on the New York Times bestseller list. Her work has been published in forty languages. GONE GIRL is soon to be a major motion picture from Twentieth Century Fox. Flynn's previous novels, Dark Places and Dagger Award winner Sharp Objects, were also New York Times bestsellers. A former writer and critic for Entertainment Weekly, she lives in Chicago with her husband and son.
Related Posts: