Press Releases
The best selling Dukan Diet weight-loss plan introduces The Dukan Diet Made Easy
The third U.S. book from the weight loss plan is a user-friendly guide for easily navigating the four-phase diet to lose weight and keep it off for life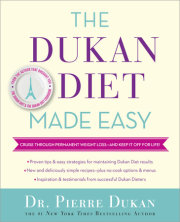 Dr. Pierre Dukan
Imprint: Harmony Books
On sale: May 20, 2014
Price: $24.99
Pages: 240
ISBN: 9780553418118
Contact:
Tammy Blake
212-572-2542
tblake@randomhouse.com
THE DUKAN DIET MADE EASY (Harmony Books; on-sale May 20, 2014) is the third U.S. book published by the best selling Dukan Diet weight loss plan that has been read by more than 8 million people in over 20 countries. Whether you are just starting your weight loss journey or are a long time Dukan dieter looking to rev up your regimen, this new book is a step-by-step guide that helps readers to achieve and maintain weight loss. The high protein, low fat, low carb four-phase diet rejects calorie counting and encourages people to eat real foods including lean proteins, vitamin and mineral-rich vegetables and oat bran, combined with drinking plenty of water, daily walking and supportive counseling.
Written by the creator of the Dukan Diet and French medical doctor Pierre Dukan, this new book breaks down the four-phases of the diet in simple, easy to understand steps to help readers incorporate the diet into their every day life. For instance, the book examines how to deal with common issues that dieters run into like cooking for the whole family while on the diet, cocktail time and eating out at restaurants. At the end of each phase, Dr. Dukan answers the most frequently asked question and readers can recap what they have learned with a brief, outlined summary.
Each phase features food lists, making it clear which foods can be eaten and which should be avoided, as well as meal plans, mouth-watering no-cook menus and 60 new delicious recipes like Eggplant and Tofu Lasagna, Seafood Sauerkraut and Shirataki Noodles Bolognese. Sprinkled throughout the book are real life stories, tips and testimonials from Dukan Dieters to offer inspiration for readers as well as 10 new slimming secrets to help dieters stay on track.
"It's been almost three years since I started the Dukan Diet . . . and I really wish I had this book back then! The food lists and meal plans laid out in each phase makes it so simple to follow," explains Dukan dieter Constance Pulsifer. "When no other diet plans worked, this one did and it continues to work for me as I have maintained my weight loss for three years. I tell everyone, if you follow the phases of the diet and don't cheat you will lose weight, this new book just makes it that much easier."
 In conjunction with the book, dieters can utilize the online Dukan Diet Coaching, which currently has nearly 30,000 subscribers, to create a personalized weight loss plan and receive daily monitoring and support. Dieters can also incorporate Dukan Diet products into their daily meal plan like Oat Bran Granola – Apple Cinnamon, Organic Oat Bran, Shirataki Noodles and more at ShopDukanDiet.com.
While this new book is designed as a manual for easily navigating the diet, the concepts behind the diet, which have made the Dukan Diet a success and gained hundreds of thousands of followers world wide, remains the same. First, dieters calculate their 'True Weight' on the Dukan Diet website to determine an attainable and maintainable weight. From there, dieters, follow the four phases including two steps to help dieters lose unwanted weight (Attack and Cruise phases) and two steps to keep it off for good (Consolidation and Stabilization phases).
The Dukan Diet Made Easy is the indispensable, accessible, go-to resource for every Dukan dieter–whether they've already achieved their goals or are just beginning their weight loss journey.
 # # #
About the Author:
Dr. Pierre Dukan is a French medical doctor with 40 years of experience in clinical nutrition. While he began his medical career specializing in neurology, Dr. Dukan discovered and refined his successful weight loss formula while working with his patients to adjust their diets. Since then, he has spent his career helping people lose weight and keep it off.
About Dukan Diet
The Dukan Method is a high-protein, low-fat, low-carb diet designed for healthy eating and lifelong weight management. Created by Dr. Pierre Dukan, a French medical doctor with over 40 years of experience in clinical nutrition and author of the #1 New York Times bestselling book The Dukan Diet: 2 Steps to Lose the Weight. 2 Steps to Keep It Off Forever, the Dukan Diet program offers unique and personalized weight loss coaching, as well as a variety of food products at ShopDukanDiet.com. The Dukan Diet book has sold more than eight million copies worldwide. To learn more about the Dukan Diet, please visit www.dukandiet.com or find Dukan Diet on Facebook or Twitter.
Related Posts: