Press Releases
The Art of Metal Clay By Sheri Haab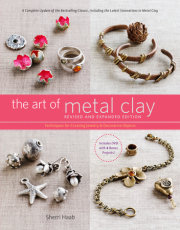 On sale: January 1, 1970
Price: $
ISBN: 9780823099320
Contact:
Kim Small
212-572-6067
ksmall@randomhouse.com
In 2004, The Art of Metal Clay introduced thousands of readers to the moldable, malleable clay that becomes pure metal after it's fired—and became the metal clay bible. Now author and jewelry-making instructor Sherri Haab has updated her bestselling book with the most current information on this revolutionary medium, in The Art of Metal Clay Revised and Expanded Edition(Watson-Guptill; July 27, 2010; $24.99). The book includes invaluable information on:
–Using the new, highly sought-after bronze and copper clays, with must-have instructions for successful firing
 –New bead projects: creating beads around silver cores, bronze beads, and bead caps for lampworked beads
–Up-to-date information on firing with stones, plus a new technique for setting particularly delicate stones
–Using the recently developed methods for water etching and electro-etching
–Utterly inspiring galleries of work by prominent contemporary metal clay artist

Ten all-new projects!
Best of all, The Art of Metal Clay Revised and Expanded Edition comes with a bonus DVD showing exactly how to implement over 20 of Sherri's signature techniques by demonstrating four projects: Heart Bead with Center Stone, Gold and Silver Flower Ring, Square Bezel Picture Frame Charms, and Star Bezel Polymer Clay Charm Bracelet.
For metal clay and polymer clay enthusiasts, jewelry makers, beaders, and other crafters who want the latest information on metal clay, Sherri Haab has compiled a treasure trove of information to inspire and delight.
About the Author:
Sherri Haab is the bestselling, award-winning author of more than twenty books. In addition to being an illustrator and product designer, she teaches crafting seminars across the USA and around the world. Sherri makes her home in Utah and can be found online at www.sherrihaab.com
Related Posts:
You Might Also Like