Press Releases
The 2-Hour Job Search by Steve Dalton
Using Technology to Get the Right Job Faster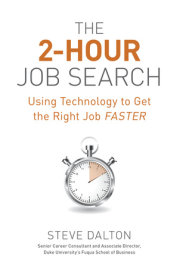 On sale: January 1, 1970
Price: $
ISBN: 9781607741701
Contact:
Ryan Warden
212-782-8637
rwarden@randomhouse.com
From the Associate Director and Senior Career Consultant of Duke University's Fuqua School of Business:
THE 2-HOUR JOB SEARCH
Using Technology to Get the Right Job Faster
by Steve Dalton
Technology has rendered the job hunting landscape unrecognizable from what it was even a decade ago, creating a cyclical pattern of resigned inefficiency for job seekers in which applying for a job has never been easier, but landing an interview is more difficult than ever before.  In THE 2-HOUR JOB SEARCH: Using Technology to Get the Right Job Faster (Ten Speed Press, On Sale: March 6, 2012), Steve Dalton provides new strategies and a detailed, methodical approach to empower job-seekers to take control of their time, abilities, and careers in the ever-changing – and often challenging – new job market.
Most contemporary job search manuals are full of vague guidance and trite truisms for how to land an interview, offering blank advice such as "tap into your network," "be confident," and "don't give up." Combine that with the proliferation of online job search options, and job seekers quickly become confused and overwhelmed. In THE 2-HOUR JOB SEARCH, Dalton acknowledges that job seekers do not need any more advice; what they need instead are detailed instructions, specific examples, and a manageable timetable. THE 2-HOUR JOB SEARCH shows job-seekers how to work smarter – and more efficiently – to secure first interviews.
Through a prescriptive approach, Dalton explains how to wade through the Internet's sea of information and create a job search system that relies on mainstream technology such as Excel, Google, LinkedIn, and alumni databases to create a list of target employers, contact them, and then secure an interview – with only two hours of effort. Avoiding well-worn clichés, Dalton tells job-hunters exactly what to do and how to do it, as informed by the experiences of the hundreds of job seekers he's helped previously.
THE 2-HOUR JOB SEARCH is a job search manual that gives career seekers a systematic, tech-savvy formula to efficiently and effectively target potential employers and secure the essential first interview.
* * * * *
ABOUT THE AUTHOR
STEVE DALTON is a senior career consultant and associate director at Duke University's Fuqua School of Business. He holds his own MBA from the same institution. Prior to entering the career services industry, Steve was an associate marketing manager at General Mills and a strategy consultant at A.T. Kearney. He lives in Durham, NC.
Related Posts:
You Might Also Like