Press Releases
TELL ME HOW THIS ENDS WELL by David Samuel Levinson
A breakout novel by the acclaimed short-story writer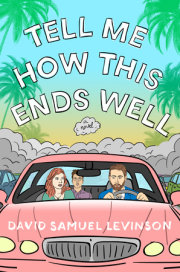 David Samuel Levinson
Imprint: Hogarth
On sale: April 4, 2017
Price: $27.00
Pages: 416
ISBN: 9780451496881
Contact:
Liz Wetzel
212-572-6049
lwetzel@penguinrandomhouse.com
Advance Praise for TELL ME HOW THIS ENDS WELL
"In Levinson's prescient second novel, which speaks to the current political moment, the year is 2022 and anti-Semitism is on the rise in America . . . the jokes, knowing and hilarious, fly fast and furious in the black comic manner of Bruce Wagner, Howard Jacobson, and Bruce Jay Friedman. . . . Levinson leavens the humor with some chilling cautionary notes."
—Publishers Weekly
"With well-crafted characters, this unsettling saga will be appreciated by those who enjoy dark novels with wit and sass."
—Library Journal
"Tell Me How This Ends Well is a wickedly funny, intelligent examination of the dynamics of a uniquely strange family, and David Samuel Levinson guides these characters through a plot that intensifies in such unexpected ways. Against a backdrop that feels both terrifying and yet utterly plausible, Levinson again and again finds ways to make the struggles of this clan explode with a kind of humor that most writers could not dream of pulling off. A daring, memorable novel."
—Kevin Wilson, author of The Family Fang and Perfect Little World
"Tell Me How This Ends Well is Cormac McCarthy's The Road doing 70 mph in reverse on the 405. David Samuel Levinson's dystopian vision is deeply strange in the best way: perverse and precise and teeming with life, reminiscent of George Saunders, Flannery O'Connor, and Nathanael West. A comic novel firing on all cylinders, with one eye on the highway and the other to our future."
—Daniel Torday, author of The Last Flight of Poxl West

"David Samuel Levinson's Tell Me How This Ends Well is an absolute joyride through the dark, beautiful terrain of the near future. This is a book that is, arguably, about everything—about family and love and hatred and politics and the indomitable self, and Levinson tackles the whole thing with abundant intelligence, seriousness, and humor, and convinces, once again, of the novel's enduring power to grasp the future. Reading these pages is such a deep pleasure for the reader, to see these crystalline sentences pour forth, each one full of life and imagination. I loved this book and will continue to read it."
—Rebecca Lee, author of Bobcat and Other Stories

TELL ME HOW THIS ENDS WELL (Hogarth; April 4, 2017) is a truly breakout novel from the acclaimed short-story writer David Samuel Levinson. Set in Los Angeles in the not-so-distant future, the dysfunctional Jacobson family gathers for Passover, during which three siblings must reckon with their profoundly flawed parents, to a terrific and fatal end. This gripping, incredibly insightful, and darkly funny family drama invokes the humor of Jonathan Tropper's This Is Where I Leave You, the speculative imagination of Philip Roth's The Plot Against America, and the emotional stakes of Matthew Thomas's We Are Not Ourselves.
In Los Angeles in 2022, the Jacobson family is coming apart at the seams. A flood of Israeli refugees into the country has brought deep hostilities and latent anti-Semitism to the forefront of American life. Amid this fraught political climate, the Jacobsons gather for Passover, coming together from around the world for the first time in years. But despite the backdrop of increased intolerance and terror, their immediate problems seem to be more personal than political. The three adult children of Julian and Roz Jacobson—Moses, Edith, and Jacob—find themselves in various states of crisis; the result, each claims, of a lifetime of mistreatment by their hateful, undermining, sociopathic father. The Jacobson offspring have begun to suspect that Julian is hastening their mother's demise, and years of resentment reach a climax as the siblings debate whether they will go through with the real reason for their reunion: an ill-considered plot to murder their father and end his iron rule once and for all. That is, if they can put aside their bickering and their grudges, not to mention their festering relationships with their partners and distrust of one another long enough to act.
TELL ME HOW THIS ENDS WELL is more than a satire about patricide, for it shows us a speculative America that serves as a fascinating mirror of our own. In the novel, several years before the reader is introduced to the Jacobsons, political circumstances created a full-scale refugee crisis for millions of Israeli citizens when the United States, led by an America-first isolationist president, refused to come to the aid of Israel, allowing it to be overrun by Syria, Iran, and Lebanon. Chastised for its inaction, America then consented to accept the country-less Israeli refugees, resulting in a terrifying spike of nativist sentiment and virulent anti-Semitism that put "assimilated" American Jewish families, like the Jacobsons, in an increasingly dangerous position. While the scapegoats may be different, Levinson brilliantly turns a lens on the benign mechanics of generating hate, on how easily xenophobia and fear can spread in a frustrated nation, and on how seemingly harmless events can lead to unthinkable terror, both personal and political. TELL ME HOW THIS ENDS WELL reaches beyond this very troubled family to ask big, profound questions about our society and crafts a searing commentary on the state of America writ large.
Darkly comic, disturbingly prescient, and accomplished, TELL ME HOW THIS ENDS WELL interweaves the stories of this complicated family into a rare and compelling exploration of the state of America itself, asking profound questions about where our world and country could be heading. I look forward to discussing this novel with you!
About the Author: DAVID SAMUEL LEVINSON is the author of the novel Antonia Lively Breaks the Silence and the story collection Most of Us Are Here Against Our Will. He has been nominated for the Pushcart Prize and has received fellowships from Yaddo, the Jentel Foundation, Ledig House, the Santa Fe Arts Institute, the Sewanee Writers' Conference and the Marguerite and Lamar Smith Fellowship for Writers. He has also been published in RE:AL, storySouth, The James White Review, The New Penguin Book of Gay Short Stories, The Brooklyn Review, Prairie Schooner, The Toronto Quarterly, West Branch, and Post Road, among others. He has formerly served as the Emerging Writer Lecturer at Gettysburg College and as the Fellow in Fiction at Emory University.
Related Posts: