Press Releases
THE TEA PLANTER'S WIFE by Dinah Jefferies
The heartrending historical novel—after hitting #1 on the UK bestseller list—now comes to the U.S.!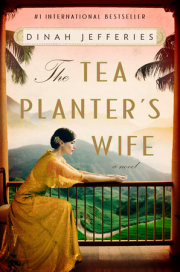 Dinah Jefferies
Imprint: Crown
On sale: September 13, 2016
Price: $26.00
Pages: 432
ISBN: 9780451495976
Contact:
Sarah Breivogel
212-572-2722
sbreivogel@penguinrandomhouse.com
Advance Praise for The Tea Planter's Wife
"Spellbinding . . . effortlessly elegant, lushly descriptive writing . . . Combine this with the vivid, evocative manner in which Jefferies describes the beauty of Ceylon, now Sri Lanka, and the captivating cast of characters she has created, and you have a superbly written novel that readers of historical fiction as well as women's fiction will treasure."—Booklist (starred review)
"…An engrossing tale of mystery, manners, and prejudice set against the backdrop of Ceylon (current-day Sri Lanka) , , , Jefferies shows that she can weave a suspenseful tale in which characters' complex motivations converge in surprising ways."—Publishers Weekly
"[A] dramatic tale of jealousy, deceit, secrets, and heartbreak.  The intrigue and suspense add a Gothic flair to Jefferies fast-moving plot and the evocative atmosphere along with the realistic characters will captivate readers."—Romantic Times Book Review
UK praise for The Tea Planter's Wife
"A gripping, intelligent, and tropically infused read . . . The Tea Planter's Wife is so much more than a conventional love story."—Richard and Judy (A Richard and Judy Book Club Pick)
"Rich and incredibly evocative, The Tea Planter's Wife is historical fiction at its very best. It's just spellbinding."—The Sunday Express
"Locked doors, old dresses, even a boathouse mystery, this is Rebecca with crocodiles. Very enjoyable . . . [a] full-blown escape into the past."—The Independent
"My ideal read: mystery, love, heartbreak, and joy—I couldn't put it down."—Santa Montefiore, author of The Beekeeper's Daughter
"Beautifully written and heartrending, this has a magical setting with a real sense of period."—Katie Fforde, bestselling author of A French Affair
---
Dinah Jefferies captures the immersive, seductive atmosphere of colonial-era Ceylon (modern-day Sri Lanka) in her U.S. debut, THE TEA PLANTER'S WIFE (Crown; September 13, 2016). On the UK bestseller list for more than fifteen weeks and hitting as high as #1, this novel was the most successful Richard and Judy Book Club pick of 2015. With a layered plot full of family secrets, racial tensions, and personal heartbreak, this novel explores the extreme boundaries of love—and the terrible consequences that come with attempting to bury the past.
Nineteen-year-old Gwendolyn Hooper arrives in Ceylon as a naïve newlywed, eager to begin a new life with her handsome and successful husband, Lawrence Hooper. However, the man who greets her at the dock is distracted, hesitant to fully immerse her in his world. Upon arriving at her new plantation home, Gwen is left to wander the grounds alone, discovering that the house itself has secrets to tell. Stumbling across locked doors, trunks of yellowing dresses, and a tiny overgrown grave, Gwen questions the circumstances surrounding her husband's tainted past and is troubled by the overbearing relationships from bygone days. Soon after, however, a pregnancy draws Lawrence from his stupor and injects new vitality into their marriage—until a terrible choice forces Gwen into a lie that will affect her entire family, altering the course of so many lives.
Transporting readers through a decade of life in Ceylon, THE TEA PLANTER'S WIFE is a story of guilt, betrayal, and untold secrets that threaten to break a perfect marriage. Full of brutal honesty and heartbreaking twists, THE TEA PLANTER'S WIFE is a lush, sexy, atmospheric page-turner that will have readers utterly engrossed in the lives of these flawed, yet ultimately endearing characters.
ABOUT THE AUTHOR:
DINAH JEFFERIES was born in Malaysia and moved to England at the age of nine. She once lived in a commune with a rock band and has been an exhibiting artist. She now lives with her husband and Norfolk terrier in Gloucestershire, where she writes full time. THE TEA PLANTER'S WIFE is her second novel.
Related Posts:
You Might Also Like