Press Releases
Tasty Ultimate by Tasty
How to Cook Basically Anything (An Official Tasty Cookbook)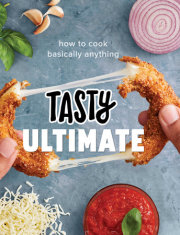 Tasty
Imprint: Clarkson Potter
On sale: October 9, 2018
Price: $29.99
Pages: 304
ISBN: 9780525575863
Contact:
Erica Gelbard
EGelbard@penguinrandomhouse.com
The follow-up to the New York Times bestseller Tasty Latest & Greatest, TASTY ULTIMATE (Clarkson Potter; on sale 10/9/18; $29.99) is the latest cookbook from BuzzFeed's hugely popular food brand.
TASTY ULTIMATE is the must-have kitchen companion to help home cooks, whether new or experienced, master the basics, learn hacks and tricks, and impress guests. With 75 brand new recipes and 75 fan favorites, TASTY ULTIMATE is written and photographed in Tasty's trademark easy-to-follow, step-by-step style, bringing Tasty's accessible lens on cooking to beginner and seasoned chefs alike. You'll tackle brand-new recipes as well as all your Tasty faves; think Fried Egg Pizza, Salmon Poke Bowl, Mozzarella Stick Onion Rings, and Molten Lava Brownies. Beyond knockout cheese pulls, slow-cooked stunners, vegetarian go-tos, meals for meat-lovers, and insanely good sweets, discover large-scale showstoppers perfect for hosting Friendsgiving or Super Bowl Sunday. With extensive 101s (i.e., when to use fresh vs. dried spices; cast-iron skillet care; how to pick the right frying oil) and brilliantly easy recipes featuring flavors from around the globe, TASTY ULTIMATE is the new learn-to-cook bible.
Highlights include:
PART ONE – IMPRESS YOURSELF
CHEESY: French Onion Soup; Cheesy Spinach & Artichoke; Pepperoni Pizza Pull
MEAT: Cracking-Crust Roast Pork with Mojo; Sweet & Sour Sunday Brisket; Cheesy Mushroom Stuffed Meatloaf
POULTRY: The Best Crispy Chicken Parmesan; Adobo Chicken Drumsticks; Indian Yogurt Chicken Curry
FISH & SEAFOOD: Clams Carbonara; Scallops with Caper Pan Sauce; Easy Lobster Bisque
EGGS: Potato-Crusted Quiche; Cheese-Stuffed Mushroom & Herb Frittata; Fried Egg "Pizza"
VEGETARIAN: Easy Korean Rice Bowl; Baked Falafel in Pita Sandwiches; Roasted Ratatouille
DESSERTS: The Ultimate Chocolate Cake; Cherry "Old-Fashioned" Pie; Mini S'mores Eclairs
PART TWO – IMPRESS YOUR FRIENDS
BRUNCH: Cinnamon Rolls; Baked Peanut Butter & Jelly French Toast; Sausage, Apple & Cheddar Monkey Bread
GAME DAY: Mozzarella Stick Onion Rings; Pesto Chicken Garlic Knot Sliders; Caesar Salad Potato Skins
DATE NIGHT: Truffle Mac 'n' Cheese; Seared Pork Chops with Mushroom & White Wine Sauce; Salted Caramel Macchiato Tiramisu for Two
HOLIDAY: Ultimate Thanksgiving Roast Turkey; Honey-Balsamic Roasted Brussels Sprouts; Cranberry & Brie Holiday Pull-Apart Bread
# # #
TASTY is the world's largest social food network, reaching more than 500 million people around the globe with its signature fun, easy, and delicious video recipes. The brand is focused on making cooking practical and accessible for beginner cooks and expert chefs alike. Launched in 2015, Tasty has attracted more than 70 billion video views (Tubular Labs, not including dark posts) and is the biggest franchise on Facebook, reaching 1 in 4 users every month. Marcus Samuelsson, leads Tasty's Talent Program as Executive Chef-in-Residence which also includes JJ Johnson, Claudette Zepeda-Wilkins, Kanchan Koya, Alix Traeger, Alexis deBoschnek, Rie McClenny, and Vaughn Vreeland.  Tasty has studios in Los Angeles, New York, London, Paris, Berlin, Mexico City, and São Paulo, and a full product line including cookbooks, a smart appliance, and a mobile app.
Related Posts: