Press Releases
Tasting Paris by Clotilde Dusoulier
100 Recipes to Eat Like a Local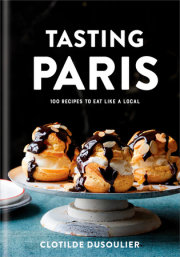 Clotilde Dusoulier
Imprint: Clarkson Potter
On sale: March 20, 2018
Price: $30.00
Pages: 256
ISBN: 9780451499141
Contact:
Jana Branson
jbranson@penguinrandomhouse.com
From simple stews to dreamy pastries, vibrant greens to oozy cheeses, from the classic to the contemporary, the familiar to the exotic—Clotilde Dusoulier knows Parisian food. Transporting readers to the banks of the Seine for a picnic, exploring the colorful open-air markets, and celebrating the best street foods, Tasting Paris: 100 Recipes to Eat Like a Local (Clarkson Potter | March 20, 2018 | $30.00 | Hardcover) is a culinary love letter to this enchanting city, written from a local's perspective.
The recipes span iconic bistro and brasserie fare, including Roast Chicken with Herbed Butter and Croutons and lavish Profiteroles, as well as newer dishes that reflect the way Parisians eat today, such as Ratatouille Pita Sandwich with Chopped Eggs and Tahini Sauce and Spiralized Zucchini Salad with Peach and Green Almonds. Tasting Paris captures the traditional flavors and ethnic influences that make Paris the multifaceted city it really is today.
With 125 evocative photographs—including atmospheric shots of Parisian scenes and places that are as dazzling as the food itself—Tasting Paris brings the allure of this favorite culinary destination to home kitchens everywhere.
ABOUT THE AUTHOR:
CLOTILDE DUSOULIER is the creator of the award-winning food blog ChocolateAndZucchini.com, where she shares inspired recipes from her Parisian kitchen. She is the author of the cookbooks Chocolate & Zucchini and The French Market Cookbook, as well as the guide and reference books Clotilde's Edible Adventures in Paris and Edible French. She lives in Montmartre, in Paris, with her husband and two young sons.
TASTING PARIS
100 Recipes to Cook Like a Local
By Clotilde Dusoulier
Clarkson Potter/Publishers
March 20, 2018
ISBN: 978-0-451-49914-1 • $30.00 • Hardcover
Related Posts: