Press Releases
Take Command by Jake Wood
Lessons in Leadership: How to be a First Responder in Business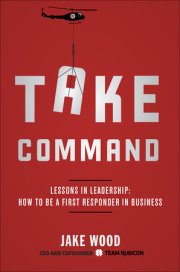 Jake Wood
Imprint: Crown Business
On sale: October 14, 2014
Price: $25.00
Pages: 242
ISBN: 9780804138383
Contact:
Ayelet Gruenspecht
212-782-9016
agruenspecht@penguinrandomhouse.com
 "Take Command is a well-written, well-organized book that offers a novel approach to the art of leadership."
–Success Magazine
"All lessons are illustrated with high-testosterone stories from the front lines of war and disaster zones, and each chapter ends with top-level advice."
–Publishers Weekly
In today's fast-paced, high-octane business world, success requires a new style of leadership. It requires operating at peak performance under stress. Maintaining clarity of mind and purpose when surrounded by chaos. Recognizing the need to take risks, but never foolhardy ones. Realizing that inner strength is not about bravado, but preparation and analysis. And who is better equipped to give these lessons in leadership than those who live or die by them?
In TAKE COMMAND: Lessons in Leadership: How to Be a First Responder in Business (Crown Business; on sale October 14, 2014; $25.00), cofounder and CEO of Team Rubicon and former Marine sniper Jake Wood provides an entrepreneurial approach to leading and succeeding in a world where speed, agility, and a bias toward action are crucial for professional survival. He shows how to apply hard-learned lessons in leadership and teamwork from the battlefield and disaster zone to your professional life.
While most of our jobs don't involve leading a tour of Marines through an ambush, or rushing into a relief zone just decimated by a hurricane, members of the military and first responders in disaster zones have a lot in common with leaders in fast-paced, high-pressure, modern-day organizations. Because in a fast-changing world where technology is constantly reinventing how we work, global competition is fierce, and industries are being disrupted overnight, we all need the ability to adapt swiftly and decisively to the unexpected. To be able to see clearly when others are blinded by fear, and act when others are paralyzed. To craft plans even with incomplete information, then execute those plans decisively—while still being nimble and adaptable enough to iterate as the terrain changes. To build teams with high impact, and then inspire those teams to follow us into the fire.
Here, Wood draws his experiences as first responder, a Marine, and CEO of a rapidly growing organization to provide a strategic plan for achieving this leadership style. Lessons include:
Prepare: Be the leader who strides calmly and confidently toward uncertainty, with the knowledge that no one is better prepared to face whatever challenges might come his or her way. Then learn how to build a high-impact team that will follow-you into battle.
Analyze: Don't be the leader blinded by information overload. Instead, learn how to turn your observations into an intelligence picture and truly understand the opportunities, problems, and threats you face.
Decide: The higher the stakes, the less a leader can afford to wait until there is 100% of the information needed before making a decision to act. Learn how to use the 80% rule to make tactical decisions quickly when information is incomplete, critical needs remain unmet, and the pressure is mounting all around.
Act: In today's fast-paced and unpredictable business world, when it comes time to execute, success is part tactics and part attitude. The best leaders and best companies have more than just great ideas. They have great tactics—ones built to be flexible while adhering resolutely to guiding principles. Good organizations have a relentless attitude, but great businesses have relentless execution.
A leadership guide for the entrepreneurial era, this book is how to become the kind of leader who gets results when the stakes are at their highest: how to take command.
Related Posts:
You Might Also Like