Press Releases
A Table in Venice by Skye McAlpine
Recipes from My Home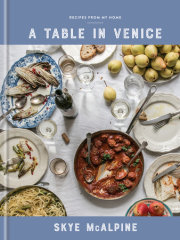 Skye McAlpine
Imprint: Clarkson Potter
On sale: March 20, 2018
Price: $32.50
Pages: 288
ISBN: 9781524760298
Contact:
Jana Branson
jbranson@penguinrandomhouse.com
With 100 irresistible recipes, 150 photos, and evocative essays, A Table in Venice is a love letter to this storied city that will bring the beauty of its cuisine into home kitchens everywhere.
In a quiet corner of Venice, far off the beaten track and away from the crowds that cluster around the famous Piazza San Marco, stands a little house. The walls are soft, pink and crumbling. This is where Skye McAlpine writes the popular blog From My Dining Table. It is also where she grew up, where she celebrated her wedding, where her son took his first steps, and where she learned to cook. It is her home.
Now, with her debut cookbook A Table in Venice: Recipes from my Home (Clarkson Potter; $35.00, on sale April 2018), Skye captures the rhythms of Venetian living that tourists rarely experience: local markets, home-cooked meals, an afternoon spritz, splashing through streets that flood when the tide is high. There are courtyard dinner parties for six—twenty—and the magic of a city with no cars, where everyone travels by boat. Just as Ina Garten's cookbooks invite readers into her Hamptons home, Skye McAlpine shows us her slice of authentic Venice.
Both famous and mysterious, Venice is a top travel destination best experienced with a guide. Skye has lived there since she was six years old. She says, "It is the food cooked in homes and made with local ingredients, the recipes passed down through generations, that Venetians guard ferociously and exclusively for their own gratification. That is Venetian food; that is what I love and that is what I write about. This cuisine is romantic and it is exotic."
A Table in Venice includes over 100 recipes, from Ricotta and Mint-Stuffed Zucchini Flowers, Spiced Meatballs, and Gnocchi with Cherry Tomatoes and Crab to Caramelized Fennel Risotto, Clams in White Wine Sauce, and Panettone, Mascarpone, and Almond Cake. The stunning photography and captivating storytelling bring this floating city to life as never before.
About the Author:
SKYE McALPINE is the creator of From My Dining Table, a popular blog where she writes about living and cooking in Venice. She and her blog have been featured in Food & Wine, The Guardian, Huffington Post, Vogue Living, Food52, The Kitchn, and Cup of Jo. She lives in Venice with her husband and their son.
# # #
About the Book:
A Table in Venice: Recipes from My Home
By Skye McAlpine
ISBN: 9781524760298 | Hardcover | $32.50 | On sale 3/20/2018
Related Posts: