Press Releases
Sweet Laurel by Laurel Gallucci and Claire Thomas
Recipes for Whole Food, Grain-Free Desserts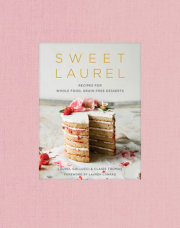 Laurel Gallucci and Claire Thomas
Imprint: Clarkson Potter
On sale: April 3 2018
Price: $28.00
Pages: 256
ISBN: 9781524761455
From the two women behind Los Angeles's Sweet Laurel baking company, praised for their inventive and beautiful approach to grain-free, refined-sugar-free, and gluten-free, comes their debut cookbook, Sweet Laurel: Recipes for Whole Food, Grain-Free Desserts (Clarkson Potter | April 3, 2018 | $28.00 | Hardcover), an authoritative, grain-free baking book geared toward those struggling with a food allergy or looking for a simpler way to satisfy their sweet tooth!
Since the beginning, Sweet Laurel has been about making sweet things simple. Each recipe in Sweet Laurel focuses on using just a few quality whole ingredients. You can stock your kitchen with almond flour, coconut oil, organic eggs, 100% maple syrup, and Himalayan pink sea salt and make practically any recipe in the book. The recipes are indulgent yet healthy and nutrient-dense. Highlights include:
OUR ESSENTIAL RECIPES, the framework for Sweet Laurel's approach to baking: Marshmallows; Coconut Whipped Cream; Vegan Eggs; Vegan Chocolate Chips
WITH TEA OR COFFEE: QUICK BREADS, SAVORY BREADS, AND BREAKFAST: Mother's Scones; Double Chocolate Muffins; Blueberry Streusel Muffins; Almond Pancakes with Coconut Syrup; Everything Bagel Bread: Vanilla-Scented Waffles
CHEWY, CRUNCHY, SWEET: COOKIES AND BARS: Double Dark Chocolate Cookies; Matcha Sandwich Cookies; Baked Churro Bars; Apple Pie Bars
CRUST FIRST: DELICIOUS PIES FOR ANY OCCASION: S'mores Pie; Vanilla Bean Peach Cobbler; Creamy Dairy-Free Cheesecake; Summer Strawberry Tart; Classic Pumpkin Pie; Laurel's Baklava Pie
LAYERS OF SWEET: CLASSIC LAYER CAKES: The Chocolate Cake That Changed Everything; Pumpkin Spice Latte Cake; Pistachio Rose Cake with Pink Rose Buttercream; Tres Leches Cake; Beet Red Velvet Cake with Probiotic Cream Cheese Frosting
BETWEEN THE LAYERS: FILLINGS, ICINGS, AND FROSTINGS: Dark Chocolate Fudge Frosting; Berry Jam Filling; Coconut Buttercream; Paleo Sprinkles
THE GRAND FINALE: HOW TO CREATE AND DECORATE A SHOWSTOPPING LAYER CAKE: Decorating with Botanicals and Texturizing with Frosting
Whether you're looking for simpler recipes, seeking a better approach to dessert, or struggling with an allergy that has prevented you from enjoying sweets, Sweet Laurel will change the way you bake.
ABOUT SWEET LAUREL & THE AUTHORS:
Sweet Laurel is a story of friendship and passion, told not through words but through cake, since 2015. From the beginning, Sweet Laurel has been about making sweet things simple. We aim to take the drama and judgment out of the healthy living experience by providing our customers with beautiful, delicious, and satisfying desserts; our followers with easy recipes and tips; and our community with workshops and classes. We joke that we started a bakery backward—social media and blog first, with a cookbook and store coming second. Our unique approach of influencer entrepreneurship created a loyal fan base clamoring for a way to experience Sweet Laurel first-hand.
LAUREL GALLUCCI has baked delicious treats since she could turn on the oven. After she was diagnosed with an aggressive autoimmune disorder and her doctor put her on a strict diet, she started creating recipes of her own. Excited by the encouragement of friends and family, she turned her test kitchen into Sweet Laurel bakery.
CLAIRE THOMAS is the cofounder, creative director, and photographer of Sweet Laurel. She is also the cook, writer, and photographer behind The Kitchy Kitchen.
Visit them at https://sweetlaurel.com/ or @sweetlaurelbakery on Instagram and @Sweetlaurelbake on Twitter!
SWEET LAUREL
Recipes for Whole Food, Grain-Free Desserts
by Laurel Gallucci & Claire Thomas
Clarkson Potter/Publishers
On sale April 3, 2018
$28.00 hardcover | ISBN 978-1-5247-6145-5
Related Posts: