Press Releases
How to Survive a Sharknado and Other Unnatural Disasters
Fight Back When Monsters And Mother Nature Attack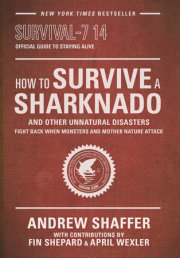 Andrew Shaffer
Imprint: Three Rivers Press
On sale: July 8, 2014
Price: $14.99
Pages: 224
ISBN: 9780553418132
Contact:
Rebecca Marsh
212-572-2544
rmarsh@penguinrandomhouse.com
In a post-apocalyptic world, the smallest mistake—like driving through lava or swimming near a sharktopus—can get you killed. Mother Nature is angry, monsters are hungry, and flying sharks are just the beginning. But you're in luck: HOW TO SURVIVE A SHARKNADO AND OTHER UNNATURAL DISASTERS: Fight Back When Monsters and Mother Nature Attack(Three Rivers Press; Trade Paperback Original; $14.99; On Sale July 8, 2014) is the first and only comprehensive guide to staying alive when disaster strikes.
Based on the Syfy Original Movie and global social media and pop culture phenomenon Sharknado,HOW TO SURVIVE A SHARKNADO is a survival guide for the unnatural catastrophes and ungodly beasts that might cross your path in these dark and dangerous times. Inside this life-saving reference, readers will find vital information on everything from firenados and swamp volcanoes to arachnoquakes and piranhacondas.
HOW TO SURVIVE A SHARKNADO provides easy-to-follow tips on how to study, avoid, and survive the very worst that Mother Nature can throw your way, including tactics for fighting back against land and sea beasts, instructions on "How to Wield a Chainsaw Like a Boss," and recipes to get you through the apocalypse (Four Horsemen cocktail, anyone?). From humor writer Andrew Shaffer, with contributions from sharknado survivors Fin Shepard and April Wexler, HOW TO SURVIVE A SHARKNADO is the essential book to have by your side in the event of disaster. Whether you're standing face-to-face with a Mongolian death worm or stuck outdoors during a bataclysm, this book has you covered.
Each deadly storm and dangerous monster is rated according to three scales: Threat to Humanity, Risk of Encounter, and Fin Shepard's WTF ("Wow, That's Freaky") Factor. HOW TO SURVIVE A SHARKNADO also provides helpful historical lessons and statistics, and even identifies high-risk groups—water polo players should watch out for the dinoshark while bestselling novelists ought to avoid ice twisters. Among the many tips and tricks:
How to Treat Manticore Poisoning
How to Tie Sharktopus Tentacles into a Knot
The Do's and Don'ts of Dealing with Monsters: For instance, DO chainsaw an elektrokraken's tentacles, but DON'T honk your horn at a manticore—you'll just irritate it.
How to Pass Time During an Ice Twister
What to Pack in Your Unnatural Disaster Kit
The S.S.A.T. (Shepard Survival Assessment Test)
This criticalhandbook arrives just in time for Sharknado 2: The Second One, premiering on Syfy on Wednesday, July 30. The action-packed sequel centers on a freak weather system that turns its deadly fury on New York City, unleashing a sharknado on the city and its most iconic sites.
With HOW TO SURVIVE A SHARKNADO, you too can be a hero who laughs in the face of calamity. Or you can just avoid getting savagely ripped apart by a robocroc. Either way, you've been warned. Now be prepared.
###
About the Authors
ANDREW SHAFFER is the author of humorous nonfiction and fiction, including Literary Rogues, Great Philosophers Who Failed at Love, and, under the pen name Fanny Merkin, Fifty Shames of Earl Grey. His writing has been published in Mental Floss, Maxim, The Daily Beast, and more.
FINLEY "FIN" SHEPARD is a former champion surfer. He lives in Los Angeles, and loves both of his children equally.
APRIL WEXLER is a sharknado survivor.
Related Posts: