Press Releases
Superforecasting: The Art and Science of Prediction by Philip E. Tetlock & Dan Gardner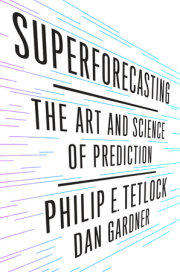 Philip E. Tetlock & Dan Gardner
Imprint: Crown
On sale: 9/29/2015
Price: $28
Pages: 352
ISBN: 9780804136693
Contact:
Rachel Rokicki
212-782-8455
rrokicki@penguinrandomhouse.com
"Superforecasting… is the most important book on decision making since Daniel Kahneman's Thinking, Fast and Slow."
—Jason Zweig, The Wall Street Journal
"Tetlock's thesis is that politics and human affairs are not inscrutable mysteries. Instead, they are a bit like weather forecasting, where short-term predictions are possible and reasonably accurate… The techniques and habits of mind set out in this book are a gift to anyone who has to think about what the future might bring. In other words, to everyone."
—The Economist
"One of the best books I've read this year… Superforecasting is a must read book."
—Seeking Alpha
"In this captivating book, Tetlock argues that success is all about the approach: foresight is not a gift but rather a product of a particular way of thinking… In each chapter, the author augments his research with compelling interviews, anecdotes, and historical context, using accessible real-world examples to frame what could otherwise be dense subject matter. His writing is so engaging and his argument so tantalizing, readers will quickly be drawn into the challenge – in the appendix, the author provides a concise training manual to do just that. A must-read field guide for the intellectually curious."
—Kirkus Reviews, starred
"Philip Tetlock is the world expert on a vital subject. Superforecasting is the wonderful story of how he and his research team got ordinary people to beat experts in a very serious game. It is also a manual for thinking clearly in an uncertain world. Read it."
—Daniel Kahneman, winner of the Nobel Prize and author of Thinking, Fast and Slow
"In this accessible and lively book, Tetlock and Gardner recognize the centrality of probabilistic thinking to sound forecasting. Whether you are a policymaker or anyone else who wants to approach decisions with great rigor, Superforecasting will serve as a highly useful guide."
—Robert E. Rubin, Former U.S. Treasury Secretary
"Superforecasting is a rare book that will make you smarter and wiser. One of the giants of behavioral science reveals how to improve at predicting the future."
—Adam Grant, New York Times bestselling author of Give and Take
"The best way to know if an idea is right is to see if it predicts the future. But which ideas, which methods, which people have a track record of non-obvious predictions vindicated by the course of events? The answers will surprise you, and they have radical implications for politics, policy, journalism, education, and even epistemology—how we can best gain knowledge about the world. The casual style of Superforecasting belies the profundity of its message."
—Steven Pinker, Johnstone Professor of Psychology, Harvard University, and author of  The Better Angels of Our Nature
"For thousands of years, people have listened to those who foretold the future with confidence and little accountability. In this book, Tetlock and Gardner free us from our foolishness. Full of great stories and simple statistics, Superforecasting gives us a new way of thinking about the complexity of the world, the limitations of our minds, and why some people can consistently outpredict a dart-throwing chimp. Tetlock's research has the potential to revolutionize foreign policy, economic policy, and your own day-to-day decisions."
—Jonathan Haidt, New York University Stern School of Business, and author of The Righteous Mind
"Socrates had the insight in 'know thyself,' Kahneman delivered the science in Thinking, Fast and Slow, and now Tetlock has something we can all apply in Superforecasting."
—Juan Luis Perez, Global Head of UBS Group Research
"How well can we predict the future, really? There is no better way to answer that question than to read this book. You will come away disillusioned about the ability of experts, but also enlightened about how the best forecasters do it—and maybe even hopeful about your own prospects."
—Tyler Cowen, director of the Mercatus Center at George Mason University and author of Average Is Over
"There isn't a social scientist in the world I admire more than Phil Tetlock."
—Tim Harford, The Undercover Economist
"Good judgment and good forecasting are rare, but they turn out to be made of teachable skills. By forcing forecasters to compete, Tetlock discovered what the skills are and how they work, and this book teaches the ability to any interested reader."
—Stewart Brand, President, The Long Now Foundation
"Philip Tetlock is renowned for demonstrating that most experts are no better than 'dart-throwing monkeys' at predicting elections, wars, economic collapses and other events. In his brilliant new book, Tetlock offers a much more hopeful message, based once again on his own ground-breaking research. He shows that certain people can forecast events with accuracy much better than chance—and so, perhaps, can the rest of us, if we emulate the critical thinking of these 'superforecasters.' The self-empowerment genre doesn't get any smarter and more sophisticated than this."
—John Horgan, director of the Center for Science Writings, Stevens Institute of Technology
"Superforecasting is the rare book that is both scholarly and engaging. The lessons are scientific, compelling, and enormously practical. Anyone who is in the forecasting business—and that's all of us—should drop what they are doing and read it."
—Michael J. Mauboussin, head of Global Financial Strategies at Credit Suisse
"Philip Tetlock has been working quietly for over thirty years to uncover and cure the behavioral and social biases that trick people into deluding themselves about the future; and to select and train people to make useful forecasts. Using ordinary people without special skills or data, his methods have proven far superior in direct controlled experiments to experts of all stripes including well-known pundits, highly paid commercial forecasters and intelligence analysts with access to top-secret data. Now he's worked with science journalist Dan Gardner to produce an exciting tale of investigation, competition, analysis and—finally—success. Read it for the thrill of the intellectual chase, or for the surprising keys to unlock the secrets of the future."
—Aaron Brown, Chief Risk Manager at AQR Capital Management and author of The Poker Face of Wall Street
__________________________________________________________________________________________________________________________
Forecasts shape our decisions and our decisions shape our lives. Everyone would benefit from seeing further into the future, whether buying stocks or a home, crafting policy, launching a new product, changing jobs, getting married, or simply planning the week's meals. Unfortunately, most people tend to be terrible forecasters and the accuracy of forecasting has never been scientifically analyzed. Even the forecasting of famous experts and pundits that move markets and informs governments has never been tested. Wharton psychologist Philip Tetlock has devoted his career to changing this reality and improving our ability to foresee the future.  His work gets to the core of what makes some people good at prediction—and most importantly asks the question: can this talent be taught?
In SUPERFORECASTING: The Art and Science of Prediction (Crown; September 29, 2015) Philip Tetlock and coauthor Dan Gardner offer a masterwork on prediction, drawing on decades of research and the results of a massive, government-funded forecasting tournament. They look at how forecasting accuracy can be judged, why it is so seldom done, and what results came out of the most comprehensive analysis of political and economic forecasting of experts ever conducted. They reveal through the Good Judgment Project (GJP)—a multi-year forecasting study that Tetlock co-leads with his wife Barbara Mellers—that while most of us are bad at prediction, we can all learn to be better. The Financial Times called Tetlock's work "patient, painstaking, and quietly brilliant," and David Brooks wrote: "If I were President Obama or John Kerry, I'd want [the GJP] predictions on my desk."
What is extraordinary about the GJP is that it is made up of tens of thousands of ordinary volunteers—including a Brooklyn filmmaker, a retired pipe installer, and a former ballroom dancer—who set out to forecast global events. Some of these forecasters were astonishingly good and able to judge how high-stakes events are likely to unfold three months, six months, or a year and a half in advance.  They've beaten other benchmarks, competitors, and prediction markets and the collective judgment of intelligence analysts with access to classified information. These people are "superforecasters." They don't use powerful computers and algorithms—they are simply better at gathering evidence, thinking about it, and drawing conclusions.
To understand the scope of this project, it's worth noting that the GJP was part of a larger research effort sponsored by the Intelligence Advanced Research Projects Activity (IARPA)—an agency that reports to the Director of National Intelligence to support research to make American intelligence better. By one rough estimate, the United States has 20,000 intelligence analysts assessing everything from small puzzles to major events. Yet, how accurate is all that forecasting? We don't know, because the intelligence community, like so many major producers of forecasting, has never been keen on finding out. IARPA changed that by creating a forecasting tournament of five scientific teams, led by top researchers in the field to generate forecasts on questions intelligence analysts deal with every day. Tetlock's team—the GJP—was one of those teams. Each was its own research project and nearly 500 questions about international affairs were asked over four years, generating more than one million individual judgments about the future.  In Year One, GJP beat the official control group by 60%. In Year Two, they beat the control group by 78%. After two years, GJP was doing so much better than its competitors that IARPA dropped the other teams. Tetlock's IARPA study is the largest, most rigorous study of prediction ever done.
In SUPERFORECASTING, Tetlock and Gardner for the first time dissect the methods of  "superforecasters," showing  why they work, and revealing that any intelligent person willing to think hard and practice can improve their foresight and be better prepared for the future. Throughout the book they also weave stories of forecasting successes (the raid on Osama bin Laden's compound) and failures (the Bay of Pigs) and interviews with a range of high-level decision makers, from David Petraeus to Robert Rubin, to show that good forecasting involves gathering evidence from a variety of sources, learning to think probabilistically, working in teams, keeping score, and being willing to admit error and change course.Along the way SUPERFORECASTING also walks us through the process of making good predictions to help us to become better forecasters and make better decisions.
SUPERFORECASTING offers the first demonstrably effective way to improve our ability to predict the future—whether in business, finance, politics, international affairs, or daily life. Along the way,  Tetlock and Gardner walk us through the process of making good predictions so that we can become better decision makers—and better thinkers.
ABOUT THE AUTHORS:
Philip E. Tetlock is the Annenberg University Professor at the University of Pennsylvania and holds appointments in the psychology and political science departments and the Wharton School of Business.He is also the author of Expert Political Judgment (a paradigm-changing work that remains one of the most highly cited papers in social science) and Counterfactual Thought Experiments in World Politics. Internationally recognized for his work, he is the recipient of the Woodrow Wilson and Robert E. Lane Awards, both from the American Political Science Association, the National Academy of Sciences Award for Behavior Research Relevant to the Prevention of Nuclear War from the National Academy of Sciences, the winner of the AAAS Prize for Behavioral Science Research, and the Grawemeyer Award for Ideas Improving World Order.
Dan Gardner is an award-winning journalist and the author of Risk and Future Babble: Why Pundits are Hedgehogs and Foxes Know Best. He has received the National Newspaper Award, the Michener Award, the Amnesty International Canadian Media Award, the Canadian Association of Journalists Award, and the Canadian Science Writers Association Award for best science book.
Related Posts:
You Might Also Like