Press Releases
Super Easy Burgers by Orathay Souksisavanh
69 Really Simple Recipes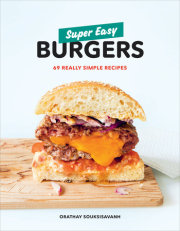 Orathay Souksisavanh
Imprint: Clarkson Potter
On sale: April 17 2018
Price: $15.99
Pages: 144
ISBN: 9780525572961
The first book in the Super Easy series, Super Easy Burgers features nearly 70 simple-to-prepare recipes for burgers of all varieties—from beef and poultry to veggie and seafood. With endless combinations of only a handful of ingredients, Super Easy Burgers is the go-to burger book for students, working professionals, and parents alike.
The recipes range from classic (Burger with Fried Onions and Pickles, Bacon Cheeseburger) to exotic (Pineapple Mango Chicken Burger, Honey Mustard Duck Confit Burger), featuring an impressive range of flavors—but all with incredibly straightforward directions. Each recipe includes pictures of all the ingredients, so even the most beginner cooks are able to visualize the process. Then they can watch their grocery list turn into dinner, right before their eyes. Perfect for weeknight meals for one or weekend barbecues with friends, there is a burger in Super Easy Burgers for everyone!
ABOUT THE AUTHOR:
Orathay Souksisavanh is a culinary stylist and author. She was born in Thailand.
####
SUPER EASY BURGERS: 69 Really Simple Recipes
by Orathay Souksisavanh
On sale 4/17/2018; $15.99
ISBN 978-0-525-57296-1; trade paperback
Related Posts: