Press Releases
The Having by Suh Yoon Lee and Jooyun Hong
The Secret Art of Feeling and Growing Rich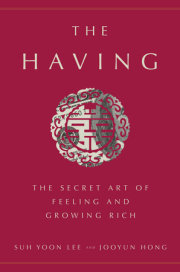 Suh Yoon Lee, Jooyun Hong
Imprint: Harmony
On sale: February 5, 2019
Price: $18.99
Pages: 240
ISBN: 9781524763411
Contact:
Connie Capone
212-782-9486
ccapone@penguinrandomhouse.com
Having is abundantly feeling what you already have at the moment of spending money. It is the power that attracts wealth. Having easily enables you to bring yourself greater riches, even with the same amount of effort and to find the path to become your true self.
Each one of us has wondered how can I live a more prosperous life? how can I live a life free of financial concerns without sacrificing today? Now, a Guru from East Asia shares the groundbreaking solution, the secret of using your own emotions: The secret is Having.
Suh Yoon Lee is a celebrated Guru who has been sought after by South Korea's top one percent—from global business titans to real- estate moguls and presidential candidates. In THE HAVING: The Secret Art of Feeling and Growing Rich (Harmony Books; $18.99; on- sale February 5, 2019), award-winning journalist Jooyun Hong introduces us to South Korea's famed and fascinating Guru so that we too can learn the secret of the rich.
At just six years old, Suh Yoon Lee was identified by her grandmother as having an extraordinary gift: she was destined to bring wealth and prosperity to many people. This revelation set her off on a course of study: mastering economics and Asian classical texts and analyzing over 100,000 case studies, all to reveal the secret of wealth. She became a bestselling author and an insightful thinker revered by the nation's wealthiest residents. Everyone who sought out this Guru would find financial success with a deeper appreciation and understanding of how to create wealth. They would also break free of fixed ideas and live freely as themselves while relishing the present. According to Suh Yoon Lee, it all starts with a simple emotion that she calls Having.
The Guru had largely retreated from the public eye when Jooyun Hong reached out to her. Jooyun was researching how someone with little advantage might accumulate wealth in an era of increasing inequality, and had little hope of a response from the Guru. To her surprise, Suh Yoon wrote back with an invitation for Jooyun to join her in Lake Como, Italy.
Jooyun traveled across continents to meet the Guru, sparking a series of conversations around the true secret of wealth and how anyone can apply the secret and its lessons to their lives. In THE HAVING, Jooyun documents their conversations, illuminating Suh Yoon's wisdom along with mindful practices that can benefit anyone striving to maximize their financial potential and realize their path to prosperity.
Words of Wisdom as told by the Guru in THE HAVING:
The key to changing your circumstances is emotions, not thought. If you use your emotional energy well, it can be a source of wealth for you.
True comfort is felt when your actions are perfectly aligned with what your soul wants. Let your soul lead you and act according to your comfort.
If you pay attention to what you truly want, you'll naturally distance yourself from wasteful or ostentatious purchases.
When you want something badly, you focus on absence. You feel that way because you feel you don't have something.
Many of us get caught up in our own worldview and lock up our own potential. Anyone who can break free of this can fully use their potential to become rich.
THE HAVING is an intimate narrative of enlightenment, explaining the behaviors and habits that correlate with financial affluence. As Jooyun herself begins to apply the Guru's practical lessons, she finds a profound appreciation for life, a deeper sense of fulfillment, and soon enough, an upturn in her net worth. From this journey, she also discovers what she really wants and learns how to live freely as herself. Having is the emotion of feeling what you already have—and it's the power that attracts wealth. By changing your emotions about money, you can make every purchase a step toward becoming your true self.
Related Posts: