Press Releases
STRONG IS THE NEW SKINNY
How to Eat, Live, and Move to Maximize Your Power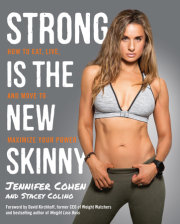 Jennifer Cohen
Imprint: Harmony Books
On sale: 9/16/14
Price: $18.00
Pages: 240
ISBN: 9780804140515
Contact:
Rebecca Marsh
212-572-2544
rmarsh@penguinrandomhouse.com
With her straight-talking approach to wellness, fitness expert and entrepreneur Jennifer Cohen is changing the conversation about women's fitness. Her message is clear, empowering, and revolutionary: it's time to embrace what your body can do, not just how it looks.
In her new book with Stacey Colino, STRONG IS THE NEW SKINNY: How to Eat, Live, and Move to Maximize Your Power (Harmony Books; On Sale September 16, 2014; Trade Paperback Original), Cohen offers a reality-based diet, lifestyle, and fitness program designed to help readers become strong from the inside out. Because strong is sexy. Strong is powerful. And best of all, strong is achievable.
Women today are no longer interested in starving themselves to be rail-thin. They are increasingly turning to hard-core training regimens like CrossFit, Tough Mudder, and P90X, over kinder, gentler yoga and Pilates workouts. Instead of eating like rabbits, they want to eat like cheetahs and use food as fuel. With STRONG IS THE NEW SKINNY comes a new plan for treating, moving, and feeding your body in ways that build on your strengths and boost your abilities.
Author Jennifer Cohen is a leading fitness authority, TV personality, and entrepreneur. Her programs have helped thousands of people, including celebrities and top executives, to incorporate fitness and nutrition into their lives. She founded the brand No Gym Required, creating a wildly popular toning shoe that sold over one million pairs worldwide. A fitness ambassador for Weight Watchers, she has starred in a series of bestselling DVDs with them. She also owns a studio, Momentum by Iron, in Santa Monica, which was named one of L.A.'s hottest new gyms by the Hollywood Reporter in 2013.
In STRONG IS THE NEW SKINNY, Cohen teaches readers to maximize their potential and develop their strength—nutritionally, physically, psychologically, and emotionally. Whether you're just getting started or training for an exacting physical challenge, STRONG IS THE NEW SKINNY gives you all the tools you need to become leaner, fitter, and stronger. From push-ups and pull-ups to box jumps and rope climbs, nothing is out of your reach. The book offers a multipronged program (the "SINS" plan, for short) so you can:
Maximize your potential, as well as your energy, vitality, and power.
Train your brain—develop resilience and mental fortitude in every area of your life.
Add muscle, increase speed, and enhance flexibility.
Strengthen your arms, back, core, and legs—and crank up the difficulty when you're ready.
Torch fat with Strong Moves: a series of heart-healthy workouts that can take as little as ten minutes.
Kick-start your body with the Strong Seven—seven days of seven power foods.
Not every woman can (or should) be skinny, but everyone can be fit, strong, sexy, and healthy. By following the SINS plan, you'll be replacing bad diet and exercise choices and negative thoughts with positive actions and a take-charge attitude. The strength-based focus naturally results in building up your endurance and stamina. Plus, you'll be treating yourself to better circulation and muscle definition, enhanced immune function, a boost in mood, and improved concentration, productivity, and memory function—all while burning fat and extra calories.
Strong is the new skinny. It's more than a mantra; it's a movement. And Jennifer Cohen is here to help get you started.
About the Authors
Jennifer Cohen is a trainer, writer, studio owner, and successful health and fitness entrepreneur. She writes a regular fitness column for Health.com, and is the #2 most popular author on Forbes.com, where she writes a leadership column. She is also a fitness ambassador for Weight Watchers and has a series of bestselling DVDs with them. She has developed fitness programs for leading health clubs, and works with celebrities and top executives to incorporate fitness and nutrition into their lives.
Stacey Colino is an award-winning writer specializing in health, fitness, and psychology, and a certified group exercise and Spinning instructor.
Related Posts: