Press Releases
Stashbuster Knits By Melissa Leapman
Tips, Tricks, and 21 Beautiful Projects for Using Your Favorite Leftover Yarn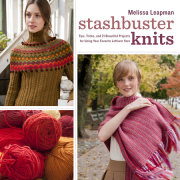 On sale: January 1, 1970
Price: $
ISBN: 9780307586636
Contact:
Kim Small
212-572-6067
ksmall@randomhouse.com
All knitters have leftover yarn. For some, their stash takes over every drawer, every closet, every nook and cranny of free space because they simply can't bear to part with even a strand of that gorgeous merino, alpaca, silk, or mohair. What's a knitter to do with limited amounts of sumptuous yarn?
Enter beloved designer and teacher Melissa Leapman. From a tiny baby sweater to a lovely striped wrap, STASHBUSTER KNITS: Tips, Tricks, and 21 Beautiful Projects for Using Your Favorite Leftover Yarn (Potter Craft, $19.99, On Sale November 15, 2011) provides 21 creative projects and ideas to utilize every last piece of stored-up yarn. Chapters are organized by yarn weight—from super fine to super bulky—and showcase projects using a variety of techniques, including magic ball, lace, cables, intarsia, and Fair Isle to make items for men, women, children, and the home. The book also includes basic knitting techniques, special tips, alternate color suggestions, and guidance on storing and organizing your yarn collection.
And the best part is, no one will ever guess that these fantastic projects were made from yarn scraps! STASHBUSTER KNITS not only features great small projects made with a single ball of yarn, but shows how a knitter can incorporate even a tiny length into a larger project by using stripes, colorblocking, and other designer methods to combine multiple colors and yarns in a single project.
In these thriftier times, knitters are looking to creatively use what they already have. STASHBUSTER KNITS offers fresh new projects that utilize a variety of different yarn weights and lengths. It's not a leftover stash, it's an inspirational yarn collection!
Related Posts: