Press Releases
Now in paperback: HERE AND GONE by Haylen Beck
A Novel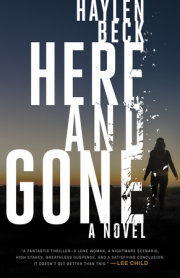 Haylen Beck
Imprint: Broadway Books
On sale: May 1, 2018
Price: $16.00
Pages: 304
ISBN: 9780451499585
Contact:
Alex Larned
212-572-2247
alarned@penguinrandomhouse.com
Select Praise for Here and Gone
"A fantastic thriller—a lone woman, a nightmare scenario, high stakes, breathless suspense, and a satisfying conclusion. It doesn't get better than this." —Lee Child
"A tension-laden, sometimes disturbing story with a viselike grip that won't let go . . . Here and Gone is terrifyingly realistic from the start to its finale." —Associated Press
"Beck keeps his prose flinty, fast and no-nonsense, even as the danger escalates. By the time the novel speeds to the final pages, he's delivered a thriller that's as good at getting into characters' heads as it is at setting you on edge with its twists and turns." —Oprah.com
"Bursting with energy, Here and Gone is a whiplash of deception and intrigue." —Mystery Scene
Now in paperback, HERE AND GONE (Broadway Books, May 1, 2018) is an immersive, bone-chilling thriller about a mother's fight to recover her stolen children from corrupt authorities. Haylen Beck is the pen name of Irish crime novelist Stuart Neville, whose many accolades include a Los Angeles Times Book Prize, an Edgar Award nomination, and selection for best-of-year lists at the New York Times, the Boston Globe, and the Los Angeles Times. A lover of American crime stories, the author boldly diverges from the Irish setting and noir atmosphere of his past books to create his very first high-octane psychological thriller set in the United States with HERE AND GONE. Long-time devotees of the author's Irish noir and new fans of this rip-roaring brand of American crime story—faster, rawer, darker—join together in praise as this proven master breaks into a new space.
The idea for HERE AND GONE came as a line of dialogue Beck first penned and couldn't shake: "See, there's a man who'll pay me a million dollars a child. Three million for a pair." The line sat in the back of Beck's mind for nearly a year before a trip to Arizona gave him the perfect setting for his story. In the novel, the gritty American landscape provides the backdrop for a disturbing tale of abduction, deception, and the unthinkable transactions that take place on the Dark Web.
HERE AND GONE opens on an isolated road in Arizona with Audra Kinney, a desperate woman with a troubled past, fleeing her abusive husband in the family car with her two young children, Sean and Louise, in tow. Desperate not to draw attention, Audra is petrified when she is pulled over by the local sheriff. A run-of-the-mill stop quickly spirals as Audra is arrested for possession of marijuana, which she claims isn't hers, and a promise that her children will be taken "somewhere safe." What happens next is every parent's worst nightmare: one minute her children are there, the next they are gone. As Audra is pulled into a he-said, she-said with law enforcement, a media firestorm kicks off, and she is soon the main suspect in her children's disappearance. Meanwhile in California, a man named Danny Lee hears about the news reports out of Arizona, which are eerily similar to events in his own past. The clock is winding down on the search for the missing children when Danny Lee makes a decision that will draw him deep into Audra's world.
HERE AND GONE was sold in several highly competitive international auctions, and the film rights have been acquired by Random House Studio, the production company behind the critically acclaimed Reservation Road, as a basis for a feature film coproduced by James Schamus, the award-winning writer of Brokeback Mountain and Crouching Tiger, Hidden Dragon.
When a heinous crime is committed, we turn to the police, but what happens when those sworn to protect the innocent are deeply involved? This book is the story of a mother's world-shattering loss of her children, and her fight against power and corruption to get them back. With heartfelt emotion pounding beneath the shocking plot twists, HERE AND GONE invites readers to step into the shoes of a desperate parent who discovers just how far she will go to protect her children.

About the Author:
Haylen Beck is the pen name of internationally acclaimed, prizewinning crime writer Stuart Neville. Neville won the Los Angeles Times Book Prize, was nominated for an Edgar Award, and made best-of-year lists with numerous publications, including the New York Times, the Los Angeles Times, and the Boston Globe. His Haylen Beck novels are set in the United States and are inspired by his love of American crime writing.
Related Posts: