Press Releases
STAR OF THE NORTH by D.B. John
A Novel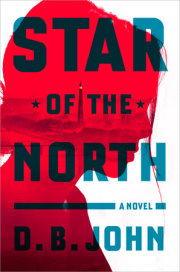 D. B. John
Imprint: Crown
On sale: May 22, 2018
Price: $27.00
Pages: 416
ISBN: 9780525573296
Contact:
Sarah Breivogel
212-572-2722
sbreivogel@penguinrandomhouse.com
Select Praise for STAR OF THE NORTH:

"A thrilling tale of abduction and escape in North Korea . . . highly entertaining."
—Washington Post
"An outstanding thriller . . . Those seeking a realistic, highly readable look at North Korea
will be rewarded." —Publishers Weekly (starred review)
"Well-researched, fast-paced, and pertinent . . . a fantastic read." —Library Journal (starred review)
"A remarkable story about the most opaque country on Earth . . . Star of the North would be a superior thriller even if it was pure fiction." —Booklist (starred review)
"Extraordinary. Smart, sophisticated, suspenseful—and important.  If you try one new thing this year, make it Star of the North." —Lee Child
"This one brims with marvelous characters and delivers heart-in-your-throat action."
—Steve Berry, New York Times bestselling author of The Lost Order
"A superior thriller, deftly plotted and richly human, steeped in the intrigue, culture, and family of a closed regime, both terrifying and upliftingly emotional. It delivers on all fronts."
—Andrew Gross, New York Times bestselling author of The One Man
"From the very first page of this riveting thriller, I knew that D. B. John was a talented writer, and that Star of the North wasn't like any other book I've read before. This one is definitely a star."
—Chevy Stevens, New York Times bestselling author of Never Let You Go and Still Missing
North Korea is a country steeped in mystery, and one that has to be seen to be believed. D. B. John visited the country as part of a tour in 2012, the centenary year of the birth of Kim Il-sung. There, he witnessed the state's leader cult at its most excessive. Everyone he met wore a mask of optimism, and when they spoke they gave thanks and praise to the leader. Of his time in the country John said, "A visit to Pyongyang is like a tour of a gigantic stage set, where visitors are forbidden to peek behind the scenery, interview the actors, or question the script. . . . After a week in the country I had contracted propaganda sickness." It made him wonder about the inner lives of North Koreans. Did they ever risk voicing doubts, even with people they trusted? In his electrifying novel, STAR OF THE NORTH (Crown, May 22, 2018), D. B. John, who also cowrote The Girl with Seven Names, a memoir by North Korean defector Hyeonseo Lee, has penned a novel that is grounded in fact and executed to perfection.
STAR OF THE NORTH weaves together the stories of three strangers—a CIA agent, a black-market trader, and a high-ranking North Korean diplomat—all of whom risk their lives to resist the North Korean regime. The book opens with a harrowing, unforgettable scene that—like so much in this novel—is based in actual events: North Korea's covert abductions program. The year is 1998, and a Korean-American teenager named Soo-min is relaxing with a boy on a South Korean beach when a North Korean submarine surfaces off the coast and sends operatives ashore to abduct them. There are no eyewitnesses; the submarine slips past the Coast Guard undetected, and for the next twelve years, the world believes that Soo-min and the boy drowned during a late-night swim. Soo-min's brilliant twin sister, Jenna, an academic at Georgetown University, has lived most of her life in the shadow of this family tragedy. But when Jenna learns that her sister did not drown but was abducted by North Korean agents, she is drawn into a spiral of events that lead to her recruitment by the CIA.
Along the way we meet Colonel Cho, a high-ranking diplomat in Pyongyang and one of the North's privileged elite. His life is thrown into turmoil when he discovers to his horror that he may be descended from a traitor, a fact that could mean his death if it is ever revealed. We also meet Mrs. Moon, a sixty-year-old peasant in Ryanggang Province, on North Korea's border with China, who finds an international aid balloon landed in a forest and uses the valuables inside to launch a dangerously lucrative black-market business. As the novel progresses, these narrative strands converge and connect in surprising ways, ultimately building to an explosive and unforgettable climax.
As tensions between the United States and North Korea continue to escalate, and with planned meetings between the leaders of the two countries on the horizon, STAR OF THE NORTH offers readers not only an adrenaline rush of a read, but an authentic window into this opaque world. Addictively paced, brilliantly plotted, and filled with memorable characters rendered in masterful prose, STAR OF THE NORTH is one the best international thrillers to appear in years.
# # # # #

Author Bio: D. B. JOHN was born in Wales. He began training as a lawyer but switched to a career in publishing, editing popular children's books on history and science. In 2009 he moved to Berlin, Germany, to write his first novel, Flight from Berlin. He also cowrote the memoir The Girl with Seven Names by North Korean defector Hyeonseo Lee. A visit to North Korea in 2012 inspired Star of the North. He lives in London.
Related Posts:
You Might Also Like