Press Releases
Star-Crossed by Minnie Darke
A Novel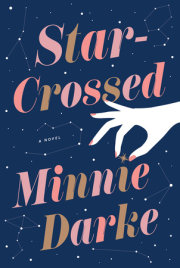 Minnie Darke
Imprint: Crown
On sale: May 21, 2019
Price: $26.00
Pages: 368
ISBN: 9781984822826
Contact:
Sarah Breivogel
212-572-2722
sbreivogel@penguinrandomhouse.com
A sparkling romantic comedy about one woman's decision to tinker with the horoscopes of the (Aquarian) man of her dreams—with far-reaching consequences
"A charming love story with deeper points about belief and consequences." ―Real Simple
"Swoon-worthy…a smart, sweet love story about friendship, destiny, and the power of choice."―Bustle
[A] "juicy romance novel."―Good Housekeeping
"This cleverly structured first outing from the pseudonymous Darke will appeal to fans of romantic comedy, astrology, and chaos. Utterly charming and ripe for development as a film." ―Booklist
"Winning …Unpretentious, well-drawn characters and the fresh twist on the childhood sweethearts reunited setup make this perfect for fans of romantic comedies."―Publishers Weekly

"Darke creates a world of stargazers whose destinies eventually collide…Funny and enticing."―Library Journal
"An ultra-satisfying romantic comedy at its core, Minnie Darke's novel is elevated by a perfectly orchestrated structure centered on the Earth's movement through all 12 star signs, and how each month's prediction affects her characters…a smart, heartfelt and extremely clever love story." ―Shelf Awareness

"I loved this completely. STAR-CROSSED is all about the human impulse to look to others when we are lost, and so it's wonderfully relatable not only in its lively characters who read as faraway-yet-familiar as neighbors, but in its navigation of the kinds of decisions we can't face alone: the phone calls we make to our mothers, the friends we use as mirrors, the horoscope page at the back of the magazine. This is a bright, brilliant, joyful love story that spreads into the size of a small town, with its chorus of voices and old homes and childhoods and gossips. A total triumph." ―Josie Silver, #1 New York Times bestselling author of One Day in December

For most people, reading through one's horoscope is an entertaining way to kill time, nothing to take too seriously. But there are some who put their complete faith in the stars, allowing their horoscopes to guide the choices they make—from bold career moves to important decisions about love and friendship. Spanning exactly one year, as the Earth moves through all twelve stars signs, Minnie Darke's STAR-CROSSED: A Novel (Crown, on sale May 21, 2019) is a delightful romp through the zodiac.
When childhood sweethearts Justine (Sagittarius and serious skeptic) and Nick (Aquarius and true believer) randomly bump into each other as adults, a life-changing love affair seems inevitable. To Justine, anyway. She hasn't seen Nick in thirteen years, one month, and three weeks, but who's counting? She's pined after him all the same, and now that Nick lives in the same town, a struggling actor to her struggling magazine reporter, he'll surely realize his own unchanged feelings and jump at the chance to rekindle their relationship. Right? Well, no. Nick, she learns, is an astrological devotee, and his decision-making, romantic and professional, is guided by the infallible horoscopes in his favorite magazine. The magazine Justine happens to work at. Perhaps, Justine thinks, the stars' guiding forces could use a little journalistic reimagining? Just a few tweaks to the Aquarius column, just a little push to get him to realize they're meant for one another? What could possibly go wrong? Aquarians everywhere are about to find out, when the doctored horoscopes, ostensibly published to steer Nick, end up reverberating in lives of the column's devoted readers, and those who cross their "diverted" paths, showing the ripple effects of what can happen when one woman decides to take fate itself into her own hands.
While Darke's grandmother Polly (Virgo, crossword enthusiast, and champion of lost causes) provided her with a field guide to the zodiac, the direct inspiration for the novel came during the years Darke was a journalist at a small community newspaper. One of her tasks included compiling an entertainment guide—a simple but time-consuming job that often involved last-minute changes. So that she could deal with these late alterations without bugging the subeditors, she was given a powerful log-in that gave her access to the entire layout of the newspaper. Including the horoscopes. While she didn't put much stock in their predictions, a friend of hers placed a huge amount of faith in their words. It occurred to her that, theoretically, she could use her log-in to access the astrology column and to make a few adjustments here and there. At the very least, she could made the astrologer's predictions relevant to her friend's life. Or, if she was feeling more devious, she could manipulate his life choices via astrological advice. While she kept her Machiavellian impulses at bay, the idea ultimately led to the "utterly charming" (Booklist) STAR-CROSSED.
Won in a heated auction, rights to STAR-CROSSED have already been sold in twenty countries, including Spain, Germany, Brazil, and Israel, and has also been picked up for film by Stampede Ventures. Fans of The Rosie Project, The Wedding Date, and Bridget Jones's Diary as well as lovers of romantic comedies like Love Actually and When Harry Met Sally . . . will adore Darke's intelligent and affecting love story about fate, chance, and how we navigate all kinds of choices that are hard to face alone.
About the Author:
MINNIE DARKE (a Gemini with her moon in Virgo) spends her writing days in an artist's caravan in the backyard of her home in Tasmania, Australia. Star-Crossed is her U.S. adult fiction debut.
STAR-CROSSED: A Novel
by Minnie Darke
Crown • On-Sale: May 21, 2019 • Price: $26.00 • Pages: 368
ISBN: 9781984822826
Also available as an ebook and on audio
Visit crownpublishing.com
You can find Minnie @MinnieDarke or at minniedarke.com
Related Posts:
You Might Also Like