Press Releases
Spiritual Solutions by Deepak Chopra
Live an enriching, self-aware, magnificent life in the face of difficulty, distraction, and conflict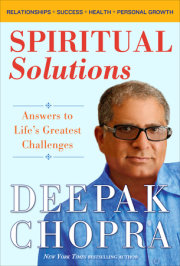 On sale: January 1, 1970
Price: $
ISBN: 9780307719171
Contact:
Tara Gilbride
212-572-2872
tgilbride@randomhouse.com
"Great advice directly from the master on virtually any subject, it just doesn't get any better than this, and all in commonsense language.   I love this book." —Wayne W. Dyer
Can a stagnant career be jump-started? What's the best way to deal with a passive-aggressive friend?In a world full of distractions and stress, how does one find time for meditation?
Over the course of his career as physician, teacher, and bestselling author, Deepak Chopra has received thousands of questions like this from people facing all kinds of challenges.  In an exciting new publication, Spiritual Solutions: Answers to Life's Greatest Challenges (Harmony Books, March 27, 2012) the man who has inspired millions of people to transform their lives shares actual letters written from around the world directly to him. Topics range from how to lead more fulfilling lives, to how to overcome relationship problems, and personal obstacles.  On top of that, the book distills the best of his advice and provides tools and strategies to solve any problem or challenge—and better yet, how to transform any obstacle into an opportunity.
In the book, Chopra shows you how to expand your awareness, and explains that doing so is crucial to combating the confusion and conflict we all face. "There is no greater power for success and personal growth than your own awareness," he says.  The first part of the book is organized according to the four most common areas of struggle: relationships, success, health and well-being, and personal growth and offers general theory on how to address problems in those areas.  The second part of the book shares dozens of actual question and answers – the individual, real-world questions with Dr. Chopra's advice in response.  These questions address provocative, sometime heart-wrenching issues.  Examples include a mother asking how to deal with an unruly son, a wife wondering how to know when her husband is cheating, a youth at a crossroads in her career,  and a woman worried her friend is a doormat, among many, many others.  Here are some of the most common problems summed up:
RELATIONSHIPS: The spiritual side of life in modern society has been divorced from "real life" which involves endless distraction from everyday things—raising a family, providing necessities, keeping the piece under one roof. Relationships are hard at the best of times, trying to achieve a spiritual relationship can seem like a fantasy 
SOLUTION: In a relationship where awareness is expanding, both people evolve together and instead of projecting, view the other person as a mirror of themselves. Thus you can base your happiness on being real, not on illusions and expectations.
SUCCESS: All too often the worst decisions are made by applying the past so rigidly that you are blind to anything else. Contracted awareness is rigid, defensive, limited in scope and dependent on the past. It takes expanded awareness to open a channel to the underlying creativity that exists within you. This impacts your ability to deal with failure, and decision-making skills, among other things.  
SOLUTION: Make uncertainty your ally, not your enemy. Once you see the unknown as the source of creativity, you no longer fear it. This cannot be applied arbitrarily, however. Unforeseen obstacles reflect a genuine inability to see deeper, and what you cannot see has no power to aid you.
HEALTH AND WELL-BEING: When holistic health programs are proposed, it's common for people simply to exchange pharmaceuticals for herbs, processed food for organic food, and jogging for yoga classes – but a shift to a truly holistic approach doesn't occur. To be holistic, your approach to health must take awareness into account. Awareness is an invisible factor that has powerful long-term effects on body and mind.  
SOLUTION: Coping begins in the mind. Your state of awareness is the foundation for all your mental habits and attitudes.
 PERSONAL GROWTH: Spirituality is voluntary, and in the modern age the vast majority of people opt out. How do we bring the inner and outer worlds into a single process known as living?  Your true self is the real you, but how can this be experienced?
SOLUTION: The everyday self is flooded with experiences. To arrive at a deeper level requires a process. On a daily basis you orient yourself to grow in the certain areas, including Maturity, Purpose, Vision, and Transcendence.   
With wisdom and compassion, Chopra offers us the guidance and encouragement necessary to face adversity, transform obstacles into opportunities, and live a satisfying, enlightened life.
With practical insight, Spiritual Solutions will enable you to meet life's challenges from within and to experience a sense of genuine fulfillment and purpose.
ABOUT THE AUTHOR:  
Deepak Chopra is the author of more than sixty books that have been translated into more than eighty languages and include numerous New York Times bestsellers. Dr. Chopra is a fellow of the American College of Physicians, a member of the American Association of Clinical Endocrinologists, Adjunct Professor at Kellogg School of Management, and Senior Scientist with The Gallup Organization. TIME magazine has described Deepak Chopra as one of the top 100 heroes and icons of the century and credits him as "the poet-prophet of alternative medicine."
Related Posts: