Press Releases
New York Times Bestseller Spinster: Making a Life of One's Own by Kate Bolick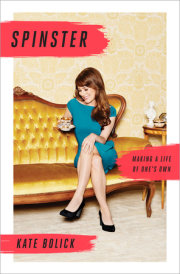 Kate Bolick
Imprint: Crown
On sale: April 21, 2015
Price: $26.00
Pages: 336
ISBN: 9780385347136
Contact:
Rachel Rokicki
212-782-8455
rrokicki@penguinrandomhouse.com
Praise for SPINSTER
*One of Publishers Weekly's Top Ten Social Science Titles of 2015*
*One of Flavorwire's 10 Books That Will Define the Conversation in 2015*
*One of Bookpage's 15 Books We Can't Wait to Read in 2015*
*One of Vogue.com's Recommended Spring Books for 2015*
*One of Newsday's 10 Books Not To Miss*
*One of Emily Gould's Must-Read Books of 2015*
*Featured in Bookish's Spring Preview*
*Featured in Bustle's Spring Preview*
"What's surprising about Spinster is how, in its charmingly digressive style, the book sets forth a clear vision not just for single women, but for all women: to disregard the reigning views of how women should live, to know their own hearts and to carve out a little space for their dreams." —New York Times Book Review

"Awakened and inspired by the lives of five historical women, Bolick revels in her own singledom in this blazingly smart memoir, which argues that "spinster" should be a coveted destination, not a dirty word. Her eloquent, provocative story illustrates how charting a unique course can make any life truly singular." —People
"Bolick weaves memoir, feminist theory, and biographies of five forgone writers into a riveting, essential text. Bolick's voice crackles with wit, sharp criticism, and breathtaking metaphors as she makes an enticing case for spinsterhood." —Entertainment Weekly

"Bolick's evocation of the untethered state is often beautiful, her metaphors precise and lyrical in the manner of her heroines. More important, she does not flinch from describing just how alone alone can feel…Bolick is adept at spotting the unexamined confusions and curious silences that have arisen in the wake of an incomplete sexual revolution—and that bedevil those of us who are living outside of our culture's sturdiest institutions." —Elle
"A pleasing, intelligent book. Bolick's minibiographies of her five awakeners are captivating, and she is great company on the page–perhaps she will prove to be an awakener for a new generation."—TIME
"Kate Bolick has written a heart-stirringly wonderful book—a diary, a history lesson, and a meditation on what it really means to be an independent woman at this moment in America. A fiercely smart young writer, so very much of her time that any urban single woman of 'marriageable' age will instantly relate to her (and those of us who used to be that woman will, as well), decides to attack the idea that marriage must be a female goal. She takes us on her journey from her New England girlhood through an advancing literary and media career, with and without boyfriends, in Boston and then, most heart-stirringly, in New York. She intersperses each vulnerably lived but precisely analyzed step with the inspiration she has searched out, with touching passion, from magnificently singular role models from the late nineteenth and early twentieth century. She calls these heroines her 'awakeners,' but by the end of  Spinster it is we who have been awakened by Kate Bolick's insistence on an examined life—a glowingly examined life—and the reminder that this ruminative self-honesty, this peace-making with oneself, is not only what we must nourish but also what can save us." —Sheila Weller, author of The News Sorority and Girls Like Us
"Kate Bolick brings a bracing feminist consciousness to bear on the lives of five unconventional women of the past and on her own young life in the twenty-first century. She writes about the dilemmas of love and work—then and now—with rare perspicacity and poignancy." —Janet Malcolm, author of The Journalist and the Murderer
"Spinster is a triumph, a provocative and moving exploration of what it means for a woman to chart her own course." —Malcolm Gladwell, author of David and Goliath
"Kate Bolick's Spinster will take your breath away. Writing with a bold vision and in incandescent prose, Bolick gives us a user's guide to going solo—and a gorgeous work of cultural criticism." —Susan Cain, cofounder of Quiet Revolution and bestselling author of Quiet
"In Spinster, her wise and subtle memoir, Kate Bolick explores that freighted term—and the often-maligned woman to whom it is attached—and deftly, persuasively reclaims it. In telling the stories of her literary 'awakeners'—five vividly conjured women who escaped the conventional ties of marriage and family—and in elegantly weaving cultural history into her own personal progress to maturity, Bolick shows by argument and example that the single life is not a predicament to be escaped but a distinctive, demanding, rewarding form of freedom. I wish I could give this book to my thirty-year-old self; she would have taken heart and inspiration from Bolick's bold and intelligent self-examination—not necessarily to follow her path but to be tenderly reminded of this simple but easily neglected truth: that there is another way to want to be." —Rebecca Mead, author of My Life in Middlemarch
"What happens when you don't get married? Setting out to answer this question, Kate Bolick has written a moving, insightful, and important inquiry into how women's lives are narrated—not just in poems, novels, biographies, and memoirs, but also in our own heads, every day, as we make the constant stream of decisions that constitute a human life. Ambitious in the best way, Spinster made me think differently about everything from novelistic plot to the meaning of furniture." —Elif Batuman, author of The Possessed
"Women of the world, listen here: Drop whatever you're doing and read Kate Bolick's marvelous meditation on what it means to be female at the dawn of the twenty-first century. Part self-investigation, part social history, this utterly singular book reminded me, in its warmth and wit, of Elizabeth Gilbert's Eat Pray Love and Rebecca Mead's My Life in Middlemarch, but ultimately Bolick's restless, razor-like intelligence calls to mind none other than Betty Friedan. And like The Feminine Mystique, Spinster will make you rethink your entire life, if not radically change it." —Joanna Rakoff, author of My Salinger Year and A Fortunate Age
"Today, women throughout the world have embarked on an unprecedented experiment in solo living, and no one has chronicled the experience with the candor, insight, and intelligence of Kate Bolick. Spinster is part memoir, part social history, part adventure story, all riveting. No matter whether we're married or single, it invites us to think seriously about how we want to live." —Eric Klinenberg, author of Going Solo
"Refreshingly bold and incisive . . . As Bolick traces her evolution into a woman unapologetic for her choices and unafraid of her own personal freedom, she also reclaims the derogatory word spinster for all females, married or not . . . A sexy, eloquent, well-written study/memoir." —Kirkus Reviews, starred
"In Spinster: Making a Life of One's Own, Kate Bolick offers a timely look at why she (along with millions of America women) have chosen to remain unmarried." —Publishers Weekly,starred
"Smartly written, intimate, and heartfelt, Spinster challenges readers to reconsider what a successful life feels like for women and gifts them with a wondrous group of historic figures to immerse themselves in. A brilliant and timely narrative for twenty-first-century bluestockings, and book groups shall rejoice from all the wonders it has to offer." —Booklist
"Stemming from Bolick's fantastic Atlantic cover story, "All the Single Ladies," Spinster expands on that initial work, in a beautiful piece of cultural history that should prove inspiring and thought-provoking for women of all ages.Bolick takes us deep into her own story as a single woman and explores the lives of her "awakeners"—women like Maeve Brennan and Edna St. Vincent Millay, who served as models and warnings of the rich life that could be made, free from the constraints of a traditional marriage." —Flavorwire
"Author Kate Bolick of The Atlantic writes an assured and engaging volume on the subject of spinsterhood, and in doing so reclaims the word and makes it entirely her own. Whether you're a woman, or you simply know some, this is an enlightening read about breaking free of conventional wisdom of love and marriage. Bolick is a feminist hero in the making." —Bookish
---
Journalist Kate Bolick made waves with her powerful 2011 Atlantic cover story, "All the Single Ladies," about the social and economic trends shaping America's current romantic landscape. The story, drawing more than one million readers, put forth a now much-circulated statistic that50 percent of the adult population is single (compared with 33 percent in 1950)—and that percentage is likely to keep growing.According to the Pew Research Center, a full 44 percent of Millennials and 43 percent of Gen-Xers think that marriage is becoming obsolete.Inshort, millions of women are choosing to live alone. Bolick's story inspired countless published responses and sparked a heated debate on modern notions of romance, family, career, and success.
Bolick does something even more daring now in SPINSTER: Making a Life of One's Own (Crown; April 21, 2015)—she goes beyond the statistics and reporting that drove "All the Single Ladies" straight to its beating heart: her own. Using her personal experiences as a starting point and delving deep into history, she takes the reader through her intellectual and sexual coming of age to explore why she, and more than 100 million American women, remains unmarried. The result is a revelatory, lyrical, and slyly erudite look at the pleasures and possibilities of remaining single that also pulls back the curtain on unmarried women across the centuries. "Whom to marry, and when will it happen—these two questions define every woman's existence," Bolick writes, "[and] govern her until they're answered, even if the answers are nobody and never." It's time, Bolick argues, for this to change.
Bolick, imbued with the grit and resolve of her New England heritage, longed as a young woman to read a book that rescued the conversation about the single life from its infantilized, degrading state to restore it with the dignity it deserved. Writing SPINSTER grew out of that search, and in it Bolick examines the need to build our lives on our own terms, by our own rules, and with our own ideas of family. She invites us into her carefully considered, passionately lived life, embracing her "spinsterhood" and exploring why others fear a life she has come to relish. We see Bolick grow up in Newburyport, MA; lose her mother to breast cancer when she is just twenty-three; and move to New York to struggle to make it as a journalist. Any veteran of the dating wars will revel in the way she dissects the peril and pleasure of staying on the market and looking for love.
In SPINSTER, Bolick also introduces us to a cast of pioneering women from the last century who led lives of deliciously shocking modernity and whose genius, tenacity, and flair for drama have emboldened her to fashion her life on her own terms: journalist Neith Boyce, essayist Maeve Brennan, social visionary Charlotte Perkins Gilman, poet Edna St. Vincent Millay, and novelist Edith Wharton. By animating their unconventional ideas and choices, Bolick shows us that contemporary debates about settling down, and having it all, are timeless, the crucible upon which all thoughtful women have tried for centuries to forge a good life. Bolick also raises the question of what women living their adult lives alone (if only for a time) means for society. While a life lived alone is often seen as a waiting period—an in-between stage—what Bolick brilliantly shows is that this stage itself is a viable way of life; women can live their whole lives as solo actors.
Through both her research and self-examination Bolick turns the word spinster on its head, deflating it of its negative, outdated definition. Intellectually substantial and deeply personal, SPINSTER is a new kind of unreservedly inquisitive cultural exploration that asks us to acknowledge the opportunities that exist within ourselves to live authentically. Bolick offers readers a way back into their own lives—a chance to see those splendid years when we were young and unencumbered, or middle-aged and finally left to our own devices, for what they really are: unbounded and ours to savor.
ABOUT THE AUTHOR: Kate Bolick is a contributing editor for The Atlantic, freelance writer for ELLE, The New York Times, and The Wall Street Journal, and host of "Touchstones at The Mount," an annual literary interview series at Edith Wharton's country estate in Lenox, MA. Previously, she was executive editor of Domino and a columnist for The Boston Globe. She has appeared on NBC's Today show, CNN, Fox News, MSNBC, and numerous NPR programs across the country. A recipient of a MacDowell fellowship, she holds a master's in cultural criticism from New York University, where she also taught writing.
Related Posts:
You Might Also Like