Press Releases
New in Paperback: SPINSTER
Making a Life of One's Own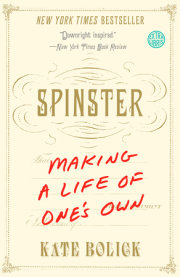 Kate Bolick
Imprint: Broadway Books
On sale: April 19, 2016
Price: $16.00
Pages: 352
ISBN: 9780385347150
Contact:
Sarah Jean Grimm
212-782-8637
sgrimm@penguinrandomhouse.com
Journalist Kate Bolick sparked a national conversation and a movement with her revolutionary 2011 Atlantic cover story, "All the Single Ladies," an excavation into the social and economic trends shaping the way Americans think about marriage. Never before had a mainstream publication suggested that being single and living alone be celebrated, not cured, and her piece was the first to put forth the now much-circulated statistic that over 50 percent of the nation's adult population is single (compared with 33 percent in 1950). That's a number that's likely to keep growing. Between the rising age of first marriage, the ubiquity of divorce, and our increasingly longer lifespans, Americans today live alone longer than ever before.
Bolick's article inspired countless published responses and ignited a debate over how we define romance, family, career, and success; naturally, publishers asked her to expand it into a book. But Bolick had a different idea. Journalism, she believes, describes how we live, but it rarely reaches us where we live—in the cauldron of longings, desires, and decisions that constitute a life—the way that memoir, fiction, and even biography so often do.
For her 2015 hardcover debut, SPINSTER: Making a Life of One's Own, Bolick upended expectations yet again by exploring contemporary attitudes toward marriage through a personal rather than journalistic lens, creating an intimate, thought-provoking, and novelistic reading experience that interweaves her own coming-of-age during these changing times with the lives of five women from the turn of the last century who inspired her. By connecting the dots between what it meant to be a single woman in 1890 and now, she shows that what appears to be a contemporary phenomenon is actually the result of centuries of change. Available in paperback on April 19, 2016 with an additional original essay and reading group material, SPINSTER is relevant, revelatory, and necessary reading for anyone, whether you are single, married, or navigating the widening space in between.
Bolick, imbued with the spirited resolve of her New England upbringing, longed as a young woman to read a book that rejected the common instinct to pity, infantilize, or hyper-sexualize the single woman, and instead talked about the experience with dignity and imagination. Writing SPINSTER grew out of that search, and in its pages, Bolick examines the need to fashion our lives on our own terms, by our own rules, and with our own understanding of family. She invites us into her carefully considered, passionately lived life, embracing her "spinsterhood" and exploring why others fear what she has come to relish. From her childhood in Newburyport, Massachusetts, to the devastating loss of her mother to breast cancer when Bolick was just twenty-three, to her tenacious move to New York City pursuing dreams of becoming a self-supporting writer, Bolick dissects the perils and pleasures of being a happily unmarried woman.
In SPINSTER, Bolick also introduces us to a cast of pioneering women from the last century, historical pillars of deliciously shocking modernity: journalist Neith Boyce, essayist Maeve Brennan, social visionary Charlotte Perkins Gilman, poet Edna St. Vincent Millay, and novelist Edith Wharton—all of whom emboldened Bolick to find her own way. In their lives and their works, these women offered up timeless, essential lessons on how to thrive alone that apply to anyone: the necessity of paid work (Neith Boyce) and friendship (Maeve Brennan), the confusion and delight of sexual freedom (Edna St. Vincent Millay), and the importance of creating a living space that sustains you personally (Edith Wharton), and society as a whole (Charlotte Perkins Gilman).
Like Bolick, each of these women wanted love and autonomy in equal measure, yet unlike her, they were forced to strike this balance under inhospitable social conditions. Here in the twenty-first century, Bolick argues, women have more opportunities than ever before, but very few models for how to live alone. It was by looking to the past that Bolick shaped her life in the present. In addition to learning from—and animating—history, SPINSTER also raises questions about our future. What do women spending their adult lives alone (even if only for a time) mean for society? While singlehood is often seen as a waiting period—a liminal stage—Bolick brilliantly shows us that it is also a viable way of life; women can live their whole lives, or at least significant portions of it, as solo actors. SPINSTER is not about single versus married, but about the vast, gray area in between, where so many live today.
Intellectually substantial and deeply personal, SPINSTER is a new kind of unreservedly inquisitive cultural exploration that asks us to acknowledge the opportunities that exist within ourselves in order to live authentically. In it, we are offered a way back into our own lives—a chance to see those splendid years when we were young and unencumbered, or middle-aged and finally left to our own devices, for what they really are: unbounded and ours to savor.
ABOUT THE AUTHOR: Kate Bolick is a contributing editor for The Atlantic and host of "Touchstones at The Mount," an annual literary interview series at Edith Wharton's country estate in Lenox, Massachusetts. Previously, she was executive editor of Domino and a columnist for the Boston Globe. She has appeared on NBC's Today show, CNN, Fox News, MSNBC, and numerous NPR programs across the country. A recipient of a MacDowell fellowship, she holds a master's degree in cultural criticism from New York University, where she also teaches writing.
Related Posts: