Press Releases
A special 20th anniversary edition of UNDER THE TUSCAN SUN
Now with a new afterword by the author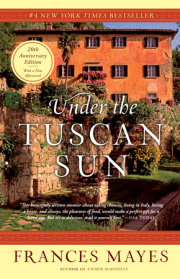 Frances Mayes
Imprint: Broadway Books
On sale: September 6, 2016
Price: $16.00
Pages: 320
ISBN: 9780767900386
Contact:
Rebecca Welbourn
212-782-9634
rwelbourn@penguinrandomhouse.com
When Frances Mayes published UNDER THE TUSCAN SUN in 1996, it became a cultural touchstone almost overnight. With her lyrical language and vivid sensory descriptions, Mayes invited readers into her life as she bought and restored an abandoned villa in the spectacular Tuscan countryside. Her evocation of the beauty and simplicity of life in Italy has inspired generations to take chances as they embark on their own journeys. Equal parts life-changing memoir and escapist travelogue, the #1 New York Times bestseller—it remained on the list for 2½ years—continues to inspire readers all around the world, as does the 2003 film starring Diane Lane.
Now, with exciting updates by the "Bard of Tuscany" herself, readers will be able to discover anew the tastes and passions of authentic Italian living in a special twentieth-anniversary edition of UNDER THE TUSCAN SUN: At Home in Italy (Broadway Books; September 6, 2016). This updated publication includes a retrospective essay from Mayes that casts her eye back on the life-changing consequences of the book, updating us on its characters and the villa itself, as well as recipes from her Tuscan kitchen.
After two decades, UNDER THE TUSCAN SUN remains a vibrant and beloved work, now poised to inspire a new generation with its urging to take charge of one's destiny, live authentically, and discover the place in the world that truly feels like home. In the age of perpetual fascination with Tuscany, it can be easy to forget the crucial role that UNDER THE TUSCAN SUN played in bringing this region into the public consciousness. The vivid words that enabled a global audience to fall in love with Mayes' Bramasole twenty years ago continue to resonate. Readers feel as though they've visited Mayes in her adopted hometown of Cortona themselves—and thousands of them do!
ABOUT THE AUTHOR: Frances Mayes is the author of a series of Tuscany memoirs, including Every Day in Tuscany and Bella Tuscany; the travel memoir A Year in the World; the illustrated books In Tuscany and Bringing Tuscany Home; Swan, a novel; The Tuscan Sun Cookbook; The Discovery of Poetry: A Text for Readers; five books of poetry; and most recently Under Magnolia: A Southern Memoir. She divides her time between homes in Italy and North Carolina. Visit her at www.francesmayesbooks.com.
Related Posts: