Press Releases
SPACEMAN: A Memoir by Mike Massimino
An Astronaut's Unlikely Journey to Unlock the Secrets of the Universe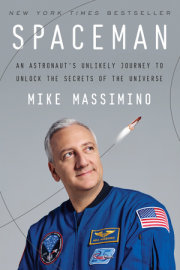 Mike Massimino
Imprint: Crown Archetype
On sale: 10/4/16
Price: $28.00
Pages: 336
ISBN: 9781101903544
Contact:
Rebecca Marsh
212-572-2544
rmarsh@prh.com
SPACEMAN is the thrilling, entertaining memoir from Mike Massimino—the unlikely astronaut who followed his dreams to space, helped save the Hubble telescope, and became one of our best-known living space travelers.
"Every generation of astronauts needs a storyteller—a person with wit, humor, and passion who has lived our collective dreams of space exploration and returned to tell us all about it. Mike Massimino is that person. He's that astronaut. And this is his story."
—Neil deGrasse Tyson
"Mike Massimino writes about space with an astronaut's eye and an engineer's precision. You'll be impressed with his journey and his perspective on where a well-developed space program can take us in the future."
—Senator John Glenn
"A smooth combination of personal history and immersive storytelling . . . A vivid, engrossing, and enthusiastically written memoir of aeronautic ambition."
—Kirkus Reviews (starred review)
Have you ever wondered what it would be like to strap yourself to a giant rocket and go from zero to 17,500 miles per hour? Or to look back at the Earth from outer space and see the surprisingly precise line between day and night? Mike Massimino has been there, and in his new memoir, SPACEMAN: An Astronaut's Unlikely Journey to Unlock the Secrets of the Universe (Crown Archetype; $28.00; On Sale October 4, 2016), he takes the reader there, too—putting you in the flight suit and catapulting you into space to experience all the exhilaration of life in microgravity.
Massimino is a former NASA astronaut and the veteran of two space shuttle missions, including the historic final repair of the Hubble Space Telescope. The first person to tweet from space, he has over 1.3 million Twitter followers, and has appeared on The Big Bang Theory, The Late Show with David Letterman, Good Morning America, and more.
He was just a kid in 1969, but Massimino can still vividly recall the moment he watched Neil Armstrong set foot on the moon. Afterward, he writes, "I remember standing in my front yard and staring up at the moon for the longest time, thinking, Wow, there are people up there, walking around. To a six-year-old kid in the suburbs on Long Island, it was the most awe-inspiring thing in the world. Something about it grabbed me down deep in my soul."
The moon landing cemented Massimino's childhood fascination with space, but his journey to actually becoming an astronaut was as unlikely as it is compelling. In the blue-collar town where he grew up, going to college was a big deal; going to space was unthinkable. He was six-foot-three, afraid of heights, and (he'll be the first to tell you) never the best athlete or the smartest kid in the class. Even after he propelled himself through Columbia and MIT, earning multiple degrees including a PhD, Massimino was rejected twice by NASA. On the third try, he made it to the final round of astronaut selection—only to be told his poor eyesight meant he'd never make the cut. But he didn't let that stop him. Massimino actually trained his eyes to pass the test, finally earning his wings and getting the chance to start his dream job.
 With humor, humility, and intelligence, Massimino narrates the arduous process of becoming an astronaut, from flying on T-38 jets to training for spacewalks underwater, all of which helped him to prepare, physically and mentally, for the journey to the cosmos. He praises the innovation and camaraderie of the space program, revealing the affable nature that helped get him picked for missions in the first place ("Very few jerks have ever been to space," he jokes). Massimino also writes movingly about the tragedy of losing friends in the Columbia shuttle accident, and about his enduring love for the Hubble Space Telescope, which he and his fellow astronauts would be tasked with saving on his final mission.
Massimino speaks reverently about his time in space, describing the surreal beauty of his first spacewalk with awe and childlike wonder, and the fascinating complexity (and paralyzing anxiety) of making an emergency repair to the Hubble. How do you remove one hundred eleven very tiny screws from a machine that was never designed to be fixed, in space, all while worrying if you're about to slip up and inadvertently ruin humankind's chance discover life on other planets? Only Mike Massimino (or "Mass," as his crewmates called him) can tell you. Among his many delightful observations of life as a spaceman:
On fitting in with his shuttle crew: "The thing that set me apart . . . was my personality. No matter how stressful the situation, I try to keep things light and fun. . . . This was going to be a difficult mission in a high-pressure situation. There were all these very different, very strong personalities sitting around the family dinner table, and having a fun little brother sitting down at the end broke the tension and balanced everything out. I didn't know that was my job at the time, but in hindsight it made perfect sense."
On adjusting to life on the space shuttle: "I'm naturally clumsy, plus I'm big, and I didn't know my own strength. I was banging into everything, knocking into people. . . . The whole process is like learning how to walk again. . . . You go to grab something and, instead of grabbing it, you bat it away and you have to go chasing it. You're like an infant concentrating on picking up a Cheerio for the first time."
On his space diet: "Eating in space was fun. . . . You have to be careful, because everything floats, but that's the fun part. Popping M&M's in the air and going after them and chomping like Pac-Man. I actually gained weight in space, which no one ever does. The doctors were confounded, but I just loved eating up there."
On seeing Earth from space for the first time: "According to my suit's biometric sensors, I have a normal resting heart rate of 50 or 60 beats per minute. The moment I saw the Earth it spiked to 120. . . . The thought that entered my head was This is something I'm not supposed to see. This is a secret. . . . The planet below was so beautiful that I actually started getting emotional. I had to look away. I was afraid I was going to tear up, and if you get water floating around in your suit, that could be a big problem. There would be a postflight investigation and I would have to admit that I was crying in space."
On why we go: "Understanding what's happening at the other end of the galaxy is a path to understanding ourselves—understanding who we are and why we're here. . . . That's why we go. The beauty of Hubble is that it is maybe the purest expression of that idea that exists today. Not only is it an instrument that can see farther and deeper into the history of the universe than any other machine ever built, the knowledge that it provides belongs to everyone. . . . It's done solely for the enrichment of our fellow man, and that's an incredible thing."
Mike Massimino's voice is magnetic and singular, that of an ordinary guy who made it into one of the most elite clubs in the world: people who have left the planet and lived to tell about it. SPACEMAN invites us into a rare, wonderful world where the nerdiest science meets the most thrilling adventure, and pulls back the curtain on just what having "the right stuff" really means. Massimino has written an inspiring ode to following your dreams against all odds, and finding your place in this world—or out of it.
ABOUT THE AUTHOR
MIKE MASSIMINO served as a NASA astronaut from 1996 to 2014. A veteran of two space flights to the Hubble Space Telescope, Mike and his crews set team records for spacewalking time, and he became the first person to tweet from space. He has played himself on the CBS sitcom The Big Bang Theory, was featured in the IMAX film Hubble 3D, and has appeared frequently in television documentaries and on late-night talk shows and news programs. A graduate of Columbia University and MIT, Mike currently lives in New York City, where he is a professor at Columbia and an advisor at the Intrepid Sea, Air, and Space Museum.
Find out more at www.mikemassimino.com
Follow Mike Massimino on Twitter @Astro_Mike
More Advance Praise for SPACEMAN
"Inspired by moonwalkers, Mike grew up, became an astronaut, and fixed the Hubble Space Telescope, all while remaining some kinda humble. You can't help but follow him from Long Island to the bottom of the spacewalk practice pool, then 350 miles up and back. He's a spaceman through and through; he tells how hard work can take you out of this world."
—Bill Nye the Science Guy, CEO of the Planetary Society
"Readers will be delighted and moved by retired astronaut Massimino's almost childlike wonder and enthusiasm, coupled with his humility. . . . This is an engaging and uplifting memoir that's sure to give readers a deeper appreciation for the U.S. space program and inspire some future astronauts."
—Publishers Weekly
"Massimino's incredible journeys, filled with grit, courage, suspense, and thrills, are told with such candor and delight, that for a brief moment I felt I'd finally made it to space, too. Read this book and be inspired to reach for the impossible."
—Brian Greene, Columbia University, author of The Fabric of the Cosmos
Related Posts:
You Might Also Like