Press Releases
Snack girl to the rescue!
A real-life guide to losing weight and getting healthy with 100 recipes under 400 calories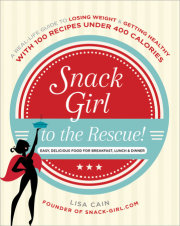 Lisa Cain
Imprint: Harmony Books
On sale: April 15, 2014
Price: $17.99
Pages: 288
ISBN: 9780385349086
Contact:
Ellen Folan
212-782-8944
efolan@randomhouse.com
From beloved blogger Lisa Cain—a.k.a. "Snack Girl"—comes a common sense guide to healthier eating and weight loss, including 100 recipes compatible with the Weight Watchers PointsPlus program.
"Indulgence is not a dirty word for Cain…With humor and common sense, Cain's diet book manages to distinguish itself from the legions of holier-than-thou advice mongers." —Publishers Weekly
Do you need to be rescued from the diet roller coaster of junk food? Are you looking for simple, wholesome recipe ideas for you and your family? Are you looking to adopt a healthier lifestyle but don't know where to begin because everything you've tried seems too expensive, too time consuming or too extreme?
Well, fear not because Lisa Cain, a.k.a. "Snack Girl," is here to help! A busy mother of two, Lisa faces the same challenges to healthy eating that we all do—unlimited access to junk food, a tight budget, a jam-packed schedule, and a love of delicious food. That's why she's devoted her mega-popular blog Snack-Girl.com to sharing the simple secrets and delicious, healthful recipes that have helped keep her budget and her body in check without sacrificing fun or flavor.
Now with SNACK GIRL TO THE RESCUE!: A Real-Life Guide to Losing Weight and Getting Healthy with 100 Recipes Under 400 Calories (Harmony Books, On Sale April 15, 2014), Lisa is sharing her best advice on avoiding common weight-loss pitfalls, shopping healthier on a budget, and getting in shape, along with 100 recipes for fun, quick, and affordable meals and snacks. You don't have to be a master chef to whip up Lisa's easy, delicious food for breakfast, lunch, dinner, and snacks any day of the week.
The majority of the recipes in the book are brand new (with a few all time favorites from the Snack Girl archives), and all of them clock in under 400 calories and are Weight Watchers friendly!
Written with Snack Girl's signature sense of humor, SNACK GIRL TO THE RESCUE will help you eat for sustainable weight loss, enjoy your food, unstick your butt from the couch, and so much more! Down to earth, encouraging, and wickedly funny, it's no wonder that Lisa's star continues to rise—and with her debut book, Lisa is poised to become a go-to resource for real people looking for guidance on how to make healthier food choices, have more energy, or just feel more confident about their family's nutrition.
  # # #
About the Author:  Lisa Cain, Ph.D, an evolutionary biologist by training, is the founder of Snack-Girl.com. She lives in Amherst, Massachusetts, with her husband, their two children and dog.
Related Posts:
You Might Also Like