Press Releases
Skinnytaste One and Done by Gina Homolka with Heather K. Jones, R.D.
140 No-Fuss Dinners for Your Instant Pot®, Slow Cooker, Air Fryer, Sheet Pan, Skillet, Dutch Oven, and More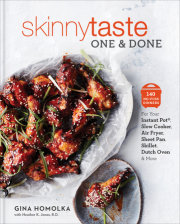 Gina Homolka with Heather K. Jones, R.D.
Imprint: Clarkson Potter
On sale: October 9, 2018
Price: $30.00
Pages: 304
ISBN: 9781524762155
Contact:
Erica Gelbard
212-572-6182
EGelbard@penguinrandomhouse.com
Everyone wants to eat healthier and cook at home more while spending less time in the kitchen and having fewer dishes to clean. Skinnytaste One and Done: 140 No-Fuss Dinners for Your Instant Pot, Slow Cooker, Air Fryer, Sheet Pan, Skillet, Dutch Oven, and More (Clarkson Potter, October 9, 2018; $30.00; hardcover), by #1 New York Times bestselling author Gina Homolka,  is the solution: satisfying one-pot recipes that translate to streamlined meals with minimal fuss.
Organized by vessels that include everyday cooking equipment such as a pressure cooker, a sheet pan, a Dutch oven, a skillet, a slow cooker, and an air fryer, Skinnytaste One and Done is the perfect resource for busy home cooks looking for easy, good-for-you mealtime solutions. As always, Gina Homolka uses easy-to-find ingredients to create weight-loss-friendly recipes packed with flavor that you and your family will love. In Skinnytaste One and Done you'll find healthy spins on the decadent dishes you already crave. Even if you don't own all of the appliances, alternative cooking directions are provided that use everyday cooking equipment when possible, so you won't miss out.
Recipes in the book include:
SKILLET: Mom's Skillet Chicken Pot Pie; Pork Chops Pizzaiola with Arugula Salad; Jalpeño Popper Frittata with Pico de Gallo; Beef Bibimbap Bowls with Riced Carrots
SHEET PAN & BAKING DISH: Crispy Chicken Schnitzel Dinner; Caprese Portobello Pizzas; Carne Asada Fries; Cacio e Pepe Roasted Spaghetti Squash
PRESSURE COOKER: Shortcut Vietnamese Chicken Pho; Turkey Cheeseburger Soup; Unstuffed Cabbage Bowls; Quickest Gnocchi Bolognese
AIR FRYER: Chicken, Pesto, and Cheese Stromboli; Philly Cheesesteak Egg Rolls; Spicy Shrimp Tempura Roll Bowls; Margherita Pizzas
DUTCH OVEN: Chicken Fajita Pasta; Sheperd's Pie Stew; Mussels in Garlicky White Wine Sauce; Creamy Cheddar-Broccoli Soup
SLOW COOKER: Complete BBQ Chicken Dinner; Ropa Vieja; Spicy Lamb Korma; Spinach and Cheese Manicotti
GRILL PAN & GRILL: Shawarma-Spiced Grilled Chicken Thighs with Tahini; Grilled Lemon-Chile Shrimp Summer Salad; Grilled Peach and Watermelon Burrata Salad; Grilled  Halloumi and Veggies with Mint-Yogurt Sauce
With 140 healthy and indulgent recipes, vibrant photography, nutritional information for every recipe, and Gina's signature cooking tips (including make-ahead options, time-saving ideas, and ingredient swaps), Skinnytaste One and Done is a must-have addition to your cooking library, promising big results with little effort.
ABOUT THE AUTHOR:
Gina Homolka is the New York Times bestselling author of The Skinnytaste Cookbook and Skinnytaste Fast and Slow and the founder of Skinnytaste, the award-winning blog that's been featured in Cooking Light; O: The Oprah Magazine;  and Better Homes & Gardens, and on Glamour.com and FineCooking.com, among other media outlets. She lives on Long Island with her husband and their two children.
Heather K. Jones, R.D., is a registered dietitian, the author of several nutrition books, and the founder of heatherkjones.com, a weight-loss site about healing and hope instead of diets and deprivation.
Skinnytaste One and Done
140 No-Fuss Dinners for Your Instant Pot, Slow Cooker, Air Fryer, Sheet Pan, Skillet, Dutch Oven, and More
By Gina Homolka
Clarkson Potter/Publishers
On sale October 9, 2018
$30.00; hardcover; ISBN: 978-1-5247-6215-5
skinnytaste.com
@skinnytaste
Related Posts: