Press Releases
SIRENS
A Novel by Joseph Knox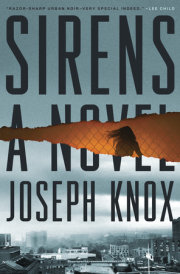 Joseph Knox
Imprint: Crown
On sale: February 20, 2018
Price: $27.00
Pages: 352
ISBN: 9781524762872
Contact:
Sarah Jean Grimm
212-782-8637
sgrimm@penguinrandomhouse.com
Joseph Knox's SIRENS (Crown; February 20, 2018) is a riveting thriller about a damaged undercover detective navigating a web of politicians, drug lords, missing persons, and his own flawed department. This is Knox's first novel, though he writes with the polished assurance of a well-seasoned author—perhaps because, as the crime buyer for the British book retailer, Waterstone's, he is himself a bona fide expert in the genre. When first published in the UK last year, SIRENS debuted on the Sunday Times bestseller list and remained there for weeks. The Times praised it as "top league" in the genre, while Lee Child called it "razor sharp…. very special indeed" and Val McDermid declared it a "powerhouse." Tightly plotted and dripping with atmospheric grime, SIRENS is gripping noir at its finest, at once a classic and yet completely fresh.
Meet Aidan Waits, who is by all accounts a disgrace. An emotionally damaged detective for the Manchester Police Department, he's being blackmailed by his own superiors for stealing drugs. Scorned by his colleagues and trusted by no one, he's the perfect, expendable choice for an impossibly dangerous assignment: infiltrating the inner circle of Zain Carver, the city's most brilliant and lethal drug lord. Zain is a mesmerizing, Gatsby-esque figure who rules the Manchester nightlife, and Aidan's investigation brings him deep into a club scene where beautiful young women act as couriers of drugs, money, and other contraband. When one of those women turns out to be the runaway daughter of a major politician, Aidan finds himself tasked to rescue her without blowing his own cover. But he'll have to do it fast, because the women in Zain's orbit have a habit of disappearing, and Zain himself seems to have information about Aidan's investigation that could only have come from a mole in the department.
Gritty, tense, and addictive, SIRENS is one of the finest neo-noir novels to come along in years. In Aidan, Knox has conceived the perfect detective hero for our time—deeply damaged and hopelessly compromised, yet stubborn, brilliant, and brave enough to do the right thing at any cost. In the tradition of Don Winslow, Ian Rankin, and Richard Price, SIRENS is high drama and propulsive reading.
About the Author JOSEPH KNOX was born and raised in and around Stoke and Manchester, where he worked in bars and bookshops before moving to London. He runs, writes, and reads compulsively.
Related Posts: