Press Releases
Shovel Ready by Adam Sternbergh
NOW IN PAPERBACK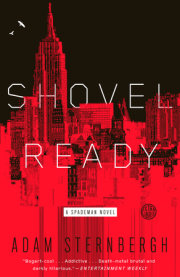 Adam Sternbergh
Imprint: Broadway Books
On sale: October 14, 2014
Price: $14.00
Pages: 272 pages
ISBN: 9780385349017
Contact:
Sarah Breivogel
212-572-2722
sbreivogel@penguinrandomhouse.com
Select Praise for SHOVEL READY:
"Bogart-cool . . . Razor-sharp . . . The page-turning mood of Shovel Ready is addictive, by turns death-metal brutal and darkly hilarious." —Entertainment Weekly

"A searing debut . . . Stark dialogue and high-volume grit, which Sternbergh enhances with sci-fi and dark humor . . . [This] shady antihero may have a long life ahead." —USA Today
"A lean thriller . . . Sternbergh knows his way around the style, matching the staccato rhythms of violence to those of language. . . . [If] you want to know if it's as awesome as it sounds, it is."
—Chicago Tribune
"The best of two dark, amoral, existentially empty worlds!" —Time
 
"Darkly funny." —New York
 
"The best kind of hard-boiled noir." —GQ
 
"Sternbergh's pithy prose drives the thriller's tempo." —Time Out New York

"[Shovel Ready] speeds along in staccato, hard-boiled sentences." —Los Angeles Times

"[A] sardonic thriller that serves up lots of barbs . . .Uniquely engaging . . . A great read, and its world still manages to hold you in its dirty clutches until the violent, fascinating conclusion."
—io9.com

In SHOVEL READY (Broadway Books, October 14, 2014), Adam Sternbergh's propulsive, gripping, and wholly original debut, we meet Spademan, a one-of-a-kind antihero in this futuristic dystopian novel. Sternbergh, who previously worked for New York as editor-at-large and is the current culture editor of the New York Times Magazine, was inspired to write his debut after coming across a statistic listing New York City as the number one domestic tourist destination in the United States, even higher than Disney World. The new Times Square, the cleaned-up Central Park, the High Line, and even Brooklyn have all helped the Big Apple surpass the Happiest Place on Earth . . . but it wasn't always like that. Just thirty years ago New York was seen as crime-ridden, derelict, a wasteland—not somewhere you'd take the children for a vacation. Sternbergh wondered what it would take to get New York City back to its gritty former self.
Set in the near future, SHOVEL READY imagines just such a scenario. A lone gym bag explodes on a subway—followed by a van full of stolen radioactive waste in Times Square. Then comes a well-timed wave of car bombs in the weeks that follow. A mass exodus ensues: The bankers go to London, Seoul, Beijing; the artists to Barcelona or Mumbai; the media to Chicago and Los Angeles. Tourism comes to a halt, and within a month Times Square is dead, rotting beyond resuscitation. Those who stayed behind are either wealthy enough to spend months on end in "the limnosphere," a sophisticated virtual reality where any and all fantasies can be made real, or they are making their way in the rough-hewn new landscape. That's where we meet Spademan. A former garbageman and devoted husband, Spademan's now alone, working as a hit man. He finds that killing people for money is not that different from collecting trash, and the pay is better. When his latest client hires him to kill the daughter of a powerful evangelist, things get trickier than he expected. His conscience gets the better of him, and he suddenly has more plates spinning than he'd like: a shadowy client, a sparkplug of a mark, and a circle of friends and confidants that give him grief. But he'll need all of them if he wants to get the job done . . . and stay alive.
SHOVEL READY attracted the attention of Warner Bros. early on, which is developing the novel for film, with Denzel Washington in early talks to play Spademan, and has sold in seven territories around the world, with more deals pending. Fans of films such as Looper, Inception, and Children of Men, and readers of highbrow commercial novels that blend mystery, sci-fi, noir, and dystopia, such as Colson Whitehead's Zone One, Don Winslow's Savages, and Hugh Howey's Wool, will all be drawn to Sternbergh's addictive genre-blend of a thriller.
Drawing inspiration from classic writers like Philip K. Dick and Dashiell Hammett, as well as modern masters like James Ellroy and Elmore Leonard, Sternbergh has created a gritty, violent, funny, riveting, tender, and brilliant first novel with a character all his own.
ABOUT THE AUTHOR: Adam Sternbergh is a contributing editor for New York magazine and Vulture. Formerly culture editor of The New York Times Magazine, his writing has appeared in GQ and the Times of London and on This American Life. He currently lives in Brooklyn with his family. Near Enemy is his second novel. You can find Adam on line at www.adamsternbergh.com or @sternbergh.
Related Posts: