Press Releases
Sheri Fink's acclaimed Five Days at Memorial, a New York Times Bestseller
The landmark investigation of patient deaths at a New Orleans hospital ravaged by Hurricane Katrina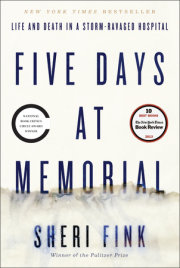 Sheri Fink
Imprint: Crown
On sale: September 10, 2013
Price: $27.00
Pages: 576
ISBN: 9780307718969
Contact:
Rachel Rokicki
212-782-8455
rrokicki@randomhouse.com
WINNER OF THE NATIONAL BOOK CRITICS CIRCLE AWARD
WINNER OF THE RIDENHOUR BOOK AWARD
ENTERTAINMENT WEEKLY'S #1 NONFICTION BOOK OF 2013
#1 NEW YORK TIMES/ SCIENCE BESTSELLER LIST
A NEW YORK TIMES BOOK REVIEW BEST BOOK OF 2013
A TIME MAGAZINE BEST NONFICTION BOOK OF 2013
A CHICAGO TRIBUNE TOP TEN BOOK OF 2013
A SEATTLE TIMES BEST BOOK OF THE YEAR
A LIBRARY JOURNAL TOP TEN BOOK OF 2013
A KIRKUS REVIEWS BEST BOOK OF 2013
MSNBC'S MORNING JOE BOOK CLUB INAUGURAL PICK
NEW YORK TIMES BESTSELLER
WALL STREET JOURNAL BESTSELLER
AN NPR FIRST READ SELECTION
A 2012 BARNES & NOBLE DISCOVER GREAT NEW WRITERS PICK
A NIEMAN REPORTS TOP TEN INVESTIGATIVE JOURNALISM BOOK OF 2013
SHORTLISTED FOR THE RIDENHOUR PRIZES
"What we have here is masterly reporting and the glow of fine writing."
—Sherwin B. Nuland, New York Times Book Review
"Dr. Fink more than delivers. She writes with a seasoned sense of how doctors and nurses improvise in emergencies, and about the ethical realms in which they work. The first half of this book, which is well paced, covers the five days of the title. Then the viewfinder shifts to an entwined legal and political story in which state authorities pursue a homicide investigation. That so many people, starkly divided over the question of whether crimes had been committed, come off as decent and appealing makes this book an absorbing read. Dr. Fink brings a shimmering intelligence to its many narrative cul-de-sacs, which consider medical, legal and ethical issues…. By reporting the depth of those gruesome hours in Memorial before the helicopters came, and giving weight to medical ethics as grounded in the law, Sheri Fink has written an unforgettable story. Five Days at Memorial is social reporting of the first rank."
—Jason Berry, New York Times
"A triumph of journalism…Fink re-creates this world with mastery and sensitivity, revealing the full humanity of each character. Unlike post-storm commentary that jumped to black and white conclusions, painting the doctors as heroes or villains, Fink's narrative wades through the muck and finds only real people making tough choices under circumstances the rest of us, if we're lucky, will never experience."
—Houston Chronicle
"Every page gives evidence of meticulous research, thousands of hours spent interviewing, prowling the halls at Memorial, reviewing legal documents and transcripts…[Fink] offers no easy answers, no rush to judgment. But she does deliver an amazing tale, as inexorable as a Greek tragedy and as gripping as a whodunit."
—Dallas Morning News
"Fink has done a masterful reporting job, and Five Days at Memorial is often engrossing, particularly those pages that take readers inside the hospital…Fink's book is essential reading for anyone who cares about New Orleans, the breakdown of order in disaster zones, and medical dilemmas under crisis circumstances."
—Boston Globe
"Fink, a Pulitzer Prize-winning journalist who trained as a physician, writes powerfully of the investigation into the Memorial deaths and, in her epilogue, of subsequent disasters: the earthquake in Haiti, Hurricane Sandy in the Northeast, an influenza pandemic in India."
—Radhika Jones, TIME
"Powerful…Fink, a trained physician turned journalist, is able to re-create in minute detail the sights, smells and sounds of Memorial in the days following the storm. It's safe to say that her medical background gave her a unique perspective, which, coupled with her fine writing, offers the reader an evocative narrative of how the hospital staff and patients struggled to cope with the lack of electricity, climbing temperatures, and a sense that they might not make it out alive."
—USAToday.com
"This isn't just a policy brief ornamented with characters. It is, like all great journalism, a document unto itself, an artifact of what we thought about 'life and death' issues in the early twenty-first century… Magnificent."
—Bookforum
"An important book… Fink, an M.D. and Pulitzer-winning journalist, certainly knows how to craft a nonfiction page-turner."
—Laura Miller, Salon
"It's a marvel of journalistic effort that brings an objective and sympathetic eye to the suffering and tough decisions at Memorial Medical Center."
—Bloomberg
"[Fink] has shaped her research into an elegant narrative, Five Days at Memorial, with all the page-turning pull of a novel, no easy feat given the complexity of the story… riveting."
—Entertainment Weekly
"The journalist and doctor Sheri Fink published a meticulous investigation of these deaths in the New York Times Magazine and on the Web site of ProPublica, in 2009. Her work won a Pulitzer Prize. And now comes the book. In Five Days at Memorial, the contours of the story remain the same, yet Fink imbues them with far more narrative richness, making the doctors seem both more sympathetic and more culpable. Fink also expands on the ethical conundrums, which have festered over time and seem to gain fresh urgency."
—TheNewYorker.com
"In this astonishing blend of Pulitzer Prize–winning journalism (Fink, who also has an M.D. and Ph.D., won the award for the investigative reporting on which this book is based) and breathtaking narration, she chronicles the chaotic evacuation of the hospital and the agonizing ethical, physical, and emotional quandaries facing Memorial nurses and doctors, including a nightmarish triage process that led to the controversial decision to inject critically ill patients with fatal doses of morphine in order to refocus attention on those with a chance of surviving."
—Publishers Weekly (starred review)
"Pulitzer Prize–winning medical journalist/investigator Fink (War Hospital, 2003) submits a sophisticated, detailed recounting of what happened at Memorial Medical Center in New Orleans during and after Hurricane Katrina. Fink draws those few days in the hospital's life with a fine, lively pen, providing stunningly framed vignettes of activities in the hospital and sharp pocket profiles of many of the characters. She gives measured consideration to such explosive issues as class and race discrimination in medicine, end-of-life care, medical rationing and euthanasia, and she presents the injection of some patients with a cocktail of drugs to reduce their breathing in such a manner that readers will be able to fully fashion their own opinions. The book is an artful blend of drama and philosophy [and] with apparent effortlessness, Fink tells the Memorial story with cogency and atmosphere."
—Kirkus Reviews (starred review)
"Fink offers a stunning re-creation of the storm, its aftermath, and the investigation that followed. She evenhandedly compels readers to consider larger questions, not just of ethics but race, resources, history, and what constitutes the greater good, while humanizing the countless smaller tragedies that make up the whole. And, crucially, she provides context, relating how other hospitals fared in similar situations. Both a breathtaking read and an essential book for understanding how people behave in times of crisis."
—Booklist (starred review)
"In a highspeed world that reduces reality to black and white, Sheri Fink slows down to examine every achingly tough decision made by medical responders to Hurricane Katrina. The riveting result is nuanced and leaves you asking, 'Well, what would I have done?' Wow."
—Laurie Garrett, Pulitzer Prize-winning writer and author of I Heard the Sirens Scream
"Sheri Fink is one of the best medical journalists working in the United States today and Five Days at Memorial stands as evidence of her ability to tell a can't-put-down story, and also her ability to delve into the troubled and sometimes heart-breaking state of medical care in this country today. Read it because it's a compelling look at a hurricane-driven medical catastrophe—and read it because it matters."
—Deborah Blum, author of The Poisoner's Handbook
In the tradition of the best investigative journalism and the finest writing on medicine, physician and reporter Sheri Fink brings us FIVE DAYS AT MEMORIAL: Life and Death in a Storm-Ravaged Hospital (Crown; September 10, 2013), masterfully reconstructing the events at Memorial Medical Center in New Orleans during hurricane Katrina in August of 2005. Fink's sources include more than five hundred interviews with hundreds of people: doctors, nurses, staff members, hospital executives, patients, family members, government officials, ethicists, attorneys, and researchers.
Fink, an MD with a PhD in neuroscience from Stanford University, has significant experience delivering aid and writing about emergencies in the United States and overseas—including firsthand reporting in Haiti after the 2010 earthquake and in New York after Hurricane Sandy—and brings both her expert knowledge and intimate understanding to this fast-paced narrative that will make you ask fundamental questions about disasters, survival and the fragility of human life. The original story upon which FIVE DAYS AT MEMORIAL is based was co-published by the New York Times Magazine and ProPublica, and won a 2010 Pulitzer Prize in Investigative Reporting, the 2010 National Magazine Award in reporting, a National Headliner Award, a Sigma Delta Chi Award from the Society of Professional Journalists, and a Dart Award for excellence in coverage of trauma. Fink's first book, War Hospital: A True Story of Surgery and Survival, about the genocide in Srebrenica, Bosnia-Herzegovina, was a finalist for the PEN/Martha Albrand Award for First Nonfiction and was awarded the 2004 American Medical Writers Association Special Book Award.
Situated at three feet below sea level—one of New Orleans's lowest points—Memorial had served as a shelter from every storm that has pummeled the Gulf since the hospital was opened in 1926. Patients, doctors, and the surrounding community frequently sought refuge at the hospital with their families and often their pets. When Katrina hit on August 30th forty-four patients and six hundred medical and other workers. Surrounded by floodwaters, intense heat brought on by the failure of the electrical grid, disintegrating sanitary conditions, and confusion over false rumors that martial law had been imposed, a chaotic evacuation sputtered to a stop, leaving hundreds of very sick patients marooned in a hospital without electricity. 2005, at least two thousand people were at Memorial, including two hundred and forty-four patients and six hundred medical and other workers. Surrounded by floodwaters, intense heat brought on by the failure of the electrical grid, disintegrating sanitary conditions, and confusion over false rumors that martial law had been imposed, a chaotic evacuation sputtered to a stop, leaving hundreds of very sick patients marooned in a hospital without electricity.
In FIVE DAYS AT MEMORIAL Fink draws the reader into the lives of the doctors and nurses who struggled to preserve life amidst chaos. Patients at Memorial were first left vulnerable to an ad-hoc evacuation plan, and then to a cascade of decisions made by exhausted doctors and nurses about whose lives could be preserved and who would most likely die in the face of serious illness and limited medical care. The consequence was an almost unthinkable tragedy: several health professionals injected patients with morphine and the fast-acting sedative Versed—at least twenty patients died after being injected.
In the book's riveting second half, the quest to understand what happened at Memorial is brought to life through the eyes of a prosecutor-investigator team, Butch Schafer and Virginia Rider. Their investigation into the titular five days uncovers a whole new understanding of the human drama that fuels medicine and the unchartered territory of end-of-life care. FIVE DAYS AT MEMORIAL raises important ethical and legal questions about the way resources are allocated in crisis situations and throws into sharp relief some of the issues that dominate everyday headlines on healthcare reform and inspire significant debate, including rationing, justice,
ABOUT THE AUTHOR: Sheri Fink has reported on health, medicine, and science in the U.S. and from every continent except Antarctica. She won a 2010 Pulitzer Prize in Investigative Reporting, as well as the 2010 National Magazine Award in reporting. Most recently her news stories about Hurricane Sandy and Hurricane Isaac in The New York Times, ProPublica and The New Orleans Times-Picayune were awarded the 2013 Mike Berger Award from Columbia Journalism School and the beat reporting award from the Association of Health Care Journalists. She was lead reporter and co-editor of a series of radio stories about healthcare rationing around the world for Public Radio International's "The World," which won the Lowell Thomas Award from the Overseas Press Club and the Global Health Council's Excellence in Media Award. Fink is a senior fellow at the New America Foundation's Future Tense program and at the Harvard Humanitarian Initiative. She has taught at several universities, and previously worked with humanitarian aid organizations in more than a half dozen emergencies in the United States and overseas. She was the recipient of a Kaiser Media Fellowship in Health from the Kaiser Family Foundation, and a Public Policy Scholarship at the Woodrow Wilson Center.
Related Posts:
You Might Also Like