Press Releases
SHE WANTS IT
Desire, Power, and Toppling the Patriarchy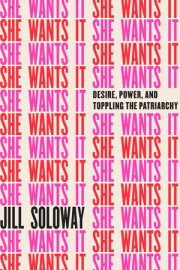 Jill Soloway
Imprint: Crown Archetype
On sale: October 16, 2018
Price: $27.00
Pages: 256
ISBN: 9781101904749
Contact:
Kathryn Santora
212-572-2544
ksantora@penguinrandomhouse.com
"An assumption-exploding, smart account of creativity, work, and a decidedly unconventional life."
—Kirkus (starred review)
 "Soloway's sharp humor carries the day in an unusually kind and self-aware memoir that will both make readers laugh and leave them optimistic."
—Publisher's Weekly (starred review)
 "Fearlessly revealing, deeply felt, rigorous and compassionate, She Wants It offers an intimate portrait of Jill Soloway's remarkable life and, simultaneously, a portrait of the larger human struggle to create, from a revolutionary TV show to a revolution in the culture itself. It's a rare and, yes, an important book."
—Michael Cunningham
When Jill Soloway's parent came out as transgender, Jill pushed through Hollywood's male-dominated landscape to create the groundbreaking, award-winning Amazon TV series Transparent.  Exploring identity, love, sexuality, and boundaries through the dynamics of a complicated and profoundly resonant American family, Transparent gave birth to a new cultural consciousness. While working on the show and exploding mainstream ideas about gender, Jill also began to erase the lines on their own map, coming out as queer and nonbinary. Jill couldn't have imagined the powerful social reckoning that would awaken with the rise of the #metoo movement, much less how it would impact Transparent as its lead actor was publicly accused of sexual harassment by members of the cast.
Now in Jill Soloway's debut memoir, SHE WANTS IT: DESIRE, POWER AND TOPPLING THE PATRIARCHY (Crown Archetype, On-Sale October 16, 2018, 9781101904749) they detail an emotional and professional journey of personal transformation set against the profound cultural upheaval and shifting power dynamics that continue to shape our collective worldview.
SHE WANTS IT is a book uniquely positioned at the center of the current gender and consent conflagrations to offer new perspectives on dated and damaging "he said/she said" binaries. Jill's recent transition from identifying as femme, female and straight — to queer, masculine-of-center and non-binary — brings a vital new perspective and radical feminist philosophy to this pivotal moment.
SHE WANTS IT moves with urgent rhythms, wild candor, and razor-edged humor to chart Jill's evolution and professional coming-of-age from staff writer and divorced parent of two to award-winning powerhouse and one of the most sought-after creators in television. With unbridled insight that offers a rare front seat to the inner workings of the #metoo and Time's Up movements, Jill captures the zeitgeist of a generation in this poignant memoir, challenging our understanding of gender, inclusion, desire, and consent.
Throughout their journey, Jill found their voice as a director, show creator, and activist. Now, in SHE WANTS IT, learn Jill's take:
On writing the award winning Transparent: I pulled out my laptop and began working on Transparent. The script came out so easily, like a slippery baby.
On mentoring a diverse young Hollywood: As a cis woman, I had felt so marginalized by cis men. I was beginning to confront my own truth—that I had been part of the problem, too, by only being a mentor for mostly cis white folk.
On femininity: I realized that femininity had been a false boundary between myself and my ability to feel at home in the world, embodied. As each aspect of external femme performance dropped away, I reclaimed another piece of my wholeness.
On fear: Women spend the first half of our lives afraid we're going to get raped and the second half afraid we're going to find a lump. Are we ever not afraid?
On identifying as non-binary: I began to experiment in my mind with the idea of identifying as nonbinary. What if I wasn't female but I also wasn't male? What if I wasn't cis but also wasn't trans? What if I was everything and nothing at the same time? What would we call that?
On the male gaze: This was the male gaze editing out not only our desire but also our consent. Training us all to believe that our consent either isn't interesting or isn't necessary.
On female storytelling: How did men just keep taking up space as the default storytellers? Never mind that women are always telling sto­ries, about their lives and their best friends' lives, in every­day conversation. But they made us believe that's not real story.
On activism: Topple the patriarchy!
SHE WANTS IT: DESIRE, POWER AND TOPPLING THE PATRIARCHY is a groundbreaking and timely new book from one of our most important and revolutionary voices.
The SHE WANTS IT book tour will feature appearances from Roxane Gay, Hannah Gadsby, Susan Stryker, Morgan Parker, Zackary Drucker, Cara Rose Defabio, Jessica Bennett, and others, and promises vigorous feminist debate on the conversation surrounding consent.
####
JILL SOLOWAY is the Emmy and Golden Globe Award-winning creator of Transparent and I Love Dick. Their first feature film, Afternoon Delight, won the 2013 Directing Award at Sundance. Their work can also be seen in Six Feet Under, How to Make It in America, and United States of Tara. An activist and artist, Jill cofounded 5050by2020, East Side Jews, and the spoken word series Sit 'n' Spin. Jill lives in Los Angeles.
SHE WANTS IT
DESIRE, POWER. AND TOPPLING THE PATRIARCHY
Crown Archetype
On Sale October 16, 2018
$27.00 – Hardcover ISBN 978-1-101-90474-9
Also available as an ebook and on audio from Penguin Random House
Related Posts:
You Might Also Like