Press Releases
Shakespeare's Sonnets, Retold
Classic Love Poems with a Modern Twist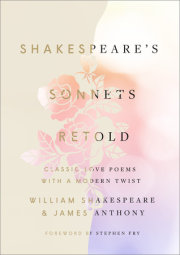 William Shakespeare and James Anthony
Imprint: Three Rivers Press
On sale: November 13, 2018
Price: $16.00
Pages: 336
ISBN: 9781984823465
Contact:
Ellen Folan
212.782.8944
efolan@prh.com
"A dazzling success . . . Aside from the pleasure any reader can derive from this achievement, schools and colleges will stamp and cheer with unrestrained gratitude and delight."
—Stephen Fry, comedian, actor, and writer
An enlightening and entertaining collection of the most esteemed love poems in the English canon, presented alongside ingenious retellings that use contemporary language accessible to any reader
Shakespeare's sonnets are some of the most revered love poems ever written. They beautifully capture the full range of human experience—passion, heartbreak, deception, jealousy, reconciliation, and mortality—and students and scholars have pondered over their meaning for centuries.
Yet, to many modern readers, the sonnets remain inaccessible, the depth of beauty and messages often obscured by the seemingly unintelligible language. And thus, sadly, the greatest collection of love poems ever written is seldom read outside the classroom.
Enter James Anthony, a former technology entrepreneur and engineer with a personal passion for poetry—particularly the kind with a strict adherence to beat, rhythm, and rhyming patterns, which he likens to the very best pop songs. He found himself drawn to the rewarding 14-line structure of Shakespeare's sonnets, but, like so many, he also found their abstract language frustratingly incomprehensible.
One day, out of curiosity, Anthony rewrote Sonnet 18—"Shall I compare thee to a summer's day?"—line by line, in the strict iambic pentameter and rhyming patterns of the original, but using contemporary language today's reader could easily grasp. The meaning and sentiment—difficult to spot initially—came to life, revealing new intricacies in the workings of Shakespeare's heart:
18                                                                                                                      18
Shall I compare thee to a summer's day?                                                   Shall I compare you to a summer's day?
Thou art more lovely and more temperate:                                              You're more delightful, always shining strong;
Rough winds do shake the darling buds of May,                                     High winds blow hard on flowering buds in May,
And summer's lease hath all too short a date:                                         And summer never seems to last that long;
Sometime too hot the eye of heaven shines,                                             Some days the sun is just too hot to bear
And often is his gold complexion dimmed,                                               While other days it's stuck behind a cloud,
And every fair from fair sometime declines,                                             For even gorgeous weather fades to fair
By chance, or nature's changing course untrimmed:                              By chance, as Mother Nature is allowed.
But they eternal summer shall not fade,                                                    But you, unlike the summer, will not fade,
Nor lose possession of that fair thou ow'st,                                               Nor lose the love your face and soul defines;
Nor shall death brag thou wander'st in his shade,                                   Not even death will make your life degrade
When in eternal lines to time thou grow'st.                                              Because your memory's captured in these lines.
     So long as men can breathe or eyes can see,                                            So long as people breathe or eyes review,
     So long lives this, and this gives life to thee.                                              These words live on, reminding them of you.
And so, James embarked on a full-time, year-long project to rewrite all 154 of the Bard's eternal verses resulting in SHAKESPEARE'S SONNETS, RETOLD: Classic Love Poems with a Modern Twist (Three Rivers Press, November 13, 2018), a collection of masterful reinterpretations that brilliantly demystifies and breathes new life into Shakespeare's work.
In the same way that Lin Manuel Miranda's Hamilton has given us a fresh appreciation for an important historical figure, Anthony's contemporary rewriting of these sonnets helps us to imagine the human side of "Will Shakespeare," who today might be the most popular Instagram poet or the moody MFA student you had a crush on in college. Assuming the poems were written from his heart, they reveal much of who Shakespeare really was, including a deeper look at the sometimes overlooked themes of queer love, masculinity, and race that appear throughout. With a foreword by Stephen Fry, this stunning new collection ensures Shakespeare's originals can be understood by all.
###
ABOUT THE AUTHORS
WILLIAM SHAKESPEARE was born in 1564, the son of a glove maker from Stratford-upon-Avon, and spent much of his adult life in London. He is widely regarded as the greatest writer in the English language. Shakespeare's poetry first appeared in 1593, dedicated to his patron Henry Wriothesley, 3rd Earl of Southampton. It is unknown when he wrote each sonnet, but the collection was first published in 1609. He died in 1616, aged 52.
JAMES ANTHONY was born in 1970, the son of an engineer from Peterborough, and has spent much of his adult life in London. James cut his teeth building cars for the Ford Motor Company in Dagenham. Shakespeare's Sonnets, Retold is his first published work of poetry. James is still seeking an aristocratic patron. He lives in New York City with his beloved wife, Versha.
Related Posts: