Press Releases
Sewing in a Straight Line by Brett Bara
Quick and Crafty Projects You Can Make by Simply Sewing Straight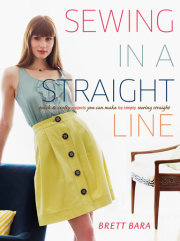 Brett Bara
Imprint: Potter Craft
On sale: July 19, 2011
Price: $22.99
Pages: 160
ISBN: 9780307586650
Contact:
Justin Batchelor
212-572-2247
jbatchelor@randomhouse.com
Praise for Sewing in a Straight Line:
"Like a fun and patient teacher, Brett Bara guides readers through both sewing basics and more advanced skills without any of it seeming intimidating at all." – Debbie Stoller, author of the Stitch 'n Bitch series
"Sewing in a Straight Line opens up unlimited creative possibilities.  Now even with basic sewing skills, I can show off my personal style."
– Cristina Batch-Lee, Etsy.com
Anybody can sew a straight line. And that simple skill opens up a world of projects and possibilities.  With the help of crafty expert and television host Brett Bara you'll learn how you can make custom home decor, stylish fashions, and one-of-a-kind gifts just by sewing simple straight seams. Sewing in a Straight Line: Quick and Crafty Projects You Can Make by Simply Sewing Straight (Potter Craft, on sale July 19) is a step-by-step guide to creating 28 deceptively simple projects that look like they came from a chic boutique–far more impressive than you would expect for such little effort! These easy-to-make items offer quick gratification that even the busiest among us will appreciate.
From a flirty one-hour skirt (page 28) to chic 15-minute pillow shams (page 87) and make-it-your-way ottoman cover (page 88) to the cutest plush toys, mister bunny & miss kitty (page 150), many of the projects take only a spare afternoon. With some snazzy textiles, a tad of creativity, and a copy of Sewing in a Straight Line you'll soon be jazzing up your life with seriously cute creations.
About the Author:
BRETT BARA is a New York City-based crafts and DIY lifestyle expert.  She is host of Knit and Crochet Now on PBS, a spokesperson for Warm-Up America!, and the former Editor-In-Chief of Crochet Today magazine.  Her "Sewing 101" Column is a regular feature on Design*Sponge.  Visit her website and blog at www.brettbara.com.
Related Posts: