Press Releases
Sew What You Love by Tanya Whelan
The Easiest, Prettiest Projects Ever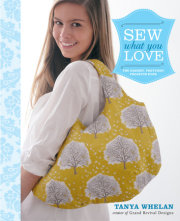 On sale: January 1, 1970
Price: $
ISBN: 9780307586735
Contact:
Kim Small
212-572-6067
ksmall@randomhouse.com
Sewing is hotter than ever, with an estimated thirty-nine million American women owning sewing machines. Designer Tanya Whelan is known for blending the romance of the past with a contemporary edge, and her vintage-modern aesthetic has made her fabrics and sewing patterns some of the most admired by sewers and quilters everywhere. In her first book, SEW WHAT YOU LOVE: The Easiest, Prettiest Projects Ever (Potter Craft, $24.99, on sale December 27, 2011) she offers a stylish collection of 30 sewing projects that can all be made using simple sewing techniques. Ranging from a chic pleated clutch to a flirty French-inspired day dress, easy blouses and skirts for little girls, and an easy-to-make ottoman, each project comes with step-by-step instructions and illustrations, inspiring photographs, and helpful tips. Included are three pattern sheets enclosed in a pattern pocket, providing everything you need to stitch something beautiful for friends, for family, or for yourself.
"As a longtime crafter and lover of sewing I wanted to bring easy but very useful projects, like handbags and clothing for children and adults, to a book," says Tanya. "SEW WHAT YOU LOVE has stylish, modern, beautiful patterns and techniques that are easy to achieve and build upon. What sets the book apart is the emphasis on projects that people really want to make and will use every day—in other words, pretty but very practical things."
Tanya Whelan's fabrics are distributed internationally by Free Spirit Fabrics, her blog http://grandrevivaldesign.typepad.com receives over thirty thousand unique visitors a month, and she launched a line of home accessories that are distributed to department stores such as Nordstrom's.
While many of the projects are easy enough for beginners, there will be plenty of inspiration and more challenging items for the intermediate and advanced sewers, as well. It's the perfect resource for anyone who wants to sew what they love!
#    #    #
About the Author:
TANYA WHELAN is an author and sewer as well as a fabric, product, and sewing-pattern designer. Her fabrics are produced and distributed worldwide by Free Spirit Fabrics, a subsidiary of Coats and Clark. Her homewares collections are distributed throughout the US and Canada. Her work is frequently featured in magazines, including Martha Stewart Living, Romantic Homes, Quilts and More, and Sew News, as well as on blogs such as Decor8 and Craftzine. She currently lives in Belgium with her husband and children.
Related Posts: