Press Releases
The Seven Principles for Making Marriage Work
Completely Revised and Updated in Paperback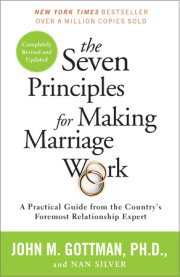 John Gottman, PH.D.
Imprint: Harmony Books
On sale: May 5, 2015
Price: $16.00
Pages: 320
ISBN: 9780553447712
Contact:
Allison Judd
212-782-9164
ajudd@penguinrandomhouse.com
THE SEVEN PRINCIPLES FOR MAKING MARRIAGE WORK: A Practical Guide from the Country's Foremost Relationship Expert has revolutionized the way we understand, repair, and strengthen marriages. John Gottman revolutionized the study of marriage by using rigorous scientific procedures to observe the habits of married couples. As a professor of psychology at the University of Washington and the founder of The Gottman Institute, Dr. Gottman studied couples in unprecedented detail over the course of nearly four decades.
Here is the culmination of his life's work: the seven principles that guide couples on a path toward a harmonious and long-lasting relationship. Straightforward in their approach, yet profound in their effect, these principles teach partners strategies for deepening intimacy, creating understanding, and resolving conflicts. His findings, and his heavily attended workshops, have already turned around hundreds of thousands of faltering marriages. He helps couples focus on each other, on paying attention to the small day-to-day moments that, strung together, make up the heart and soul of any relationship.
This new edition of the New York Times bestseller THE SEVEN PRINCIPLES has been completely revised and updated to reflect changes in:
1. Couples and digital distractions—Digital media has had a profound impact on couples' sense of connection. Is it okay to text during date night or to post private information on social media? This section also discusses private habitual use of Internet porn by one member of the couple and why it can be problematic.
-over-
-2-
2. More help with resolving conflict—Conflicts will inevitably arise between partners, and this edition offers more detailed advice and exercises on how to work through issues that might otherwise derail couples. Exercises guide couples in progressing past arguments in a way that strengthens their relationship rather than letting anger and hurt fester.
3. Better sex—Information on sex in long-term relationships. The new material includes a questionnaire to assess the quality of a couple's sex, romance, and passion; five tips for making lovemaking more personal and romantic; plus advice on how to turn down sex gently and how to cope with your partner's "no."
4. Men vs. Women: The One Big Thing—The One Big Thing to help their relationship differs according to gender: men can improve their relationship by accepting their partner's influence, and women can address their complaints gently and take responsibility for at least some of the problem.
With updates on nearly every page, THE SEVEN PRINCIPLES FOR MAKING MARRIAGE WORK has completely new exercises, new anecdotes, and the latest research out of The Gottman Institute. For all types of couples, this book offers a proven approach to make love last a lifetime.
###
ABOUT THE AUTHOR
JOHN GOTTMAN, Ph.D., a leading research scientist on marriage and family, is emeritus professor of psychology at the University of Washington; executive director of his laboratory, the Relationship Research Institute; and cofounder of the Gottman Institute. He held an NIMH research scientist career award for twenty years. Dr. Gottman is the author of more than two hundred professional journal articles and forty-two books, as well as the recipient of numerous prestigious awards for his extensive contributions to marriage and family research.
Related Posts: