Press Releases
Seth Goldman and Barry Nalebuff tell the story of Honest Tea
A business book in graphic format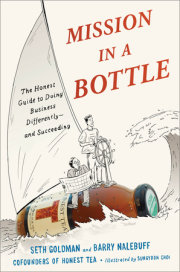 Seth Goldman and Barry Nalebuff
Imprint: Crown Business
On sale: September 3, 2013
Price: $23.00
Pages: 288
ISBN: 9780770437497
Contact:
Ayelet Gruenspecht
212-782-9016
agruenspecht@randomhouse.com
Seth Goldman and Barry Nalebuff began Honest Tea fifteen years ago with little more than a tea leaf of an idea and a passion to offer organic, freshly-brewed, lightly-sweetened bottled tea. Today Honest Tea has exploded into a national brand sold in more than 100,000 grocery stores, restaurants, and convenience stores across the country. The brand has flourished as American consumers move toward healthier and greener lifestyles. Now, the co-founders are telling their story in an incredibly fun and accessible two-color graphic-book format.  MISSION IN A BOTTLE: The Honest Guide to Doing Business Differently—and Succeeding offers a wealth of insights and advice to entrepreneurs, would-be entrepreneurs, and millions of Honest Tea drinkers about the challenges and hurdles of creating a successful business—and the importance of passion, perseverance and creative problem-solving.
Seth and Barry know that a successful business takes more than just a good idea. But how did they go from deciding someone should sell tea that actually tastes like tea (and not tea-colored sugar water) to creating a successful mission-driven business in a profit-driven world? The panels, illustrated by Sungyoon Choi, show the evolution of Honest Tea as a company, the hardships faced by a start-up striving to find its way, and the obstacles that arose as Seth and Barry remained determinedly dedicatedb to their mission.
Throughout the book, Seth and Barry address the reader in "Lessons Learned" segments, highlighting the themes of the chapters and providing instruction and tips for startups and entrepreneurs. The lessons they wish they could have read before starting out include:
Build something you believe in right from the start
Mistakes add up—a 1% problem can rapidly become a 100% problem
Prepare to be copied; don't start unless you'll survive imitation
Degrees don't sell—people do
Lack of money isn't always an obstacle
Invest in your reputation—it can buy you a second chance
Don't compromise on the big things; compromise on everything else
There is no silver bullet, only thousands of small ones
In MISSION IN A BOTTLE, Seth and Barry don't just tell the readers how to build a profitable and meaningful company—they show them.
Related Posts: