Press Releases
The Secrets of Life and Death, a gripping debut from Rebecca Alexander
Alexander's historical fantasy blends murder, magic, and a mystery centuries in the making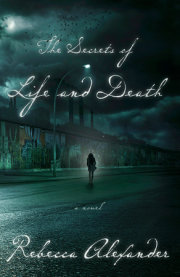 Rebecca Alexander
Imprint: Broadway Books
On sale: October 7, 2014
Price: $15.00
Pages: 384
ISBN: 9780804140683
Contact:
Rebecca Welbourn
212-782-9634
rwelbourn@penguinrandomhouse.com
"Alexander creates an agreeably spooky atmosphere of impenetrable forests and bloodlust." —Kirkus Reviews
"Imaginative and . . . suspenseful, Alexander's first novel blends urban fantasy with historical fantasy/horror as she links two fascinating stories . . . A highly readable fantasy that will appeal to fans of Deborah Harkness and Katherine Howe." —Library Journal
"[The Secrets of Life and Death] has now become the first in a series with a strong female cast and a story that rattles along at a fair pace. It's a fine addition to the urban fantasy genre and marks Alexander as an author to watch." —The Independent (UK)
"Alexander offers up the most successful blending of mystery, historical intrigue, and occult fantasy since Elizabeth Kostova's The Historian. Inspired by an authenticated encounter between the family of Elizabeth Báthory and the occult superstars of the Elizabethan era,  John Dee and his protégé Edward Kelley, the story moves seamlessly between the contemporary tale of heroine Jackdaw Hammond, a woman living on borrowed time, and Kelley, a morally conflicted scholar who believes himself possessed by angels. Defying pigeonholing into any single genre, Alexander's brilliant and multilayered reimagining of the vampire mythos balances contemporary fantasy with erudite, yet accessible, historical fiction." —J.D. Horn, author of the Witching Savannah series
---
Rebecca Alexander has long been fascinated by all things magic. Ever since reading her first fairy tale as a child, elements of the fantastic have crept into her writing, for which she has been a runner up in the Mslexia Writing Competition and the 2012 Yeovil Literary Prize. Her debut novel, THE SECRETS OF LIFE AND DEATH (Broadway Books; October 7, 2014), is equally inspired by the magical and the historical. An enchanting tale of alchemists and witches, sorcery and possessions, her book melds memorable figures and events of the past into one dazzling drama.
Alexander first conceived of THE SECRETS OF LIFE AND DEATH when sheread about a meeting that took place between the Elizabethan alchemist John Dee and the infamously prolific serial killer Elizabeth Báthory. Known as the Blood Countess, Báthory was accused of torturing and killing hundreds of girls between 1585 and 1610, but for years her noble background shielded her from facing trial. These historical events rival fiction, and Alexander seamlessly blends them into her story. She takes readers back to sixteenth-century Krakow, where her fictional John Dee and his apprentice, Edward Kelley, are summoned by the king of Poland to help save his dying niece, the mysterious Countess Báthory. They discover a dark secret at the heart of her malady and soon realize that the cure will prove more terrifying than the disease.
Meanwhile in present-day England, Alexander introduces her heroine, Jackdaw Hammond. A practitioner and purveyor of occult materials, Jackdaw is drawn to the crime scene of a horrific murder—a young woman has been found on a train, her body covered in arcane symbols. Here Jackdaw meets Felix Guichard, a professor of occult symbols called upon for his expertise to help solve this bizarre crime. Jackdaw and Felix are drawn together and soon find themselves on a perilous path to discovering the truth—but the answers can only be found in the ancient diary of Edward Kelley. Together, they must solve a mystery centuries in the making.
As the narrative moves back and forth between past and present, Alexander brings her fictional world—and the historical world that inspired it—to life in an utterly gripping debut.
REBECCA ALEXANDER has worked in psychology and education, and has an MA in creative writing. She lives with her husband on the coast of England.
Related Posts: